Cast and Creative Team Announced For CLYDE'S at The Huntington
The production runs from March 24 – April 23, 2023 at the recently renovated Huntington Theatre at 264 Huntington Avenue.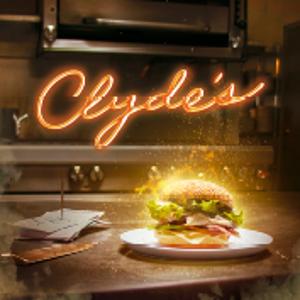 The Huntington has announced the cast and creative team of Clyde's, the Tony Award-nominated play written by Pulitzer Prize-winning playwright Lynn Nottage and directed by Taylor Reynolds, in a co-production with Berkeley Repertory Theatre. The production runs from March 24 - April 23, 2023 at the recently renovated Huntington Theatre at 264 Huntington Avenue.
In this comedy, the formerly incarcerated kitchen staff at a truck-stop sandwich shop attempt to rebuild their lives, while Clyde, their tough-as-nails female boss, slings sizzling insults fast and processed food even faster, trying to thwart their dreams. Each staff member is encouraged by Montrellous, the mysterious and zen-like chef, to indulge in imagining, then creating, their perfect sandwich. A buoyant play full of witty dialogue and a feisty spirit, Clyde's is a transcendent story about people rising above their past mistakes and reconnecting with the world.
Celebrated playwright Lynn Nottage is having an incredible moment in the American theatre: she is the most produced playwright of the 22/23 season and her triumphant comedy Clyde's is this year's most produced play. When Clyde's appeared on Broadway in 2021, Nottage was additionally simultaneously represented on Broadway with MJ, the Michael Jackson musical, and the world premiere opera adaptation of her play Intimate Apparel.
Nottage is the only woman to have received the Pulitzer Prize for Drama twice - in 2009 for her play Ruined, and in 2017 for her play Sweat, both of which have been produced at The Huntington, in 2011 and 2020 respectively. (Sweat was the last production at The Huntington Theatre before the pandemic shutdown in 2020, and Clyde's shares one character with Sweat.)
A co-production with Berkeley Repertory Theatre, West Coast critics have praised this production of Clyde's, saying, "A perfect sandwich is a religious experience. An appealing comedy. Clyde's delivers!," says The San Francisco Chronicle; The San Francisco Gate called it "a sweet, feel-good comedy! Nottage has hit on something universal;" and East Bay Times called it "a warm-hearted comedy that will whet your appetite for more!"
"We are thrilled to welcome back the incomparable Lynn Nottage with her heartwarming and hilarious new play Clyde's," says Huntington Artistic Director Loretta Greco. "Clyde's follows on the heels of Lynn's Pulitzer Prize Winning Sweat (the plays even share a character) and centers on two of my favorite things: the grace of a second chance and the transcendent power of a well-made sandwich! I'm especially happy to be co- producing with our longtime friends at Berkeley Rep and over-the-moon to introduce to you one of the most exciting young directors working in the field today, Taylor Reynolds, who helms this production."
"I'm looking forward to collaborating with everyone at The Huntington this season, and being at the start of Loretta Greco's tenure as Artistic Director makes it all the more delightful," says director Taylor Reynolds. "Clyde's is a story of people looking to rebuild and transform their lives; Lynn Nottage's latest work provides hope, laughter, and thoughtfulness through the act of building a perfect sandwich, and I can't wait to see how it resonates in Greater Boston."
The cast of Clyde's includes (in alphabetical order):
Wesley Guimarães (he/him) as Rafael, a recovering addict with his heart on his sleeve. Credits include The Pliant Girls and In Love and Warcraft (ACT).
Cyndii Johnson (she/her) as Letitia, a self-possessed and opinionated young mother. Credits include Trouble in Mind on Broadway and What to Send Up when it Goes Down at Playwrights Horizons.
Louis Reyes McWilliams (he/him) as Jason, a former white supremacist looking for redemption - a character who was also featured in Nottage's play Sweat. Credits include Teenage Dick at The Huntington and Coriolanus at The Public/NYSF.
April Nixon (she/her) as Clyde, the fierce and unapologetic proprietor of a truck-stop sandwich shop who only hires formerly incarcerated employees and is formerly incarcerated herself. Credits include Smokey Joe's Café and Tommy on Broadway and Purlie at New York City Center Encores.
Harold Surratt (he/him) as Montrellous, a sandwich chef who is wise, cool, and talented in the kitchen and zen-like philosophy. Credits include Impressionism and Serious Money on Broadway.
Understudies include Lorraine Kanyike, Gunnar Manchester, Javier David Padilla.
The creative team for Clyde's includes scenic design by Wilson Chin (Teenage Dick at The Huntington, Cost of Living on Broadway), costume design by Karen Perry (We All Fall Down at The Huntington), lighting design by Amith Chandrashaker (Teenage Dick at The Huntington), and sound design by Aubrey Dube (Joe Turner's Come and Gone at The Huntington). The production stage manager is Emily F. McMullen, and the stage manager is Lucas Bryce Dixon.
Biographies
Lynn Nottage she/her (Playwright) is a playwright and a screenwriter, and the first woman in history to win two Pulitzer Prizes for Drama. Her plays have been produced widely in the United States and throughout the world. Recent work includes the book for MJ the Musical (Broadway), the libretto for the Intimate Apparel Opera (LCT), and Clyde's (Broadway, 2ST, Goodman Theater), and co-curating the performance installation The Watering Hole (Signature Theater). Past work includes Sweat, Ruined, the book for The Secret Life of Bees; Mlima's Tale; By the Way, Meet Vera Stark; Intimate Apparel; Fabulation, or the Re-Education of Undine; Crumbs from the Table of Joy; Las Meninas; Mud, River, Stone; Por'knockers; and POOF!. She has also developed This is Reading, a performance installation in Reading, Pennsylvania. Nottage is a member of the Theater Hall of Fame, and the recipient of a MacArthur "Genius Grant" Fellowship (among other awards). She is also an associate professor at Columbia University School of the Arts, and is a member of the Dramatists Guild.
Nottage is the recipient of a MacArthur "Genius Grant" Fellowship, Steinberg "Mimi" Distinguished Playwright Award, PEN/Laura Pels Master Playwright Award, William Inge Festival Distinguished Playwright, TIME 100 (2019), Signature One Playwright, Merit and Literature Award from The Academy of Arts and Letters, Columbia University Provost Grant, Doris Duke Artist Award, The Joyce Foundation Commission Project & Grant, Madge Evans-Sidney Kingsley Award, Nelson A. Rockefeller Award for Creativity, The Dramatists Guild Hull-Warriner Award, the inaugural Horton Foote Prize, Helen Hayes Award, the Lee Reynolds Award, and the Jewish World Watch iWitness Award. Her other honors include the National Black Theatre Fest's August Wilson Playwriting Award, a Guggenheim Grant, Lucille Lortel Fellowship and Visiting Research Fellowship at Princeton University. She is a graduate of Brown University and the Yale School of Drama. She is also an Associate Professor in the Theatre Department at Columbia School of the Arts.
Nottage is a board member for BRIC Arts Media Bklyn, Donor Direct Action, Dramatists Play Service, Second Stage, and the Dramatists Guild. She recently completed a three-year term as an artist trustee on the board of The Sundance Institute. She is member WGAE, and the American Academy of Arts and Letters and the American Academy of Arts and Sciences. She is currently an artist-in-residence at the Park Avenue Armory.
Taylor Reynolds she/her (Director) is a New York-based director from Chicago and one of the producing artistic leaders of the Obie Award-winning The Movement Theatre Company in Harlem. Selected directing credits include La Race (Page 73/Working Theater), Tambo & Bones (Playwrights Horizons/CTG), Man Cave (Page 73), The Most Spectacularly Lamentable Trial of Miz Martha Washington (Hudson Valley Shakespeare Festival), Richard & Jane & Dick & Sally (Baltimore Center Stage/Playwrights Realm), Tough (AADA), Plano (Clubbed Thumb, Drama Desk nomination for Best Director), Songs About Trains (Radical Evolution), and Think Before You Holla (creator/deviser). Taylor has worked as a director, assistant, and collaborator with companies including Keen Company, Ojai Playwrights Conference, MCC, New Georges, MTC, Signature Theatre Company, and The 24 Hour Plays. She is the 2021 LPTW Lucille Lortel Award recipient, a New Georges Affiliated Artist, a 2017-2018 Clubbed Thumb Directing Fellow, a Lincoln Center Theater Directors Lab alum, and a member of SDC.