BWW Review: CABARET at Ogunquit Playhouse
There's no doubt that dark times are ahead for the people of Berlin in this faithful recreation of the tawdry 1998 Tony Award-winning Broadway revival of CABARET. Using the original Broadway sets by Robert Brill and costumes by William Ivey Long, this Ogunquit Playhouse version, running now through August 10, is rough, tough and gritty, taking the implied decadence and hedonism of pre-World War II Germany and attaching it blatantly to every denizen of the speakeasy known as the Kit Kat Klub.
Arriving in Berlin in 1930 amidst the economic upheaval following the (first) World War, American writer Cliff Bradshaw (a brooding Billy Harrigan Tighe) immediately becomes entwined in the city's nightclub underworld where he is befriended by a shady German businessman named Ernst Ludwig (a nefarious Noah Plomgren) and British nightclub performer Sally Bowles (a flamboyant but downtrodden Kate Shindle). Soon Sally is out of a job and moving in with Cliff, to the great consternation of boarding house proprietor Fraulein Schneider (a luminous and heartbreaking Mariette Hartley). There his life also intersects with residents Fraulein Kost (a gruff prostitute played without apology by Katrina Yaukey) and the aging widower Herr Schultz (an endearing John Rubinstein), a kindly German Jew who owns a successful imported fruit store.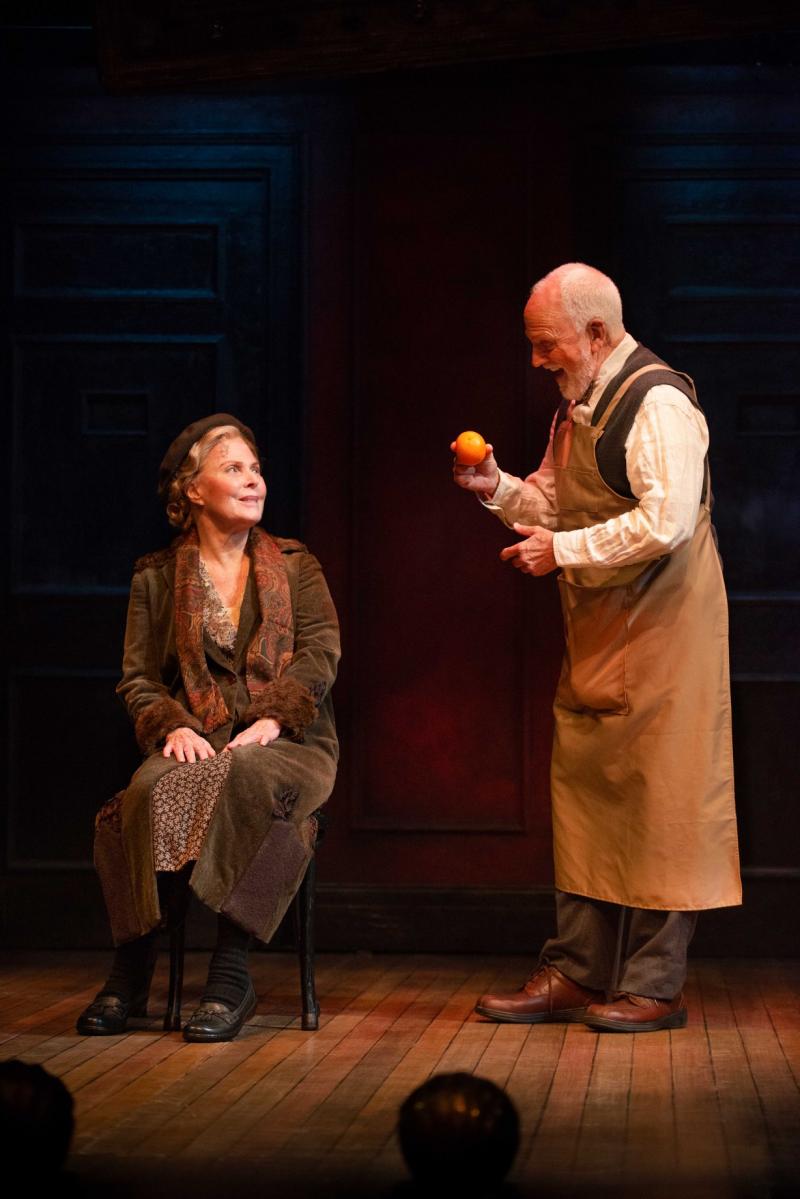 As the story unfolds, the politics of Hitler's Third Reich encroach more and more palpably on the lives of the Germans and British and American expatriates who have heretofore been enjoying Berlin's devil-may-care nightlife with abandon. Cliff fears the growing number of swastikas appearing on the arms of friends while Sally clings desperately to her denial. Meanwhile the Kit Kat Klub's Emcee (a sexy and inscrutable Randy Harrison) grows more and more menacing, adopting a Hitler-like presence that looms over not just his performers and patrons but soon over everyday citizens. Nowhere is this more threatening than when he hovers above Fraulein Schneider and Herr Schultz during their duet, "It Couldn't Please Me More." What should be a tender beginning to a lovely golden-years courtship turns into a disturbing portent of lives soon to be ripped apart.
The jarring duality of this scene in particular epitomizes the power but also the problem with this revival of CABARET. The darkness and foreboding are certainly consistent with the themes masterfully woven into the words and music by Kander and Ebb. But where the original material moves almost imperceptibly from carefree complacency to incomprehensible inhumanity, this version is grotesque from the outset. The shocking turn, then, feels more like an intellectual discomfort than a visceral punch in the stomach.
For example, Sally, who supposedly sweeps Cliff off his feet with her vitality and joie de vivre, here is a drug addict complete with bloody nose and track marks. She is not a naïf but a victim, a woman beaten down instead of one hoping to become a star. As Sally Shindle sings both of her trademark songs, "Maybe This Time" and "Cabaret," with equal parts anger and despair. There is no hint of the defiant optimism that a survivor like herself would harness. When she declines, therefore, she doesn't have very far to fall.
Because of the almost relentless hyper-sexualized and fatalistic tone set by director BT McNicholl, Fraulein Schneider and Herr Schultz emerge as the emotional heart and soul of this CABARET. Perhaps that is by design, given the casting of the superb Mariette Hartley and John Rubinstein in the roles. It is sheer delight to watch them effortlessly fall in love, shy as a pair of pre-teens, and just as giddy. At the same time, they combine hints of the burdens that have weighed them down over the years with the pragmatic German spirit that has enabled them to endure. It is in their ill-fated relationship that we see the very personal destruction wrought by a fascist regime. Whatever they have to do to survive won't be enough. Nothing can turn back the tide.
CABARET has always been a cautionary tale, and its message, sadly, is even more relevant today than it was when it first opened on Broadway in 1966. That's what makes the final tableau in this production, based on the 1998 revival, so chilling. Not only CAN it happen here. It actually IS.
Tomorrow belongs to - whom?
(Photos courtesy Ogunquit Playhouse)
Book by Joe Masteroff, based on the play "I Am a Camera" by John Van Druten and stories by Christopher Isherwood; music by John Kander; lyrics by Fred Ebb; originally co-directed and choreographed by Rob Marshall and directed by Sam Mendes; director, BT McNicholl; choreographer, Andrea Leigh; music director, Bruce Barnes; set based on original Broadway design by Robert Brill; lighting design, Richard Latta; original Broadway costume design, William Ivey Long; sound design, Kevin Heard; wig, hair and makeup design, Roxanne de Luna; production stage manager, Amanda Woodward; technical director, Geof Dolan
Cast in Order of Appearance:
Emcee, Randy Harrison; Kit Kat Girls, Kari Nelson, Staci Jo Johnston, Laura Sheehy, Margaret Dudasik, Katrina Yaukey, Jenna Zito Clark; Kit Kat Boys, Joey Khoury, Ryan DeNardo, Joel D. Bauman, Tommy McDowell; Sally Bowles, Kate Shindle; Clifford Bradshaw, Billy Harrigan Tighe; Ernst Ludwig, Noah Plomgren; Customs Official, Tommy McDowell; Fraulein Schneider, Mariette Hartley; Fraulein Kost, Katrina Yaukey; Rudy, Joel D. Bauman; Herr Schultz, John Rubinstein; Max, Tommy McDowell; Gorilla, Laura Sheehy
Performances and Tickets:
Now through August 10, Ogunquit Playhouse, 10 Maine Street (Route 1), Ogunquit, ME; tickets are available online at www.ogunquitplayhouse.org or by calling 207-646-5511.