Review: AN INSPECTOR CALLS: Gripping Revival Rings True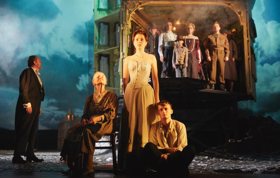 An Inspector Calls
The National Theatre's Landmark Production
Written by J.B. Priestley, Directed by Stephen Daldry; Associate Director, Julian Webber; Designer, Ian MacNeil; Lighting Designer, Rick Fisher; Music, Stephen Warbeck; Sound, Sebastian Frost; Fight Director, Terry King; Production Company Stage Manager, Simon Reynolds; Deputy Stage Manager, Lauren Barclay; Costume Supervisor, Caroline McCall; Wardrobe Mistress, Naomi Weight; Wigs Mistress, Lucy Horton
CAST: Liam Brennan, Christine Kavanagh, Jeff Harmer, Andrew Macklin, Lianne Harvey, Hamish Riddle, Diana Payne-Myers, Alex Barber, Aivah Harris, Kevin Pierre; Ensemble: Chris Barritt, Adam Collier, Chloe Orrock, Beth Tuckey; Supernumeraries: Ed Crane, Madalaina D'Angelo, Jessica Dallessandro, Santiago MacLean, Nancy Nicosia, Brian O'Hara, Bridgit O'Malley, Parmie Polk, Trinidad Ramkissoon
Performances through March 24 by ArtsEmerson: The World On Stage at Emerson Cutler Majestic Theatre, 219 Tremont Street, Boston, MA; Box Office 617-824-8400 or www.ArtsEmerson.org
It is a dark and stormy night, and a tall man wearing a trench coat and fedora stands under a streetlamp gazing up at a brightly lit house. Snippets of conversation and bursts of laughter emanate from the inhabitants who are enjoying a dinner party to celebrate an engagement and the merger of two affluent, capitalistic families. A trio of ragamuffins plays in the shadows, splashing in puddles and watching the man watching the house. Fog and smoke lay heavily on the scene, and ominous music rises to an uncomfortable decibel level.
This is the dramatic opening tableau of the National Theatre's multiple award-winning production of J.B. Priestley's classic thriller, An Inspector Calls, presented by ArtsEmerson at Emerson Cutler Majestic Theatre. The U.S. tour features masterful direction by Stephen Daldry (who also directed the 1992 West End revival), Ian MacNeil's grand-scale set, spectacular design elements (lighting, sound, and music), as well as a sterling cast of British actors in the principal roles, making you feel as if you have crossed the pond and are in attendance at the venerable National Theatre.
Written in 1945 at the end of World War II, Priestley set the action in the fictional town of Brumley, England, in 1912, when the winds of the Great War were in the offing, and these bookends provide a sociopolitical arc to the plot. Pitting the attitudes of the wealthy proponents of industrial capitalism against the socialist view of the needs of the working class, the play strikingly resonates with the current climate of privilege, income inequality, and #MeToo. In pursuit of the truth about what happened to a young woman driven to suicide, the title character's interrogation of members of the upper-middle class Birling family raises more questions than can be answered, compelling the audience to consider their own perspective of the circumstances.
Inspector Goole (Liam Brennan) is not a typical gumshoe, but more like a prosecuting attorney as he questions the Birlings and Gerald Croft (Andrew Macklin), their soon-to-be in-law, about their ties to Eva Smith, aka Daisy Renton, confronting them one at a time in a painstaking process that leaves them with little or no room to hide. Once they realize that their attempts at obfuscation are futile, each eventually surrenders their knowledge of the young woman and comes to understand his or her culpability in the tragic event. Goole masterfully sews together the seemingly disconnected pieces of information into a shroud of guilt that surrounds the whole family. After being carved from the fold, one by one they either accept responsibility or turn on each other, until the foundations of the family lie in shambles at the Inspector's feet.
Paterfamilias Arthur Birling (Jeff Harmer) is a self-important, blustery man accustomed to taking charge and giving orders, and loath to give way to the Inspector's commands. His red-faced finger-jabbing does little to ruffle Goole and, because she has seen the error of her ways, draws scorn from his daughter Sheila (Lianne Harvey). Wife and mother Sybil (Christine Kavanagh) is haughty and entitled in her own right, failing to heed Sheila's warnings about trying to outsmart Goole. Son Eric (Hamish Riddle) is the ne'er-do-well who drinks too hard and works too little, but, like his sister, has an awakening after the Inspector shakes things up. As the son of another titan of industry, Croft wears his wealth and privilege unabashedly (sound familiar?).
If the characters are not sketched with an abundance of detail, the actors stamp them with nuances of personality that make an impression. It doesn't require much of a leap to see Croft and the Birlings as people we encounter in the daily news. Even the way they treat their housekeeper Edna (Diana Payne-Myers), as an invisible object, firmly establishes their air of superiority and distance from the working class. Birling and his ilk are all about increasing their prosperity, giving little thought to those whose backs are supporting their load. Goole is the champion of the workers and the vulnerable ones who need a helping hand, suggesting that we have a responsibility to each other as members of a community, but Birling doesn't see it.
Priestley was known for having the kind of socialist political principles that are espoused by Goole, arguably a stand-in for the playwright. It is remarkable that the dichotomy he illustrates in An Inspector Calls reverberates so loudly seven decades after he wrote the play and more than a century after the setting of the events. It speaks to Priestley's grasp of human nature, but it is more than a little depressing to realize. However, this is an example of what theater can do, must do, to remind us that we are all in it together. Don't wait for an inspector to call on you to own your responsibility and abide by the social contract.
Photo credit: Mark Douet (Jeff Harmer, Diana Payne-Myers, Lianne Harvey, Hamish Riddle, Ensemble)