BWW REVIEW: Huntington's MERRILY WE ROLL ALONG Has a Good Thing Going
Music and lyrics by Stephen Sondheim; book by George Furth; based on the original play by George S. Kaufman and Moss Hart; orchestrations by Jonathan Tunick; directed by Maria Friedman; choreographer, Tim Jackson; music director, Matthew Stern; scenic and costume design, Soutra Gilmour; lighting design, Philip S. Rosenberg; sound design, John Shivers and Keven Kennedy; production stage manager, Emily F. McMullen; stage manager, Kevin Schlagle
Cast in Alphabetical Order:
Amy Barker, Christopher Chew, Caleb Damschroder, Aimee Doherty, Jennifer Ellis, Eden Espinosa, Bransen Gates, Rebecca Gibel, Damian Humbley, Morgan Kirner, Jessica Kundla, Cameron Levesque, CarlA Martinez, Brendan O'Brien, Maurice Emmanuel Parent, Robert Saoud, Pablo Torres, Mark Umbers, Patrick Varner, Craign Waletzko, Ceit M. Zweil
Performances and Tickets:
Now through October 15, Huntington Theatre Company, 264 Huntington Avenue, Boston, Mass.; tickets start at $25 and are available online at www.huntingtontheatre.org or by calling the box office at 617-266-0800.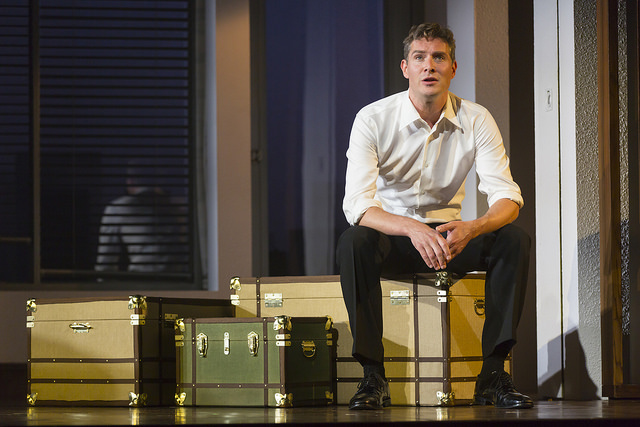 Director Maria Friedman's Olivier Award-winning London revival of Stephen Sondheim's MERRILY WE ROLL ALONG lives up to its acclaim in this Huntington Theatre Company production continuing now through October 15. Both Sondheim and Huntington Artistic Director Peter DuBois have called Friedman's MERRILY the best they have ever seen. Those declarations prove not to be hyperbole.
The outstanding cast - including original London players Mark Umbers as Frank and Damian Humbley as Charlie, Broadway's Eden Espinosa as Mary, and Boston stalwarts Aimee Doherty as Gussie, Jennifer Ellis as Beth, and Christopher Chew as Joe - bring emotional authenticity to roles than can easily fall victim to book writer George Furth's gimmicky conceit of moving backwards in time from 1976 to 1957. Instead of serving as hollow markers for the notion that time wounds all heels, these actors turn even the least likable sellouts into sympathetic victims of their own compromised ideals.
MERRILY follows, or rather retraces in reverse, the 20-year careers of composing team Franklin Shepard (Umbers) and Charles Kringas (Humbley) and their writer/pal Mary Flynn (Espinosa). As they travel back through time, their musical journey reveals the answer to the question, "How did it happen, how did they get there from here?"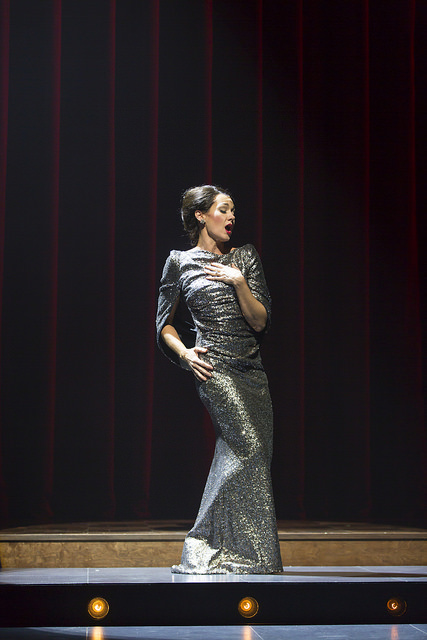 At the outset the trio "begin" as burned out shells of themselves - Frank a rich and powerful Hollywood producer who has sacrificed his family, friends and artistic soul for fame, fortune and flash; Charlie a bitter Pulitzer Prize-winning playwright who chose "art" over money and criticizes Frank for doing otherwise; and Mary a cynical, stunted alcoholic who seems incapable of moving past her writer's block, and her unrequited love for Frank. Each seems, sadly, to be all they will ever be, but as the clock rewinds, they gain more and more of the spirit of their invincible youth. When, finally, they make it all the way back to the beginning, they are the best they will ever be - ambitious, confident, optimistic, and exuberant.
In previous versions of MERRILY, one never got the sense that Frank and company had much hope of improving their futures. In this version, however, Frank seems to rediscover himself by reliving his past. His journey through his memories is not for naught. Friedman has framed this production with the notion that it's never too late to refresh one's dreams. By remembering what we once were, we can reinvent who we've become.
Umbers, Humbley and Espinosa are terrific as the Three Musketeers whose mantra through the years - "Here's to us, who's like us, damn few" - changes tone with each iteration. They easily morph from jaded mid-lifers to enthusiastic college students, avoiding empty stereotypes along the way. Equally adept are their co-stars, who add truthful dimension to stock characters who could easily be played as clichés.
Aimee Doherty brings glamour and star power to her conniving Gussie, a celebrated actress and Frank's second wife. She tempers her cold and calculating exterior with a hint of pained insecurity. She's a tower of power, until she's not. As her first husband, Joe, Christopher Chew creates a likable lug out of his underworld producer. He makes it totally believable that someone as sophisticated as Gussie would fall for his rough and tumble charms. It is Jennifer Ellis, however, as Frank's first wife Beth who delivers the most endearing and memorable performance. Her two glorious versions of "Not a Day Goes By" - which express first the ache and then the joy of loving someone till it hurts - are the ones that haunt and linger.
MERRILY WE ROLL ALONG has long been considered one of Sondheim's lesser works having closed on Broadway after only 16 performances. This stellar Friedman reviVal May just change people's minds.
PHOTOS: Mark Umbers as Frank, Eden Espinosa as Mary and Damian Humbley as Charlie; Mark Umbers; Aimee Doherty as Gussie; Jennifer Ellis as Beth and Mark Umbers
Jan Nargi is owner and creative director of JMN Publications, a marketing and public relations firm based in Boston, Mass. She provides consultation, communications, and (read more...)