Trish Vignola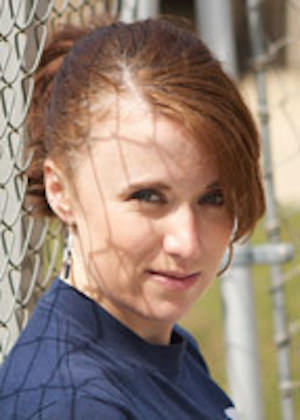 Trish Vignola comes to BroadwayWorld New York from BroadwayWorld Chicago. When she is not reviewing Theatre, Trish also writes for MLB.com and the Yes Network. She has a B.A. from Fordham University and an M.A. from Rutgers University. Trish is a Director and Equity Stage Manager. From 2009-2010, Trish also served as an Assistant Director for the Second City National Touring Companies.

MOST POPULAR ARTICLES
LAST 365 DAYS
BWW Reviews: SHARON'S SHORTS at the Planet Connections Theatre Festivity

June 17, 2013

Sharon E. Cooper is truly a future playwright to watch on the American theatre scene.
---
BWW Reviews: FRIED CHICKEN AND LATKES - The Best Show You Haven't Seen Yet

May 6, 2013

Rain Pryor has had many television roles. Most notably, you might remember her on the ABC series 'Head of the Class.' She's now a mom and calls Baltimore home. Nevertheless, New York welcomes her with open arms. Her autobiographical one-woman show, Fried Chicken and Latkes is running now at the Actors Temple Theatre (339 W. 47th Street).
---
BWW Reviews: LOVE THERAPY Opens at the DR2 Theatre, 4/29

April 29, 2013

Wendy Beckett's LOVE THERAPY opens at the DR2 Theatre (101 East 15th Street) on Monday, April 29th. Directed by Evan Bergman, LOVE THERAPY is the fourth in a series of ten of Ms. Beckett's plays scheduled for opening by Peter Walters for Pascal Productions. Tickets are available via Telecharge.com.
---
BWW Reviews: BLEACHED BLONDE BETTY

March 24, 2013

CAT ON MY HEAD PRODUCTIONS premiered Brooklyn College Alumni Tom Kelly's BLEACHED BLONDE BETTY. With original music by the Allison Leyton-Brown and directed by Dan Patrick Brady, BLEACHED BLONDE BETTY played a limited engagement at the Workshop Theater (316 West 35th Street, 4th Floor). Performances began Thursday, March 14 and continued through today - Sunday, March 24.
---
BWW Review: Wave Productions' GOD STEELING Tackles Race and Culture in '80s NYC

March 17, 2013

GOD STEELING was a super interesting play. Couching this relationship story within the social and political climate of the early 1980s is not something that I frankly see enough. How race, social standing and culture plays into the lives of these union 'brothers' is a bottomless pool of material. Overall, I would like to have seen a bit more subtlety in the performances, but I do have to say that James Fenton's set is worth the price of admission.
---
BWW Reviews: Eden Espinoza's LOOK AROUND

March 4, 2013

Anyone who has seen Rent knows "One Song Glory" as essentially Roger's fight song. Any version of this song I've heard has sounded exactly like Adam Pascal's (the song's originator). Nonetheless, Ms. Espinosa put an entirely new motivation behind the song. For Eden Espinosa, this is not a fight song. It's a song of recognition. The character is dying. However, it is also a song of redemption. This character is not fighting. This character is saying goodbye. It's the polar opposite of the established version of the song.
---
BWW Reviews: Secret Theatre's DIE: ROLL TO PROCEED

February 22, 2013

DIE: Roll to Proceed opened this week as a part of the WiredArts Fest. Taking place at the Secret Theatre in Queens, WiredArts Fest gives artists, producers and writers access to a global audience. The WiredArts Fest is a live-streamed performing arts festival where the audience is global, seating is unlimited and online viewers can participate in live chat discussions, interact through Twitter and Facebook, while the performance is happening.
---
BWW Reviews: Rock WILK's Gritty BROKE WIDE OPEN Plays 45th Street Theatre

December 9, 2012

Producer Rain Pryor is currently starring in her own critically acclaimed, solo autobiographical show "Fried Chicken and Latkes" and joins director Stephen Bishop Seely ("8 Million Protagonists") on the project. Rock WILK wrote and composed BROKE WIDE OPEN. The design team behind BROKE WIDE OPEN includes: Jason Sisino and Lee Alston (art design), Omayra Garriga Casiano (lighting design), Rock WILK (sound design), and Nivia Marrero Rolon (stage manager).
---
BWW Reviews: One Last Night for Araca Project's ONE NIGHT ONLY at American Theatre of Actors

September 15, 2012

One Night Only, a part of the 2012 Araca Project, finishes its run today at the American Theatre of Actors (314 West 54th Street). Directed by T. J. Shanoff, One Night Only is a completely improvised musical. With music direction by Mike Descoteaux, One Night Only stars Kate Cohen, Matthew Van Colton, Katie Dufrensne, Nicole C. Hastings, Kevin Sciretta and Michael Girts. The cast creates a brand new musical each night, developed through audience suggestion, singing, dancing, rhyming, rapping and free play. All veterans of The Second City's farm system, One Night Only, uses audience suggestions to create a 60-minute musical to rival Sondheim himself.
---
BWW Reviews: RATED M FOR MATURE and STORY TIME WITH MR. BUTTERMAN Hit FringeNYC 2012

August 26, 2012

I wrapped up the day at "Story Time with Mr. Buttermen: Fables for Adults Living in the Modern World." Although this was a musical comedy that wound up being much lighter fare than "Rated M for Mature", they essentially had a lot in common. It made for a the perfect twin bill. Essentially, "Story Time" answers what happens to teens like Eric, if the final third of his show didn't happen and he grew up. Both are homage to the disaffected.
---
BWW Reviews: School is About to Be Out for EVERYTHING ABOUT SCHOOL (ALMOST)!

August 4, 2012

It's closing night for TADA! YOUTH THEATER's EVERTHING ABOUT SCHOOL (ALMOST). Conceived by Eric Rockwell, Everything About School (Almost) has music and lyrics by Brad Alexander along with Daniel Acquisto, Deirdre Broderick, Helen Chayefsky, Richard Chiarappa, Van Dean, David Ganon, Keith Gordon, Bruce Keisling, Jim Lochner, Margaret Rose, Dan Shore, Shawn Sturnick, and Eddie Sugarman. Directed and choreographed by Joanna Greer, Everything About School (Almost) concludes its limited engagement at TADA! Youth Theater (15 West 28th St. 2nd Fl. New York, NY 10001) today at 4pm.
---
BWW Reviews: THE HUNCHBACK VARIATIONS - Clear as a Bell at 59E59

June 24, 2012

In The Cherry Orchard, Anton Chekhov wrote: 'Suddenly a distant sound is heard, coming as if out of the sky, like the sound of a string snapping, slowly and sadly dying away.' That one sentence-one of the most controversial stage directions in western theater-has baffled sound designers for over a century. Chicago's Theater Oobleck has decided to confront the mystery in its own "Picasso at the Lapin Agile" fashion with The Hunchback Variations, now at 59E59 Theaters.
---
BWW Reviews: The Amoralists Make You Question What is THE BAD AND THE BETTER

June 23, 2012

The play ultimately is 30 to 40 minutes too long. It is set in the present but the neo-noir language, scenic and costume design causes tonal confusion. Ahonen's dialogue leads to some comedic moments, but overall The Bad and the Better comes off as playing at being a Tracy Letts play and very much falls short.
---
BWW Reviews: Gotham Dance Festival Returns for Another Round at The Joyce

June 9, 2012

The Gallim Dance biography stated that the group's work 'embodies fearless physicality grounded by deep humanity expressed through the madness and the joy of imagination.' 'Sit, Kneel, Stand' comes through on that promise tenfold. If you miss it, you've really missed something.
---
BWW Reviews: A MODEST SUGGESTION on Theatre Row, Now thru May 27

May 19, 2012

APPLE CORE THEATER COMPANY (ACTC) is pleased to present the world premiere production of Israeli-American playwright, Ken Kaissar's new satire - A MODEST SUGGESTION. Directed by Walter J. Hoffman, A MODEST SUGGESTION is in the midst of a limited engagement at the Studio Theatre at Theatre Row (410 West 42nd Street, between 9th/10th). Performances continue through Sunday, May 27.
---
BWW Reviews: It's UP TO YOU to Catch This New Production at TADA!

May 12, 2012

TADA! YOUTH THEATER is back again with the World Premiere of UP TO YOU. The creative team includes book and music by Eric Rockwell, lyrics by Joanne Bogart and direction by Janine Nina Trevens. The limited engagement at TADA! Youth Theater (15 West 28th St. 2nd Fl. New York, NY 10001) continues through Sunday, May 20.
---
BWW Reviews: PRATFALLS Falls But Brushes Itself Off

May 5, 2012

Ultimately, this was a series of hits and misses. Half the characters and plot points weren't really needed. Nonetheless, when you boil it down, "Pratfalls" is a great relationship piece. "Pratfalls" is presented by Ground Up Productions at the Abingdon Theatre Arts Complex's Dorothy Strelsin Theatre, 312 W. 36th St., NYC. The show runs now through May 19. Tickes are available through (212) 352-3101, (866) 411-8111, www.theatermania.com, or www.groundupproductions.org.
---
BWW Reviews: La MaMa Goes Dancing, Puppet Theatre Style

April 2, 2012

La MaMa, in association with Loco7 Dance Puppet Theatre Company, presents the World Premiere of Urban Odyssey. Conceived by Federico Restrepo and Denise Greber, Urban Odyssey depicts the experience of immigration to America through movement and visual theatre. A part of La MaMa's 50th Anniversary season, Urban Odyssey is a limited engagement run at La MaMa's Ellen Stewart Theatre (66 East 4th Street) from March 22 - April 8, 2012.
---
BWW Reviews: The Mystery of THE MARIA PROJECT Unravels at 59E59 Theaters

March 12, 2012

59E59 Theaters welcomes Pure Projects, Inc., in association with Uncle Frank Productions with the Off Broadway premiere of The Maria Project. Written and performed by Marcella Goheen and directed by Larry Moss, The Maria Project runs now through April 1st. Using documentary footage, music and story telling, The Maria Project takes the audience on Marcella Goheen's spiritual quest to uncover the mysterious disappearance of Maria Salazar - her grandmother.
---
BWW Reviews: CONFESSIONS: MARRYING GEORGE CLOONEY Is a Great Time at CAP21

March 5, 2012

CAP21 Theatre Company presents the world premiere of MARRYING GEORGE CLOONEY: CONFESSIONS FROM A MIDLIFE CRISIS. Based on a memoir by Amy Ferris, this new play by Amy and Ken Ferris along with Krista Lyons, officially opened March 1 at the CAP21 Black Box Theater (18 West 18th Street). Frank Ventura, Executive Artistic Director and co-founder of CAP21 directs.
---