Student Blogger: Isabella Gonzalez - Page
MOST POPULAR ARTICLES
LAST 365 DAYS
BWW Blog: Here's What You Missed on Glee - The Prom Movie
Posted: Dec. 15, 2020


BWW Blog: The Grinch is My New Sleep Paralysis Demon
Posted: Dec. 11, 2020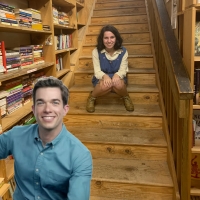 BWW Blog: An Open Letter to John Mulaney, the Source of My Serotonin Amidst a Global Pandemic
Posted: Oct. 28, 2020


BWW Blog: Here's What You Missed on Glee - The Prom Movie

December 15, 2020

A review: The Prom movie adaption is like a very special Glee episode. That's good and bad.
---
BWW Blog: The Grinch is My New Sleep Paralysis Demon

December 11, 2020

A 'The Grinch Musical' Review: I've never seen the Broadway show live, but I have seen Mr. Schue sing the 'Thong Song' and that's enough.
---
BWW Blog: The Last Decade of Macy's Thanksgiving Day Parade Performances

November 18, 2020

There are many components that make up the classic Thanksgiving experience, but nothing screams Turkey Time more than the Macy's Thanksgiving Day Parade.
---
BWW Blog: Fordham Zoom Theatre - First-Year Actors First Encounter with Uncle Vanya and Mainstage

November 14, 2020

Within the Fordham Theatre community, there's this idea that no two Mainstage productions are the same, in conception and experience, and that was before the world entered a global pandemic that transforms each day.
---
BWW Blog: An Open Letter to John Mulaney, the Source of My Serotonin Amidst a Global Pandemic

October 28, 2020

Dear Mr. John Mulaney...
---
BWW Blog: Fordham Zoom Theatre - Crewing with the Men on Boats

October 12, 2020

When I first transferred into Fordham Theatre, a rush of panic shook me to my core after the initial wave of accomplishment and joy. I had just declared a major in theatre during a global pandemic where the future of theatre itself remains unclear.
---