Matt Hanson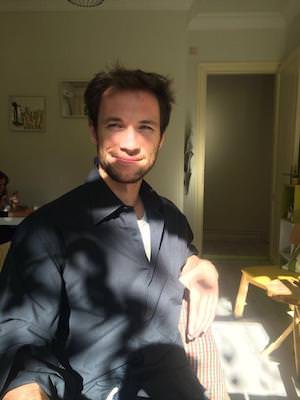 Matt Alexander Hanson is a writer in Istanbul. He produces weekly and monthly features from across Turkey, Europe, the Middle East and the U.S., covering art, books, history, travel, and food. His work with various international newspapers and magazines is translated into Turkish, Arabic, Hebrew and recently Ladino for El Amaneser, the last publication in the world entirely in the endangered Judeo-Spanish dialect. He is also an author of poetry and short stories, currently publishing a travelogue photobook, literary anthology and historical novel based on his research in the northwestern Greek city of Ioannina. His email is mhanson1717@yahoo.com
MOST POPULAR ARTICLES
LAST 365 DAYS
LAHZA Grooves at Salon

December 20, 2017

Two rising, powerhouse instrumentalists, guitarist Cenk Erdogan and drummer Mehmet Ikiz (aka ikiz) met in the blink of an eye in Istanbul and formed the Nu jazz duo LAHZA after the Turkish word for split-second. Strongly nuanced with a stellar array of electronic gear, such as the Nord Drum 3 steadfastly employed by the kit of Ikiz, they have dreamed up a powerful album of original compositions and new folkloric arrangements, and perform them live with mind-bending, intensive perfectionism.
---
SIV JAKOBSEN Mellows at Salon

November 30, 2017

In late August, the Norwegian singer-songwriter Siv Jakobsen released her debut album, Nordic Mellow. It received stunning praise, with Aftenposten, the largest printed newspaper in her home country giving her five out of six stars, and everyone from NPR to the BBC praising her sound in waves of genuine, heartfelt adoration.
---
MONK AT 100 Swings at Nardis Jazz Club

November 30, 2017

In 1976, Thelonious Monk stepped off the bandstand at the Newport Jazz Festival and never set foot on the stage again. His closest circle of friends and family, bandmates and patrons remembered the last six years of his life, until his death at he age of 65 with a peculiar, spiritual insight. Monk simply stopped playing altogether. His musical soul had departed before his body finally succumbed to death in 1982, the very morning his go-to drummer Ben Riley began recording a tribute album in his name to try and tempt him to return to music.
---
BWW Review: LA FRESQUE Fantasizes at Zorlu Center PSM

November 30, 2017

Parisian choreographer Angelin Preljocaj sold out Europe's largest performing arts venue with his modern ballet, La Fresque (2016) on November 18th, walking onstage after the show to receive the Honorary Award from Istanbul's Theater Festival at Zorlu Center PSM. In the footsteps of his Snow White (2008) and Siddhartha (2010), he carried the fantastical, folkloric spirit of his ingenious artistic signature in narrative movement with La Fresque, subtitled after its inspiration from the eponymous medieval Chinese tale, The Painting on the Wall also known simply as The Painted Wall from the collection, Strange Stories from a Chinese Studio by the medieval intellectual Pu Songling, first published twenty-five years after his death in 1740.
---
BWW Review: FALLS THE SHADOW Radiates at the Guggenheim

September 20, 2017

His name evokes the pantheon of Russian ballet, Balanchine, Massine, Nijinsky, and he dons its legacy with an air as natural as breath, movement, and shadow. Daniil Simkin has a stage presence that coruscates, scintillant under the wide ethereal room of the Guggenheim Museum. His is a classic artistic and folk heritage, raised by dancers in Russia, where the old imperial aristocracy wined and dined for some two hundred years over one of the most glorious cultural syntheses in art history, Russian ballet.
---
BWW Review: SOMEHOW WE END UP HERE, AGAIN Provokes at HERE

September 19, 2017

The migrant, both voluntary and forced, is a recurring motif for dance choreographers who have ever sought to invigorate the traumas of exiled refugees, the discoveries of vagabond travelers and the insights of spiritual voyagers through plays of bodily movement. In a time when immigrants and artists are at the frontline of social cause, such live theater artworks as Somehow We End Up Here, Again directed by Georgina Bates in collaboration with journalist Jihii Jolly and documentarian Diana Diroy have the power to provoke movement, not only from dance artists, but from the greater society in solidarity with those individuals and nations whose movements are politicized.
---
BWW First Person: BANDSTAND Heals at Bernard B. Jacobs Theatre

September 19, 2017

In his earliest memory, my grandfather is four years old. The year is 1919 and he stands on his tenement building in the Lower East Side of Manhattan, where he watches an army parade. Soldiers are returning from the Great War, and eternal peace on Earth seems possible.
---
BWW Review: MODERN DANCE THEATER ISTANBUL MINI-FEST Liberates at Fulya Sanat

June 12, 2017

A rare event at Fulya Sanat, home of Istanbul State Opera and Ballet's Modern Dance Theater Istanbul (MDTist), is the Mini-Fest, last produced for the stage in 2014, it returned 23-24 May last week with two technique classes, three workshops, a special show and six performances of new choreography. 
---
BWW Review: AIDA Gushes at The Metropolitan Opera

April 4, 2017

There is a fragile eeriness to the opening measures of Aida (1871), as the composition by Verdi continues to draw all ears forward, especially as magnetically conducted by Daniele Rustioni for the 1,158th performance of the classic at The Metropolitan Opera.
---
BWW Review: STEPHEN PETRONIO COMPANY Ascends at The Joyce

April 3, 2017

Some people have many ideas. And then, some ideas have many people. The origin story of modernism, of the contemporary, of the moment in dance, is an idea that has possessed and inspired the greatest creative minds in history. 
---
BWW Review: ROMEO & JULIET Ennobles at MetOpera

July 5, 2016

Sir Kenneth MacMillan silenced the Bard to the wordless storytelling of corporeal movement. His three-act Romeo & Juliet remounted at MetOpera this June 20-25, ennobled by three decades in American Ballet Theatre repertory.
---
BWW Review: THE JUDAS KISS Seduces at BAM

June 21, 2016

Fade in. Orgasm. Poem. Fade out. There is comedy. There is tragedy. And then there is the story of how Oscar Wilde was duped for his lust over an English Lord.
---
BWW Review: ERWIN SCHULHOFF RETROSPECTIVE Swings at Center for Jewish History

June 16, 2016

Recently honored as a Lower East Side Community Hero, pianist Mimi Stern-Wolfe walked onstage on the evening of May 25th 2016 at the Center for Jewish History in NYC. She is the founder and artistic director of Downtown Chamber Players and the recipient of the 2015 Clara Lemlich Award. And she did not speak a word. Her fingers recited history in Tango, Charleston, Waltz, Foxtrot, Blues, Maxixe.
---
BWW Review: ZORN Conducts at YIVO

June 6, 2016

One century ago, 200,000 New Yorkers mourned in the streets, representing the best-attended funeral procession in the history of the city to date. This May, the global Jewish community remembered Sholem Aleichem, for his centenarian yortsayt (Yiddish for "death anniversary").
---
BWW Review: PETER MURPHY Strips at Le Poisson Rouge

May 31, 2016

In old England, life revolved around the pub, the brothel, and the stage. At times the bar scene feels like all three. That ambiance is in full color with the Stripped tour, the latest from the raging musical iconoclast Peter Murphy.
---
BWW Interview: WENDY OSSERMAN Celebrates 40 Seasons

March 31, 2016

Wendy Osserman spoke to BWW on the phone from New York. Osserman is a bright, youthful 74-year-old, reflecting on a life that exemplifies her peerless character as a fixture of downtown New York dance since the late '60s. Her light-hearted, joyful voice touched on themes ranging from her first memories dancing as a child in front of the mirror, to producing a dance festival on the Greek island of Paros while considering the current crisis of human movement in Greece. The Wendy Osserman Dance Company will perform two world premieres at the Theater for the New City from April 20-23, featuring her new solo work, 'Timed' alongside her classic, 'Udjat' inspired by ancient Egyptian motifs. With a comfortable modesty, she speaks to overcoming the challenges of being a woman in the dance world and of the irresistibility of her continuing aspirations as the leader of a company signature that she has fostered for the last four decades.
---
BWW Review: JOHN IRVING Grips at 92nd Street Y

November 18, 2015

John Irving is the epitome of the modern American storyteller. His ability to render the passage of time in prose fiction is peerless--a testament to his success as the author of 13 novels spanning more than four decades. His 14th novel, Avenue of Mysteries, named after the street in Mexico City that famously leads pilgrims to the Lady of Guadalupe, is chock-full of that singular knack for dark humor that has made Irving a household name.
---
BWW Review: A CELEBRATION OF PRIMO LEVI Hallows at 92Y

November 19, 2015

Momentous is a strong word, yet not so strong as carbon, the sixth element in the Periodic Table of Elements, inspiring the literary masterpiece known by the "scandalous" title, as its author Primo Levi confesses, The Periodic Table. Named in 2006 by the Royal Institution of Great Britain as the best science book ever written, Levi outcompeted Charles Darwin, James Watson, Richard Dawkins, Oliver Sacks and Bertolt Brecht, to name only a few.
---
BWW Review: THE EXALTED Reflects at BAM

November 18, 2015

The Exalted, written by the celebrated poet and performer Carl Hancock Rux is told in the spirit of German expressionism, centering on the anarchist German-Jewish writer Carl Einstein, today considered a founding voice in the evolution of seminal Modernist art movements.
---
BWW Review: MARTIN HALPERN CHAMBER OPERAS Dream at Shetler Studios

November 19, 2015

The best part of living in New York is that some of our most radically creative artists are performing. Unadorned studio spaces such as Shetler Studios on West 54th Street in midtown Manhattan host exclusive gatherings, where all of the high pomp of the fine arts strips down in an air of charming modesty.
---