Jared Echevarria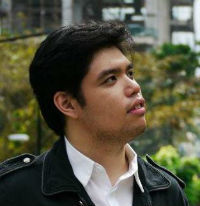 MOST POPULAR ARTICLES
LAST 30 DAYS
LAST 365 DAYS
BWW Review: KATSURI Tells the Plight of Landless Filipino Farmers Too Often Overlooked

October 10, 2019

Katsuri is an ingenious portrayal of the social ills that everyone is familiar with but never really acted upon.
---
BWW Review: THE THEORY OF RELATIVITY Boasts Well-Written Songs, Simple Story

September 26, 2019

This production of Neil Bartram and Brian Hill's a?oeThe Theory of Relativitya?? is a coming-of-age story that would surely remind you of how you were in your student years.
---
BWW Review: Must-See SPRING AWAKENING at blueREP; Show Closes This Weekend

April 10, 2019

Stage plays are meant to entertain and leave the audiences in complete awe. However, only a few would surely engage the audiences to review their morals and examine their convictions. Such is the Broadway musical 'Spring Awakening,' produced for the second time by the Ateneo Blue Repertory (blueREP).
---
BWW Review: Here's Hoping For The Return of the People's Opera, NOLI ME TANGERE

March 11, 2019

Gone are the days when the opera is treated like an old-world passion and a cultural event where people are required to dress to the nines. The arrival of National Artists Guillermo Tolentino and Felipe Padilla de Leon's "Noli Me Tangere, The Opera" for the nth time in Manila was welcomed mostly by young people who were just too eager to bring to life the characters whom they only met in school. For only a limited run of just three shows, "Noli" at the Cultural Center of the Philippines' (CCP) Main Theatre became a hotspot where teachers, students, and music enthusiasts converge to celebrate a novel, written by National Hero Jose Rizal, that awakened a sleeping nation towards consciousness and obscurity.
---
BWW Review: GUADALUPE The Musical Is A Hearty Musical Treat

October 8, 2018

It has been a very busy theater season in Manila. The past months saw the premiere of productions offering different and often intriguing facets of life, which naturally would solicit interest into the prying eyes of the theater-going public. With so much theater goings-on, 'Guadalupe The Musical' stands tall as a beloved reminder of the nation's historical devotion and adherence to 'popular religiosity.'
---
BWW Review: ANG PAGLILITIS KAY MANG SERAPIO Reinvigorates A Period Piece Worthy of Acclaim

September 10, 2018

He lived a sad life of perversion in a profession of lost causes yet his life's failure was overshadowed when he chose to love, albeit secretly and surreal. This is how one would see Mang Serapio in Theater Titas and Duende Theatre's 50th-anniversary production of 'Ang kay Paglilitis kay Mang Serapio.' Written by Dr. Paul Dumol, the play is a timeless social commentary that needs no introduction. As one of the first postmodern plays in the Philippines, its text's tasteful depiction of society, along with all its squalors, signals one to reflect on life in the nakedness of life itself.
---
BWW Review: GEE-GEE AT WATERINA, Not Another Gay-Themed Drama

August 22, 2018

Being old and gray is a one-way road that awaits everyone. This is the central message of "Gee-gee at Waterina: Ang Musikal," where two old gay friends, Gee-gee and Waterina, revisit the horrendous living conditions during the Second World War and face the new challenges of an uncertain future.
---
HIMALA: ISANG MUSIKAL Returns Anew; Show Runs 2/10-3/4

January 28, 2018

There's something in this classic that keeps it resurrecting in different forms. 'Himala' was originally a 1982 haunting, dramatic film written by Ricky Lee and directed by Ishmael Bernal, which of course starred Nora Aunor.
---
BWW Interview: Get to Know The Cast of THE SOUND OF MUSIC

October 17, 2017

The hills are truly alive with the arrival of London's West End production's The Sound of Music. On the gala night (September 29), audiences across generations came running to the Theatre at Solaire just to see the show for the first time and for some, many times over a beloved musical that became part of their childhood. The Sound of Music is a nostalgic theatrical experience that brings candid memories of yore and a myriad of familiar tunes that would prompt any viewer to go home humming if not singing.
---
BWW Interview: Music Supervisor Donald Chan Talks WEST SIDE STORY International Tour

August 25, 2017

The spirit of every musical theater production is its score. If a musical makes an audience hum its show tunes at the end of the show, then it served its purpose of prime entertainment. Such is the case of the phenomenal 'West Side Story' with its music enchantingly created by Leonard Bernstein, one of the first American conductors to be known the world over. With such a distinct mark in music history, Bernstein's music stands out and must be meticulously executed with justice and diligence.
---
Resorts World Manila Celebrates The Ladies of Philippine Theater

March 27, 2017

As the world celebrates the 'World Theater Day' on March 27, one of the country's top theater groups, the Full House Theater Company, under the aegis of Resorts World Manila (RWM), honors some of our female thespians who have become part of the nation's long list of theater greats. This is closely aligned with RWM's overarching goal of supporting local talents.
---
A Trilogy of Terror Opens Today at CCP, 2/22

February 21, 2017

One of Manila's premier arts festival, Fringe Manila, Theater House of Black (#14 Leandro Road), and Antipara Collective team up to bring to the stage three theater shorts 'Si Edgar, Si Allan at Si Art,' adapted from the stories of four celebrated turn-of-the-century authors namely Edgar Allan Poe, Arthur Miller, William Golding, and Jean-Paul Sartre.
---
WICKED Returns to Manila, Praises Filipino Audiences

February 6, 2017

Hailed as 'one of the most popular West End musicals ever' by the London Evening Standard, Stephen Schwartz's WICKED returns to Manila after a phenomenal run of the Australasian production three years ago. According to James Cundall, producer and chief executive of Lunchbox Theatrical Productions, he brought back WICKED as a fulfillment of a promise he gave to Filipino audiences a few years back. He recalled that during the last night of the show at the main theatre of the Cultural Center of the Philippines, the audiences serenaded the cast with songs as a goodbye gift and a treat to a great and fantastic show. 'We've never seen such a loving audience than here in the Philippines,' said Cundall.
---
BWW Review: RWM Presents ANNIE; Show Closes 12/11

December 4, 2016

The plucky red-haired girl that conquered our hearts so many times over has finally returned to town as Resorts World Manila's (RWM) production of Martin Charnin and Charles Strouse's ANNIE continues to play the Newport Performing Arts Theatre until December 11.
---
14 LEANDRO ROAD is About Family Ties, Mental Illness

October 5, 2016

Mental illness is just one of the diseases seldom talked about by the Filipino family; the reasons range from its unfamiliarity, mystery, and social prejudice--the last stands out the most. As most Filipino families regard personal life as truly 'exclusive,' to have such an illness within the household is concealed from the prying eyes of the society.
---
BWW Exclusive: A Look Back at Philippine Theater in 2015

January 5, 2016

In a time when the Philippines is proving its economic and cultural prowess on the global stage, theater seems to be a good medium to mirror not only the varied tastes of its society but also to develop the level of maturity of art appreciation among its people.
---