Atlantic Acting School
MOST POPULAR ARTICLES
LAST 30 DAYS
LAST 365 DAYS
Atlantic Acting School Blog: The Most Important Letter in Dialect Study
Posted: Jan. 10, 2019


Atlantic Acting School Blog: 'What's Good for the Body'
Posted: Feb. 7, 2019


BWW Blog: 'Key to Comedy is Listening' from Atlantic Acting School
Posted: May. 24, 2019



Blog: 'Tips for the NYC Actor Moving to L.A.' from Atlantic Acting School
Posted: Mar. 5, 2019


BWW Blog: A Path After Acting School from Rachel Begelman
Posted: Jun. 18, 2019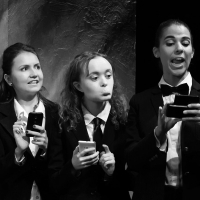 BWW Blog: Building Your Own Theater Company out of Atlantic
Posted: Jul. 12, 2019


BWW Blog: Building Your Own Theater Company out of Atlantic Acting School

July 12, 2019

Ensemble is at the core of the training at Atlantic Acting School. This is best exemplified by Company class, when in the last year of conservatory, each graduating class forms their own theatre company under the supervision of Atlantic Theater Company. In Company class, you learn about how a theatre company is run and most importantly, you start to become one. That was how Floor Five Theatre Company was born.
---
BWW Blog: A Path After Acting School from Atlantic Acting School Alum, Faculty Member Rachel Begelman

June 18, 2019

What do you do when you finish acting school and don't know what's next? Rachel Begelman from the Atlantic Acting School shares her journey here.
---
BWW Blog: 'Key to Comedy is Listening' from Atlantic Acting School Alum, Faculty Member Andy Schneeflock

May 24, 2019

I'm not funny, but I do teach comedy and improv. I also happen to perform a lot of comedy on stage and TV. But let's back-up for a bit.
---
BWW Blog: 'Tips for the NYC Actor Making the Move to L.A.' from Atlantic Acting School Alumna, Faculty Member Chivonne Michelle

March 5, 2019

Los Angeles is spread out, so it can feel lonely and isolating. Only people who are truly invested in you and your wellbeing will travel to meet you for a lunch or brunch. The distance and last minute nature of auditions makes this a flaky town by nature. If you have friends who are already in L.A. be prepared to travel to them to maintain your friendships. Bonus points: pick a neighborhood that is close to them or where you work or play to reduce travel time. If you do not know anyone in L.A., put yourself in a position to meet new people and invest in those who give you good vibes. Celebrate the people who are consistently able to meet up with you after an audition or work.
---
BWW Blog: 'What's Good for the Body' from Atlantic Acting School's Renee Redding-Jones

February 7, 2019

This is not a post on a particular modality, but rather a sharing on the importance of recognizing what your body needs. Your body is your first house, your home, your vessel, your temple, and coming into the awareness that when you are tuned in (as head of household) to those needs, you are capable of making good supportive choices.
---
BWW Blog: The Most Important Letter in Dialect Study from Atlantic Acting School's Charley Layton

January 10, 2019

In the early stages of creating a role, one of the questions actors might ask is 'how does my character speak his/her/their lines?' Or 'does my character have an accent or dialect that's different from mine?' As a dialect coach, my job is to assist them in learning and perfecting various accents and dialects for theater, film, TV, and internet. Very often, just knowing where to get started in dialect study can be overwhelming; so here's Step 1.
---