WaterTower Theatre Announces ELLA'S SWINGING CHRISTMAS, A TRIBUTE TO ELLA FITZGERALD
A one-woman show, streaming on-demand November 27, 2020 through January 3, 2021.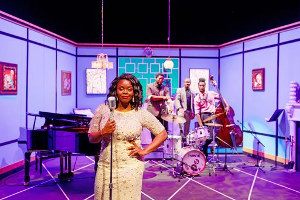 WaterTower Theatre has announced, Ella's Swinging Christmas: A Tribute to Ella Fitzgerald. A one-woman show, streaming on-demand November 27, 2020 through January 3, 2021.
Ella's Swinging Christmas is a musical treat for all ages featuring Dallas, TX singer and actress phenomenon, Feleceia Wilson (formerly Feleceia Benton).
Wilson introduces the WTT audience to a uniquely reimagined experience of jazz vocalist and scat virtuoso Ella Fitzgerald's incredible "Swinging Christmas" album, just in time for the holidays. Ella Fitzgerald recorded the epic holiday 18-tracks, with a studio orchestra arranged and conducted by Frank DeVol. It is her only complete album of Christmas tunes on Verve Records. This marks WaterTower's third digitally captured theatrical piece.
Feleceia Wilson will perform seventeen of Fitzgerald's exceptional arrangements of Christmas classics like "Jingle Bells", "Have Yourself a Merry Little Christmas", and "Rudolph the Red-Nosed Reindeer". She is accompanied by an aptly skilled trio of musicians including Kwinton Gray (piano), KJ Gray (upright bass), and Jackie Whitmill (percussion). There will also be a beautiful duet performed with Shane Peterman, Producing Artistic Director at WaterTower Theatre.
WaterTower Theatre's Ella's Swinging Christmas: A Tribute to Ella Fitzgerald concert features lighting design by Ryan Burkle, assistant lighting designer, Cameron Casey, production and costume design by Ryan Matthieu Smith, David Castell as Sound Engineer, Kennedy Styron as Production Manager, and Cinematography by Chris Duncan. WaterTower is pleased to again be working with Director of Cinematography David Singer, the Co-Founder, CEO at Academy of Storytellers and Story & Heart, and Music Supervisor Vonda K. Bowling.
WaterTower implemented strict social distancing and very robust safety standards exceeding those of both the CDC the city of Dallas, and the state of Texas for rehearsal and the filming of this production.
Patrons will be able to enjoy Ella's Swinging Christmas: A Tribute to Ella Fitzgerald from the comfort and safety of their own homes from November 27, 2020 - January 3, 2021. All season ticket holders will receive their digital tickets as part of their 25th season ticket subscription. Single tickets are on sale now. Purchase all tickets on WaterTowerTheater.org.
WaterTower has been deeply impacted by the current crisis, as have all arts organizations during recent months, but we are looking forward to the future. Until we can gather together at WTT, we will continue to provide North Texas artists with safe work opportunities, and our patrons with safe ways to enjoy professional theater. In 2020, WaterTower plans to evolve from "Theatre that builds community", to "Community the builds theatre." Please join us by supporting WaterTower as we kick off our 25th Anniversary Season with this spectacular holiday show.
Subscribers and current ticket holders will receive access to watch the filmed theatre event once the show is available for viewing. Single tickets purchased after the video is available will be sent viewing access within 24 hours of purchase. Tickets are available online at www.WaterTowerTheater.org, or by phone at 972-450-6232.
More Hot Stories For You