BWW Review: Austin Shakespeare's HEDDA Directs Its Destiny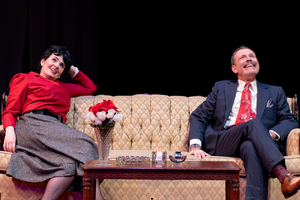 Forty-five minutes into Austin Shakespeare's production of Henrik Ibsen's HEDDA, the eponymous main character finally answers a question we've all been waiting for her to answer: why she married her new husband, the well-meaning but blissfully dense professor, George Tesman. George couldn't be more delighted with the arrangement, but Hedda Gabler, not so much. She's concerningly aloof and irritated as though they've been married for years instead of a few weeks. So you yearn to understand, why did she marry him in the first place?
Her answer continues to dangerously reveal itself throughout the rest of the play, but questions still remain even after the final bow. HEDDA has seen many iterations and new-fangled adaptations since its premiere in 1891, which speaks to its timeless themes and relatable characters. The play begins just after George and Hedda move into their new home after a long honeymoon. All is perfectly dull until Hedda's former lover Elliot Løveborg walks into their life and reignites a long dormant passion within her. Old acquaintances assist in weaving a tangled web around them, leading HEDDA to end not just with a bang but up in flames.
Austin Shakespeare's HEDDA lassos the cultural suffocation of the 1950s America together with the primal urges at the core of Ibsen's work into a headstrong production. While the energy coursing through it does ebb and flow, the actors ultimately edify HEDDA by efficaciously sculpting characters you long to understand and know how their story ends.
When a character's been around as long as Hedda has, the question always remains: how can she be remade and reinterpreted? Actress Gwendolyn Kelso succeeds in creating her own Hedda by using the quiet desperation and desire for agency felt by many housewives in post-war America as the foundation for Hedda's psyche. Her Hedda's insouciant and calculating, but also deeply human. In her entrance, Kelso descends on a cloud of dissatisfied sophistication and detachment. But as Hedda reveals her fears of motherhood and loss of control, Kelso's body language becomes more frayed and unhinged. Kelso presents a character you may not agree with, but you'll understand her. And in the end, isn't that what we all want? To just be understood?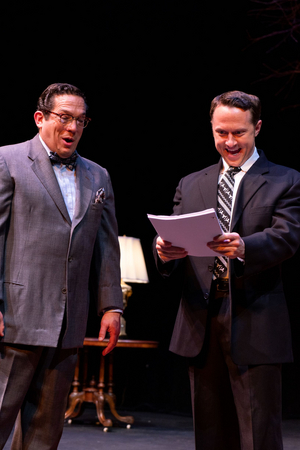 Elliot Løveborg may be the only the only person who understands Hedda, but he's wrestling with his own demons of identity and sobriety. When he's not facing temptation, he's facing rejection. In Løveborg, actor Cliff Miller creates the most sympathetic character in the entire play. The audience feels his pain seep through Miller's expressive face as Løveborg spirals into a destiny directed by others.
Like its main character, HEDDA is also flawed. It suffers from an ending which wraps up too quickly after a shocking act, leaving no time to marinate in the bedlam of what's happened. At times, the dialogue felt noticeably expositional. With no room for interpretation, this zaps the mystery of the scene and simply hands the audience answers without having to work for them. On the subject of dialogue, one member of the cast left me with the impression he needed more rehearsal as reflected in his sub-par delivery of his lines.
Friend of the Tesman's Judge Brack says near the end of the play: "People say things, but they don't do them." But the characters of HEDDA certainly say and do things; attempting to fill the vast emptiness punctuating each of them. Austin Shakespeare's production gives its characters the space, literally and emotionally, and to dare the audience to feel for them and maybe, just maybe, to understand them.
Photo Credit: Erik Withers
Hedda
by adapted by Ann Ciccolella from Ibsen's Hedda Gabler
Austin Shakespeare
Wednesdays-Sundays,
February 21 - March 08, 2020
Rollins Theatre
Long Center
701 Riverside at South First,
Austin, TX, 78704
Related Articles View More Austin

Stories

Shows