BWW Review: EVERY BRILLIANT THING at ZACH's Whisenhunt Stage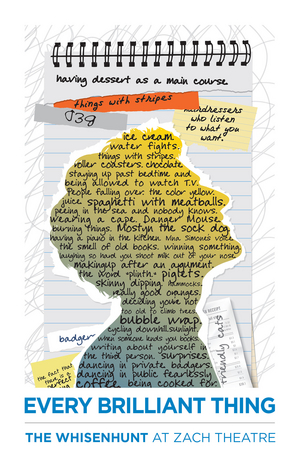 "3 - Things with stripes."
EVERY BRILLIANT THING makes its regional debut at ZACH this February under the direction of Nat Miller. Based on the solo works by Duncan MacMillan (with Jonny Donahoe) EVERY BRILLIANT THING is a thought-provoking conversation about life, mental illness, suicide, love, family, and friendships. The dialog starts before the play opens when the narrator (played with aching sensibility and subtle humor by Kriston Woodreaux) engages random audience members and hands them numbered pieces of paper that they read aloud as their number is called throughout the show. The narrator tells us a story that begun when he was seven years old and his mother attempted suicide. On the way to the hospital, he started a list for his mother, a list of reasons to live. What is purer than the innocence of a child that looks at the beauty of life in the face of despair and pain? Mr. Woodreaux does a fantastic job navigating a powerful script while interacting with audience members who become part of the cast. An old man who steps in the role of the father, a woman that portrays a helpful teacher and uses her sock puppet (and her own sock) to bridge a connection with a grieving young child. A girlfriend, a veterinarian, a wife. Woodreaux doesn't miss a beat and carries on with ease and charm. He improvises and plays with the natural reaction of the stand-in cast members, keeping the conversation dynamic, fresh, and alive throughout the performance.
"521 - The word PLENTY"
"2006 - Vinyl records."
In EVERY BRILLIANT THING, we witness the challenges of growing up in a family affected by depression and mental illness. A father who copes in silence, temporarily escaping to the sound of a good record. A young son who copes with the absence of a reliable mother by looking at the little things that make life worth living. A family that despite the heart-aching effects of depression, tries to keep hope alive, embracing and loving one another as life moves forward.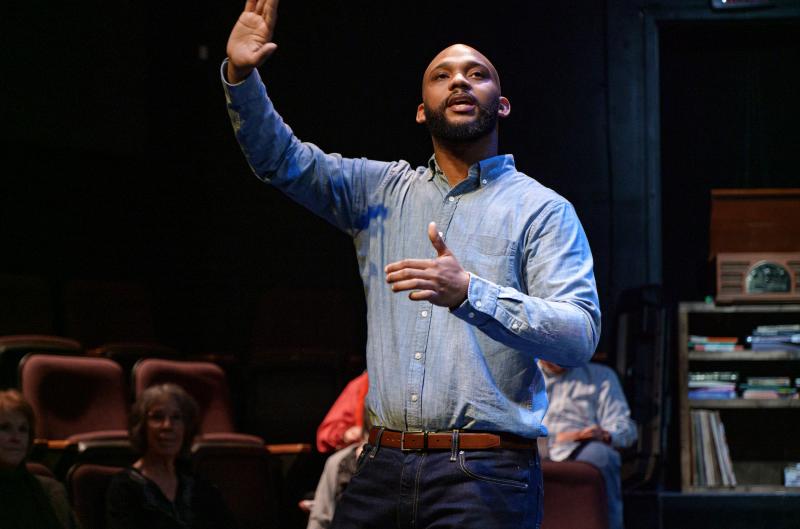 "997 - Cycling downhill."
"9995 - Falling in love."
The play touches on a provoking thought regarding suicide. "Suicide is contagious", the narrator says. The way we talk about suicide on television or social media may make it an attractive proposition for those that are lost, deprived of love, or lacking meaningful human connections. This made me reflect on the importance of reaching out to those we find on the way to the abyss, to extend a hand and bring them back to the light. The unpredictability of depression is devastating for everyone affected by it. While there may not be much the loved ones can do about this crippling mental illness, they can love fiercely and unconditionally. Reaching out, connecting, loving, being human to one another, that is one of the most powerful messages I took away from EVERY BRILLIANT THING.
"10000 - Waking up next to someone you love."
The Whisenhunt at ZACH provides a perfect setting for this one-man show and Kriston Woodreaux commands every inch of that space. Aided by the participation of the audience, he delivers EVERY BRILLIANT THING with elegance and bravura. His booming, yet soothing voice, gets a hold of everyone in attendance from the moment he calls "1 - Ice Cream" until the lights go out and the story is told. You can see the skillful direction of Nat Miller in the clarity of the play, the simplicity of the set, and the few purposeful props placed here and there. Like all of Mr. Miller's plays, EVERY BRILLIANT THING is focussed on the message, the power of storytelling, and the connection between actor, script, and audience. Peppered with humorous moments (infused by Jonny Donahoe, I assume), this play is nothing but extraordinary. Jump in this rollercoaster of emotions that breaks even the most stoic among us and gives us all a million reasons to appreciate the gift of life. "1092 - Conversation."
EVERY BRILLIANT THING
February 5 - March 29, 2020
By Duncan MacMillan, with Jonny Donahoe
Director: Nat Miller
Cast/Narrator: Kriston Woodreaux
The Whisenhunt at ZACH | 1510 Toomey Road | Austin, TX | 78704
Tickets start at $28 available at ZACH's box office - (512) 476-0541 x1, zachtheatre.org
Age Recommendation: 13 and up.
Note: Topics of depression and suicide may be triggering for some.
Related Articles View More Austin

Stories

Shows