BWW Interview: John Davidson as Captain Hook in FINDING NEVERLAND on Tour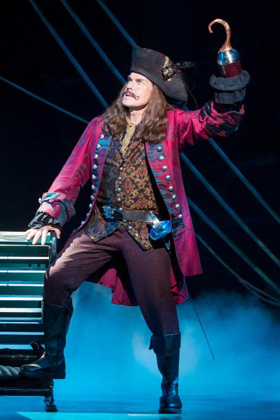 FINDING NEVERLAND is a beautiful story of the man responsible for writing the beloved PETER PAN many years ago. J.M. Barrie is searching for the next great play and he realizes it's time to write a play just for children. The show opened on Broadway to great praise and success. In recent years, FINDING NEVERLAND began a national tour that leads them to Austin, Texas from January 16-21, 2018 at Bass Concert Hall. Most recently, John Davidson (best known for hosting "That's Incredible" and "Hollywood Squares") took over the dual role of Barrie's producer as well as Captain Hook in this wonderful tour that continues its trek across the country. BWW caught up with Davidson recently to discuss his past roles, hosting opportunities as well as landing such a fun role in FINDING NEVERLAND.
You have done so many things in your career over the years. Many would be surprised at your eclectic resume when they come to see you in FINDING NEVERLAND. Can you share some of your experiences with HOLLYWOOD SQUARES, especially when you were one of the "squares" and then later hosted it?
I started on Broadway in the mid-sixties when I got out of college. I went to Dennison University in Ohio and got a Bachelor of Arts in Theater. I went to New York and I did a Broadway show. But a television producer named Bob Banner, who had discovered Carol Burnett, discovered me on Broadway and fashioned me as a variety host guy. So, I started in television variety in the mid to late-sixties. I kept up my theater in between but really focused on television. When variety television stopped, people got tired of variety television like the Carol Burnett Show and all, game shows became the only live variety. So, someone said, "You oughta be doing HOLLYWOOD SQUARES and I started on SQUARES when Peter Marshall was the award-winning host of HOLLYWOOD SQUARES. He hosted it first for many, many years. Then later, they asked me to host the show when they brought it back for the second time. HOLLYWOOD SQUARES is a proven format because you have nine stars and you're bound to know somebody. Every generation would know somebody. It's funny and you see the stars supposedly being themselves. So that was a lot of fun and a great chance to meet famous people. I don't really go to Hollywood parties so this was a way to meet people. About that same time, I had my own talk show. I took over for M.K. Douglas during the daytime for a couple of years. Then I hosted, THAT'S INCREDIBLE for five years. But, on a lot of those shows, I didn't sing. So, even though I started as a singer/actor, [I did] many hosting jobs instead. When I sat in for Johnny Carson on THE TONIGHT SHOW, I would sing. That had a specific audience. A lot of people when they come to FINDING NEVERLAND are surprised that I sing even if they know me from THAT'S INCREDIBLE. The people who were kids back in the sixties and seventies watched my Walt Disney movies. I did two musicals; THE HAPPIEST MILLIONARE and FAMILY BAND for Disney. They see me as that sort of a leading man. One of the things that Bob Banner said to me when I first met him, when I started on Broadway was, "I want to help you design a career that is not a spear but a pitchfork." By that he meant - Johnny Mathis and Tony Bennett - those are spears. They do one thing and they do it very well. He said, "I want to help you be a pitchfork." To be a versatile total performer so that we can do Las Vegas acts, so that we can do variety shows and game shows. Even with sitcoms, he (Bob Banner) helped me with telling jokes - he really helped me find [me]. He said the greatest role you're going to play is John Davidson. At that time, all I wanted to be was Curly in OKLAHOMA on Broadway (I did OKLAHOMA on Broadway in the sixties). He said, "Try to figure out how to play John Davidson. Who is John Davidson?" I think that should be everyone's quest; to discover and figure out who you are. So, that is the reason why 55 years later, here we are and I'm still working. I feel so grateful to have this contract. This is a 45 week contract now and I'm 76. I feel so lucky. I feel so grateful to be still working and singing well and I really love taking stage - my favorite thing to do is to chew up the scenery.
What was something you have done in your career that stands out most to you as a great highlight?
I did a one man show playing Teddy Roosevelt about 15 years ago. It was called BULLY. Playing Teddy Roosevelt in a one man show is a lot of work and it was thrilling. I could use everything I had to make that work. It was a national tour and that was very exciting. Anything live is what I like. I've made five or six feature films, but in those, the director has all the fun and it's so stop and go, stop and go. In live performance, whether you're performing on a Broadway stage or in Las Vegas or in a concert, it's constant for at least 90 minutes doing your thing. You're free to do that and to entertain the audience. I think that's the height of story-telling.
Let's talk about FINDING NEVERLAND. How did you get this gig?
I was in New York auditioning for things. I lived in New Hampshire and Massachusetts over the last couple of years so I'd just take a train into New York and audition. I had seen FINDING NEVERLAND on Broadway when Kelsey Grammer was doing it. He was great. And I thought, "Gee, I could do that." I called my agent and they got me an audition for the national tour. Dianne Paulus, who is the genius who put it together, liked what I did and she gave me the part. Recently, I'd been touring as the Wizard in WICKED and I think that helped me. If anyone was doubting whether I could do eight shows a week in my seventies, I think that proved that I could do it. This is much more exhausting than the Wizard because it's a dual role. I play the producer of the show, Charles Frohman and I play Captain Hook. It's a very physical role as Frohman, as the producer, I'm trying to say to J.M. Barry, "Don't write Peter Pan. Don't do this. There has never been a play for children. This will be the end of your career. Don't do it." But, as Captain Hook, I'm trying to get him to write it; to say, "It doesn't matter what people expect of you, just write your own story. Find the child within yourself and write your story." In every scene that I'm in, I'm driving the show forward from two different vantage points so it's a great chance to be the driver, the mover and the shaker. I would hate to play a wallflower (Chuckles). I love to be the driving force in the show.
I did get to see FINDING NEVERLAND when it came to San Antonio last year but you were not in it at the time. I did particularly love the character you are playing as both the producer and Captain Hook. I look forward to seeing your take on this role.
I'm glad you've seen it. That was before I came into it. I took over for the guy who got the part originally. It is a magical show. It is a surprise to people that it is so moving. It's very emotional and very funny and magical. It's not your typical musical. There's a lot of surprises.
What advice do you have for anyone thinking about getting into show business?
I think the best advice that was given to me and that I would give to anyone starting out in the business is to realize that you are your instrument. You are the tools that you'll be working with to play characters; to be a storyteller. You want to use the best of what you have and in order to do that, you've got to figure out who you are and what people perceive you as. If you are a certain type of person, then no one will ever perceive you to be something that you're not. It just becomes too hard. So, capitalize on who you are and therefore, you've got to figure out who you are. That means education, it means travel, it means reading and it means interacting with people because they are your mirror. Other people will show you who you are and who you are not. I think that's the best advice. You can get wrapped up in playing characters in shows and you can get wrapped up in the beauty of a song that you're singing, but the essence to all storytelling is who is the storyteller? What type of a person are you? And that's hard to figure out sometimes. People spend their lifetimes trying to figure it out. As soon as you can figure that out, that will make you powerful.
See John Davidson and the whole cast in FINDING NEVERLAND in Austin, Texas from January 16-21, 2018. Purchase tickets at Bass Concert Hall's website. And let's FIND NEVERLAND together.
Get your tickets to FINDING NEVERLAND at Bass Concert Hall before they're all gone. A real inspiration and transformation. It will take you to a world so far, far away.
PHOTO CREDIT: Jeremy Daniel
Related Articles View More Austin

Stories

Shows
Kathy Strain grew up outside of Philadelphia and enjoyed listening to many genres of music including Broadway musicals. She also enjoys attending Broadway shows wherever (read more...)