BWW Interview: Aaron Johnson and His New Play SALTY World Premiere Scheduled For Spring in New York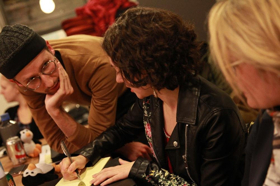 Aaron Johnson is best known to Austin audiences for his strong body of performances, including Tribes (Daniel) at ZACH Theatre; Orphans (Phillip), Skylight (Edward) with Street Corner Arts; The Totalitarians (Ben) with Theatre en Bloc; The Real Thing (Billy), The Explorers Club (Lucius), Bloomsday (Robbie) at Austin Playhouse; and Comedy of Errors (Antipholus of Syracuse & Ephesus) with Penfold Theatre Co. Aaron was able to find a home in many of these theatre companies producing, designing, and working crew when he wasn't acting, and is still collaborating from afar with several of them. Earlier this year, Aaron's one-man show The Apple Doesn't Fall was awarded "Best of Fest" at the 2017 FronteraFest. Aaron moved to New York City earlier this year and his new play, SALTY, will hold its world premiere with Lyra Theater next Spring .
BroadwayWorld recently caught up with Aaron to talk about his new play, SALTY, and to catch Austin audiences up with where he is now.
BWW: Is this the first play you've written?
AJ: This is the first play I've written to this scale. The last couple years I've been writing mostly one-acts for fringe events (FronteraFest). In Austin this year I performed a psuedo-one-man-show called '
The Apple Doesn't Fall'
which was about toxic masculinity and everything else men inherit-- which won Best of Fest. I had a blast.
BWW: What is the title of your new play?
AJ: SALTY
BWW: What lead you to be interested in writing? Do you see this as a natural offshoot of your acting?
AJ: I think acting and playwriting feed into one another. The same goes for design, directing, stage managing, etc. I've done a little of everything and at times I've felt the industry raise an eyebrow because I'm not focusing. I think I am
In Focus
, I just want a bigger lens. Writing and acting help each other get closer to the story. I don't want to limit my palette. The trick for me has been learning how to keep both in shape. It's like exercising two different halves so they both get stronger together.
BWW: I understand that SALTY has been picked up for production?
AJ: This week Lyra Theatre Company picked-up SALTY for their season, and will be producing the world premiere in NYC next spring.
BWW: Can you tell us a little about the subject matter of SALTY?
AJ: SALTY follows a penguin exhibit and the zoo-keepers that keep it alive. The zoo as a whole is in shambles. Animals are dying, the city has lost interest in conservation. It's a salty conversation about the end of the world. Nature's on her way out, and taking everybody with her. There are 7 actors who all double as a zookeeper/animal. It's this parallel actor-track that's really become the beating heart for me. SALTY is full of opposite forces, and it was important for me to explore this. With these parallel lives, it's very sexy to see the whole scope of a story explored very slowly all at once. Early on there were a lot of post-it notes on my walls keeping track.
BWW: What was your inspiration for this play?
AJ: I think at it's most stripped down level this play is about choosing to do good. Choosing to do good in a world that makes it really easy to choose the opposite. It's filled with relationships and destruction. There is a lot of humor in the play and these characters laugh a lot. It took me a while to realize people can only laugh like that when they've cried a lot. It's easier to laugh.
BWW: Is there any portion if the play that is autobiographical?
AJ: For a brief period of my life, I had the pleasure of working at the Louisville Zoo as an actor during their annual 'Halloween at the Zoo.' This was when high school was really beating me down, and I didn't have much of a voice. I was growing up as a queer man and I didn't know what queer was. Being gay was a myth. I knew more about Bigfoot than my own feelings. The guy playing the Cowardly Lion was a dear friend of mine, and the only gay man I had known as a sixteen year-old. He showed me a whole new world, and he taught me to be brave. He died rather tragically in 2013. But I got to escape to this zoo 3 days a week with him and it quickly became my haven. The animals were alive and it was very clear to me how they functioned as a unit. I spent a lot of time with children when I was there. There are no children in the play, but the play deals heavily with raising a child -- or handing a beat and shitty world over to them. The first man I kissed was the actor playing Superman at the zoo. We were walking to our cars after work. He was in his everyman clothes at this point-- his hair still slicked back-- and he kissed me, so simple. I care a lot about my hometown, there are a lot of good people who raised me up. But I also know there are a lot of people dealing with finding their sexuality in small-towns all over the country. I'm interested in plays that don't beckon towards a new narrative, but are a new narrative. We don't need to talk about being queer, we need to Be Queer. I want to see queer, diverse, non-binary, trans characters in the mess of a gritty story that goes deeper than just being a queer, diverse, non-binary, trans character.
BWW: So what are the issues the play deals with?
AJ: Something that surprised me while writing this play, because it didn't start out this way, but it is largely a play about parenting. Raising a child, who should raise a child, who's permitted to raise a child. I was really scared of this idea at first, as a person who is very far away from having a child of my own, perhaps the farthest you could be. So I've enjoyed this opportunity to live out my fantasies as a parent and to connect with everyone in my tribe who is a parent, or trying to be. I think technology has allowed us to forget a lot of what makes us just like any other animal. Procreating, death, disease--all present in the play, all remind me that I still have to kick like hell, still need to hit the ground running just like every other animal, every circle of the sun. So much of these characters, their relationships, their mess, their aggressions, their fantasies are all building towards this light. I think the end of the world isn't the scary part. What scares me is how we got there. Is this a moment right now? You know? We sit in awe and watch the sapphire sky until someone points out it's like that because of pollution. So to find this light I think it's a worthy cause to sit in a dark room and ask a lot of questions. The production team has me so excited about what all we can do to address these questions. We are working to be as green of a theatre production as possible, partnering with a conservation foundation to raise money for them, and connecting to the queer community in some exciting ways.
BWW: When and where will SALTY be produced?
AJ: This December The Tank Theatre housed us for a staged reading under the direction of Allison Benko. Producer Hope Chavez has ?agreed to collaborate this spring with her producing partners at Lyra Theater, where Salty will call Home for the next 5 months.
BWW: How can people get tickets? Do you have plans to mount additional productions of this!
AJ: The world premiere will release more information in 2018. And yes! I am talking to a few theatre companies in different cities that are interested in putting it up next year, which is incredible. I want this story to reach people, I want to get it out. BroadwayWorld hopes that Austin will be one of the fortunate cities to see
Aaron Johnson
's new play SALTY.
A Kansas native, Frank Benge has been involved in the Austin area theatre scene as a Director, Designer, Writer and Performer for the past 20 (read more...)