Click Here for More Articles on NEW YORK CITY
Young People's Chorus of NYC and Ailyn Perez to Celebrate the Holidays at Carnegie Hall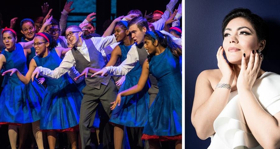 The Young People's Chorus of New York City (YPC) celebrates the holidays at Carnegie Hall with its Winter Wonder program featuring soprano and Metropolitan Opera star Ailyn Pérez as guest artist on Thursday, December 14 at 7:00 p.m.
Under the direction of YPC Artistic Director/Founder Francisco J. Núñez and Associate Artistic Director Elizabeth Núñez, the program highlights the different ways New York City families commemorate the festivities, with repertoire including holiday classics and international songs sung by over 400 YPC choristers ages 8 to 18.
Tickets priced $25-100 are available via the Carnegie Hall Box Office, 154 West 57th Street; by calling CarnegieCharge at 212-247-7800; or by visiting the Carnegie Hall website, carnegiehall.org.
---
YPC will also be featured in two free holiday performances:
Sunday, December 17 at 3:30 p.m.
Clement Clarke Moore Candlelight Service and Celebration
Church of the Intercession (550 West 155th Street)
The Young People's Chorus of New York City conducted by YPC Assistant Conductor Maria Peña returns to the Church of the Intercession to sing the musical prelude in the Church's 107th annual holiday candlelight reading of Clement Clarke Moore's "Twas the Night Before Christmas" (A Visit from Saint Nicholas). Following the reading, audience members can join in a lantern procession and wreath-laying ceremony at Clement Moore's mausoleum at Trinity Church, across from the Church of the Intercession, a tradition that began in 1911.
The performance and reading are free and open to the public.
Thursday, December 21 at 7:00 p.m.
38th Annual "A City Singing at Christmas"
St. Patrick's Cathedral (14 East 51st Street)
The Young People's Chorus of New York City performs at the 38th annual "A City Singing at Christmas," joined in a program of traditional and contemporary Christmas hymns and carols by the Brooklyn Interdenominational Choir, St. Patrick's Cathedral Choir, The Cathedral Organs, and New York Symphonic Brass.
General seating is free and open to the public.
---
The Young People's Chorus of New York City is a world-renowned youth chorus founded in 1988 on a mission of diversity and artistic excellence by Artistic Director Francisco J. Núñez, a MacArthur Fellow and Musical America's 2018 Educator of the Year. While harnessing the power of music to fulfill the potential of children, the program has heightened an awareness of the ability of children to rise to unforeseen levels of artistry. Over 1,600 children from ages 8 to 18 participate annually in YPC through its after-school, in-school, and community programs. YPC's repertoire ranges from renaissance and classical traditions to gospel, folk, pop, contemporary, and world music. YPC has performed on four continents, has won over a dozen gold medals in international choral competitions, and has invigorated the repertoire for young voices by commissioning and premiering over 100 compositions from today's most distinguished composers. YPC is a recipient of the National Arts and Humanities Youth Program Award, America's highest honor for youth programs. For more information, visit ypc.org.
Soprano Ailyn Pérez is increasingly in demand at the world's leading opera houses and cultural capitals. This season she returns to the Metropolitan Opera to star in the title role of Massenet's Thaïs, as well as the Contessa Almaviva in Mozart's Le Nozze di Figaro and Juliette in Gounod's Roméo et Juliette. Additionally, she will perform at the Bayerische Staatsoper, Staatsoper Hamburg, Staatsoper Berlin, and Opernhaus Zürich, and she debuts at the Teatro alla Scala in fall 2018. She is a member of the Metropolitan Opera Guild Artist's Council and Time in Kids Advisory Board, and she is also an avid fan and supporter of YPC. She has received the Richard Tucker Award (first Hispanic recipient in the award's 35-year history), Plácido Domingo Award, Beverly Sills Award from the Metropolitan Opera, Sphinx Medal of Excellence, and Licia Albanese-Puccini Foundation Distinguished Alumni Award. For more information, visit ailynperez.com.