York Theatre Co Announces MIDNIGHT AT THE NEVER GET, CHRISTMAS IN HELL, and More This Fall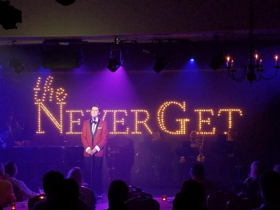 The York Theatre Company has announced the line-up for its 49th anniversary season at The York Theatre at Saint Peter's.
Launching the 2018-2019 season is the first Mainstage production, the Off-Broadway premiere of the acclaimed new musical Midnight at the Never Get, with book, music, and lyrics by Mark Sonnenblick, co-conceived by Sam Bolen. Max Friedman is set to direct. Cast will be announced shortly.
Performances are set to begin Tuesday, October 2, 2018 for a limited engagement through Sunday afternoon, November 4, 2018 at The York Theatre Company at Saint Peter's. Opening Night is set for Thursday evening, October 11, 2018 at 6:45 p.m.
A brand new musical by York NEO writer and 2018 Jonathan Larson Award winner Mark Sonnenblick, Midnight tells the story of singer Trevor Copeland and songwriter Arthur Brightman who have the perfect New York romance, and that's swell. In 1965, it's also against the law. So in the back room of The Never Get, an illegal Greenwich Village gay bar, they put together a show called Midnight-a nightclub act where Trevor sings Arthur's love songs with their male pronouns intact. But, as the lovers hurtle towards the end of the decade, they find themselves caught in a passion they can't control and a political revolution they don't understand.
Tickets for Midnight at the Never Get are priced at $67.50* - $72.50* and may be purchased by calling (212) 935-5820, online at www.yorktheatre.org, or in person at the box office at the York Theatre at Saint Peter's.
Midnight at the Never Get tickets are now available to members only. Tickets for the general public go on sale August 23rd at midnight.
Special $19.65 tickets available from 12:00am - 1:00am (Eastern) ONLY using code MIDNIGHT1965 - Commemorating the momentous year (1965) in which Trevor and Arthur begin their act at The Never Get, The York is offering a special ticket price of $19.65 for ONE HOUR ONLY starting at Midnight on Thursday, August 23rd. Available online only at https://web.ovationtix.com/trs/pr/997593/prm/MIDNIGHT1965 using code MIDNIGHT1965. *Offer only valid from 12 a.m. through 1 a.m. (Eastern).
Ringing in the holiday season in December is the second Mainstage production: the premiere of the new musical Christmas in Hell with book, music, and lyrics by Gary Apple, directed and choreographed by Bill Castellino. Performances are scheduled to begin Tuesday, December 4,2018 for a limited holiday run through Sunday, December 30, 2018. Opening Night is set for Sunday evening, December 9, 2018 at 6:45 p.m.
Looking for a sweet, wholesome holiday musical? Well, this ain't it! On Christmas Eve, little 6-year-old Davin is mistakenly taken down to Hell. When he returns, not only has he missed Christmas, but he is devilishly changed. To set things right, his father embarks on a bizarre odyssey that eventually leads him down to Hell itself where he makes a wager with Lucifer he can't possibly win. Christmas in Hell, with book, music, and lyrics by Gary Apple ("The Simpsons"), is a wild, irreverent and surprisingly touching musical comedy about the absurd lengths we'll go to for the ones we love. After award-winning appearances at the NY Fringe Festival and NYMF, Hell now arrives at The York for a full production, way more naughty than nice.
Tickets for Christmas in Hell are priced at $67.50 - $72.50 and may be purchased by calling (212) 935-5820, online at www.yorktheatre.org. Christmas in Hell member tickets go on sale September 4. General public tickets will go on sale September 12.
The winter season continues with the acclaimed Musicals in Mufti series, this time celebrating the centennial of the legendary librettist and lyricist Alan Jay Lerner. The series honors one of the creators behind such classics as Brigadoon, Camelot, Love Life and My Fair Lady. The 2019 Winter Mufti series celebrates Lerner with a look at three of his musicals: Carmelina, and two lesser known Lerner gems to be announced shortly. These musical theatre gems, performed in a simply-staged, book-in-hand concert format, are part of the Muftis' twenty-fifth historic year of presenting shows from the past that deserve a second look. Mufti means "in street clothes, without the trappings associated with a full production."
Opening the 2019 winter series is Carmelina, with music by Burton Lane, lyrics by Alan Jay Lerner, additional lyrics by Barry Harman, and book by Joseph Stein and Alan Jay Lerner. After previous sold-out Mufti runs in 1996 and 2006, the delightful Carmelina makes its return to the York.
In a picturesque Italian village, Carmelina has raised her teenaged daughter to believe her father was an American who died heroically in World War II-all the while collecting child support checks from three American soldiers, each of whom thinks he is the girl's father. Complications arise when all three soldiers show up at the same time for a reunion. Even though the original Broadway production only ran for 17 performances, the lush Lerner and Lane score received a 1979 Tony Award nomination for Best Score. The version of Carmelina presented here is the revised version created by Joseph Stein, Burton Lane, and Lerner protégé Barry Harman for The York in 1996, then further revised for a second Mufti presentation ten years later. Performances begin Saturday afternoon, January 26, 2019 and continue for 11 performances only through February 3, 2019. Night will be Sunday evening, January 27, 2019 at 7:00 p.m.
Performance dates for Mufti #2 are: Saturday afternoon, February 9, 2019 and continuing for 11 performances only through February 17, 2019. Opening Night will be Sundayevening, February 10, 2019 at 7:00 p.m.
Performance dates for Mufti #3 are: Saturday afternoon, February 23, 2019 and continuing for 11 performances only through March 3, 2019. Opening Night will be Sundayevening, February 24, 2019 at 7:00 p.m.
"Musicals in Mufti" Member Tickets go on sale Tuesday, August 28th. General public tickets will go on sale Tuesday, September 4th.
ONE-DAY ONLY Alan Jay Lerner BIRTHDAY SPECIAL: To commemorate Alan Jay Lerner's 100th birthday on August 31st, The York will offer a SPECIAL BIRTHDAY PACKAGE of $100 (savings of up to $50) for the entire Mufti series, on Friday, August 31 ONLY, that will be available online at www.yorktheatre.org, by calling (212) 935-5820, or in person at the box office at The York Theatre Company at Saint Peter's (Entrance on East 54th Street, just east of Lexington Avenue), 12:00 p.m. - 6:00 p.m.
SPECIAL MUFTI SERIES EVENTS: Several events surrounding the Lerner celebration, including a concert of classic Lerner songs and two multimedia events on "The Creation of My Fair Lady" and "The Creation of Camelot" will be announced this Fall.
SAVE THE DATE: THE YORK'S 50TH ANNIVERSARY KICK-OFF It's a cause for a major celebration. The 2019-2020 season celebrates The York's fifty years of producing award-winning theatre in New York City. Join The York on Monday, April 8, 2019, when the company kicks off a year-long celebration with a special event not to be missed. More details to come soon!
The York will close out the 2018-2019 season with a Spring Mainstage production of a special musical to be announced.
SPECIAL EVENTS: September brings the launch of the new Show Time! Trilogy, presented in association with UnsungMusicalsCo. as part of a three-year partnership and hosted by The York Theatre Company. The Show Time! Trilogy features over two dozen songs in an electrifying live-action documentary, weaving music and performance through a narrative of world, cultural, and theatre history.
The first in the new series is Show Time! The First 100 Years of the American Musical, a new documentary musical telling the remarkable story of a uniquely American art form, charting its evolution from the mid-1800s through 1999. Developed for over four years from more than 20 archives in more than 10 states, Show Time! is created, written, and performed by Ben West, a 2017 recipient of Lincoln Center's Martin E. Segal Award, with musical continuity and arrangements by Fran Minarik and direction and musical staging by Shannon Lewis. ?
FIVE PERFORMANCES ONLY: Thursday, September 13, 2018 through Sunday afternoon, September 16, 2018 at The York Theatre at Saint Peter's. NOW ON SALE: Single tickets for Show Time! The First 100 Years of the American Musical start at $20*.
The new year opens with the fourth annual College Winter Intensive, part of The York's Musical Theatre Training Program that trains and inspires young performers (January 2-12, 2019); and in March, Marymount Manhattan College, in association with The York Theatre Company and its continuing education program, presents a musical to be announced at a later date.
Senior Rush tickets are available in-person beginning one hour prior to performances for $20 cash only. Student rush tickets can be purchased anytime in advance at the box office during regular box office business hours. Limit one ticket per valid student ID and tickets are subject to availability. Student Rush tickets are $20.00 cash or credit. The York Theatre also offers $25 tickets for guests aged 35 years and under. Groups of 10 or more, contact Great White Way at 212-757-9117, or GreatWhiteWay.com. (*York Members receive Priority Seating and Discounted Tickets.)
For additional information, please visit www.yorktheatre.org
Photo Credit: Richard Hillman PR
Related Articles
More Hot Stories For You
Governor Andrew Cuomo Announces 'New York Arts Revival'- A Plan to Revive the Entertainment Industry
Broadway has been dark for almost a year, and members of the entertainment industry have been desperate for news about when the arts might return in N...

VIDEO: HAMILTON Releases Side-By-Side Comparison of 'Helpless' and 'Satisfied'
Back in August, one Hamilton fan, YouTube user Ye Olde Bard, saw some parallels while watching the musical on Disney+, specifically between A Winter's...

MATILDA Film Adds Emma Thompson As 'Miss Trunchbull' and Alisha Weir in the Title Role
The upcoming film adaptation of the acclaimed musical Matilda has found its title star! ...

Winners Announced For The 2020 BroadwayWorld Cabaret Awards!
This year, the BroadwayWorld Cabaret awards were thrilled to be able to celebrate streaming events from all across the globe thanks to the innovation ...

Debbie Allen, Joan Baez, Garth Brooks, Midori, and Dick Van Dyke to be Honored at 43 Annual Kennedy Center Honors
Recipients to be honored at the 43rd annual national celebration of the arts are: multi-disciplinary artist, choreographer, and actress Debbie Allen; ...

New Documentary STILL WORKING 9 TO 5 Explores the Film's Legacy and Relevance
A new documentary, 'Still Working 9 to 5' will chronicle the origins and legacy of the classic comedy film starring starring Jane Fonda, Dolly Parton,...