Click Here for More Articles on BroadwayHD
Uncensored Director's Cut of INDECENT Will be Available on BroadwayHD Late January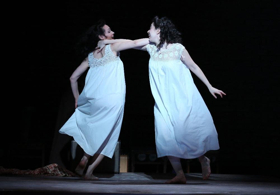 When Indecent aired on PBS's Great Performances it was missing some of the elements that helped it earn the 2017 Tony Award for Best Direction. Ironically, a play with a deep history of censorship, one that was put on trial for obscenity, was once again too provocative to be seen as intended. Now, for the first time ever outside of the Cort Theatre, it can be seen completely uncensored when it comes to BroadwayHD.
Written by Pulitzer Prize-winner Paula Vogel and directed by Tony winner Rebecca Taichman, Indecent is about the love and passion to create theatre, even in the most difficult of circumstances. The play follows a troupe of actors, the cast of Sholem Asch's God of Vengeance, who risked their lives and careers against enormous challenges to perform a work in which they deeply believed, at a time when art, freedom and truth were on trial. It is a story told with compassion and honesty, but also with great theatricality, and joyous songs and dances.
This comprehensive production will include language and scenes too risqué for broadcast television that were captured by 8 high-definition cameras at Broadway's Cort Theatre by BroadwayHD in association with Thirteen Productions LLC for WNET. The show is directed for television by Emmy-award winner David Horn. It will stream on BroadwayHD for subscribers starting on January 25.
BroadwayHD is the global online streaming service where you can watch live theater content from the comfort of your home. For more information visit broadwayhd.com
Indecent opened at the Cort Theatre on April 18, 2017 and closed on August 6, 2017 after a miraculous last minute extension. The cast includes Ben Cherry, Andrea Goss, Katrina Lenk, Mimi Lieber, Max Gordon Moore, Tom Nelis, Steven Rattazzi, Eleanor Reissa, Richard Topol, and Adina Verson.
Photo Credit: Carol Rosegg