Signature Theatre Announces 1st National Tour of CAMBODIAN ROCK BAND and West Coast Premiere of OCTET
OCTET will make its West Coast premiere at Berkeley Repertory Theatre's in their spring 2021 season.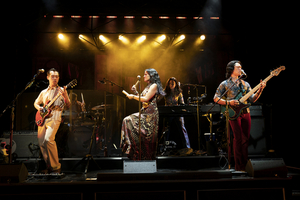 The Signature Theatre has announced that Octet, the critically acclaimed world premiere musical by Residency 5 playwright Dave Malloy, will make its west coast premiere during Berkeley Repertory Theatre's Spring 2021 season. Directed by Annie Tippe, Octet was the first musical commissioned and produced in the theatre's history. Additionally, Broadway & Beyond Theatricals will present the North American tour of the Signature Theatre production of Cambodian Rock Band by Lauren Yee, featuring songs by Dengue Fever, directed by Chay Yew, during the 2021-2022 season. The tour, which is the first ever Signature Theatre production to embark on a tour, will play Berkeley Repertory Theatre and many other stops to be announced along with on-sale dates and casting.
Signature Theatre Artistic Director Paige Evans said, "I'm delighted that our productions will have future lives beyond their artistic home at Signature, with the co-production of Octet at Berkeley Rep and Cambodian Rock Band in our first national tour. We're excited that these special productions will be shared with audiences across the country, once theatre is open and flourishing again. We're eager to see what's next for both Dave and Lauren as they continue to build their bodies of work in their residencies at Signature."
Executive Director Harold Wolpert added, "The continued life of Signature's production of Octet and our first national tour with Cambodian Rock Band are wonderful opportunities to collaborate with our not-for-profit colleagues to showcase our resident playwrights at the core of our mission outside of our home at The Pershing Square Signature Center. This is yet another way, in addition to the Signature Ticket Initiative, for us to extend our commitment to making our work accessible."
Playwright Dave Malloy said, "I'm so thrilled to be returning to Berkeley with Octet, and have this show continue to evolve under the care of two of my favorite theaters. It's a wonderful extension of my Signature residency, bringing this work to another coast, in a theater that will hopefully by then be filled with smiling, healthy, socially close theatergoers."
Playwright Lauren Yee said, "When I first wrote Cambodian Rock Band, I never could have anticipated the deep investment and love audiences have shown for this moving, universal father/daughter story. Thanks to that incredible momentum from those across the country, we have been given the opportunity to share this work with an even broader audience, especially in the Bay Area, where I was born and raised."
Octet premiered at Signature Theatre during their 2018-2019 season and was directed by Annie Tippe. It was the first production in three-time Tony Award-nominee Dave Malloy's Signature Residency, which will include three world premiere musicals over the course of five years. Featuring a score for an a cappella chamber choir and an original libretto inspired by internet comment boards, scientific debates, religious texts, and Sufi poetry, Octet explores addiction and nihilism within the messy context of 21st century technology.
The Signature Theatre production of Cambodian Rock Band played on the Irene Diamond Stage at the Pershing Square Signature Center during the 2019-2020 season. Hailed as "the first great play of 2020" (Theatermania) this darkly funny, electric new play with music tells the story of a Khmer Rouge survivor returning to Cambodia for the first time in thirty years, as his daughter prepares to prosecute one of Cambodia's most infamous war criminals. Backed by a live band playing contemporary Dengue Fever hits and classic Cambodian oldies, this thrilling story toggles back and forth in time as father and daughter face the music of the past. Directed by Chay Yew, the New York premiere of this intimate rock epic about family secrets is set against a dark chapter of Cambodian history. It launched Steinberg Award-winning playwright Lauren Yee's Residency 5.
For the most up-to-date news about the upcoming Cambodian Rock Band North American tour, please visit BBTheatricals.com.
Related Articles
More Hot Stories For You
Broadway Actor Doreen Montalvo, Known For IN THE HEIGHTS and ON YOUR FEET, Dies at 56
BroadwayWorld is saddened to report that stage and screen actor Doreen Montalvo has died at age 56. The news was confirmed by friends on social media....

Meet Our NEXT ON STAGE: SEASON 2 College Top 15!
You voted, here they are! In no particular order, meet our top 15 in the college category....

Broadway Jukebox: 40 Perfectly Political Anthems
The election is right around the corner, and while we count down the days until we can cast our votes, we might as well get in the political spirit......

BEETLEJUICE Will Premiere in South Korea in 2021
It has been confirmed that the first Korean production of Beetlejuice, performed in the Korean language, will come to Seoul, South Korea next year....

Bernadette Peters, Kristin Chenoweth, and More Share Their Thoughts on STICKS & STONES
There are just two more days to watch Sticks & Stones right here on BroadwayWorld before it disappears forever. The concert benefits Broadway Cares &...

Stage and Screen Star Rhonda Fleming Dies at 97
BroadwayWorld is saddened to report that screen and stage star Rhonda Fleming has died at 97....