Rialto Chatter: Robert Evans Bio-Play THE KID STAYS IN THE PICTURE May Still Come to Broadway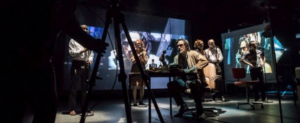 Rumors have been circulating about a Broadway transfer of The Kid Stays in the Picture since its West End run two years ago. Deadline is reporting that this very much may still be a possibility.
The Kid Stays in the Picture is based on the autobiographical book, and subsequent documentary, about film producer Robert Evans.
A Broadway adaptation was initially announced in 2010, but was cancelled the next year.
However, in 2017, the Royal Court staged a new adaptation of the memoir, produced by Patrick Milling Smith, Barbara Broccoli and Brian Carmody, along with Michael G. Wilson and The Royal Court Theatre in association with Complicite.
Simon McBurney directed and co-wrote, with James Yeatman, the adaptation.
The play followed Evans' rise in the Hollywood scene including his work at Paramount studios where he produced films such as ROSEMARY'S BABY and THE GODFATHER. He spent much of his time living the glamorous lifestyle of booze, drugs, and women, which led to the release of his written story. THE KID STAYS IN THE PICTURE turned the spotlight back to his fading star, even inspiring a documentary.
It was then rumored once again that the production would come to Broadway, but no moves were ever made.
Following Evans' death last week, Deadline reached out to the creatives about the project to see if it was still afloat.
The answer was yes, it was still aiming for Broadway, but the creative team's busy schedules were what has been holding it back.
Broccoli indicated that the project is "still alive," and she remains connected to it, but "future plan for the production is still being discussed."
Producer Patrick Milling Smith also said that schedules are the reason for the lack of a transfer but he hopes to make an announcement "in the future."
Read more on Deadline.
Robert Evans was an American film producer and studio executive, best known for his work on Rosemary's Baby, Love Story, The Godfather, and Chinatown.
Beginning as a film actor, in 1962, Evans decided to go into film producing instead, He became the head of Paramount Pictures in 1967. While there, he improved the ailing Paramount's fortunes through a string of commercially and critically acclaimed films. In 1974, he stepped down in order to produce films on his own.
In 1980, Evans pleaded guilty to cocaine trafficking, and, over the next 12 years, he produced only two films, The Cotton Club and the Chinatown sequel The Two Jakes. In 1993, he began to produce films on a more regular basis, including How to Lose a Guy in 10 Days in 2003, his final film credit.
Related Articles
More Hot Stories For You
Photo: Olivia Newton-John and John Travolta Don GREASE Costumes For Film Sing-A-Long
Today, Grease was the word at Coral Sky Amphitheatre as John Travolta and Olivia Newton-John, slipped back into their iconic costumes from the film to... (read more)

Dancer and Actor Jack Burns Passes Away At Age 14
It has been reported that young actor and ballet star, Jack Burns, has passed away suddenly at age fourteen.... (read more)

Voting Open For The 2019 BroadwayWorld Regional Awards Worldwide
Voting is NOW OPEN for the 2019 BroadwayWorld Regional Awards Worldwide, brought to you by TodayTix! The nominees are set, and now you can vote to mak... (read more)

First Look: Rob McClure in the Broadway-Bound MRS. DOUBTFIRE in Seattle
BroadwayWorld has a first look at MRS. DOUBTFIRE which celebrates its opening night tonight at Seattle's 5th Avenue Theatre! Get a first look at the c... (read more)

Breaking: Caissie Levy, John Cariani, Chip Zien, Tamika Lawrence & More Join CAROLINE, OR CHANGE on Broadway
Caroline, or Change has found its Broadway cast! Roundabout Theatre Company has just announced the cast joining Olivier Award winner Sharon D Clarke i... (read more)

BE MORE CHILL to Premiere in Chicago in April
Be More Chill, the mind-bendingly fun, smash hit Broadway musical, comes to Chicago in a new production at the Apollo Theater. Based on the novel by N... (read more)