Click Here for More Articles on USUAL GIRLS
Review Roundup: What Do The Critics Think of Roundabout's USUAL GIRLS?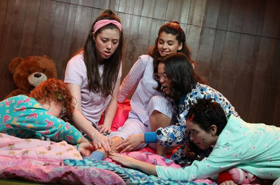 Roundabout Theatre Company's world premiere production of Usual Girls by Ming Peiffer, directed by Tyne Rafaeli, officially opened last night, November 5, 2018 at the Black Box Theatre in the Harold and Miriam Steinberg Center for Theatre (111 West 46th Street). This is a limited engagement through Sunday, December 9, 2018.
The cast includes Sofia Black-D'Elia as "Sasha / Older Girl 2 / KKG Sister," Abby Corrigan as "Anna," Ali Rose Dachis as "Marina / Older Girl #3," Midori Francisas "Kyeoung," Karl Kenzler as "Father," Jennifer Lim as "Woman," Ryann Redmond as "Older Girl / KKG Sister,"Nicole Rodenburg as "Lindsay," and Raviv Ullman as "Rory." The previously announced Sarah Pidgeon has departed the production due to scheduling conflicts.
How do girls grow up? Quickly, painfully, wondrously. On an elementary school playground, a boy threatens to tell on the girls for swearing - unless one of them kisses him. But just before lips can touch, Kyeoung tackles the boy to the ground. The victory is short-lived. Over the coming years, Kyeoung's stories get stranger, funnier, more harrowing - and more familiar. This hilarious, explicit gut-punch of a play bursts with playwright Ming Peiffer's bold, explosive voice.
Let's see what the critics are saying...
---
Laura Collins-Hughes, The New York Times: The script's weakness is in Ms. Peiffer's tendency to finish scenes with lines that feel like flourishes. She undermines the play's ending with a similar lack of subtlety, detracting from the overall power.
Without a lead as bold, moving and full-on funny as Ms. Francis, in a production less accomplished than Ms. Rafaeli's, those quibbles would matter more.
But in its world premiere, "Usual Girls" is exciting to watch. With hilarity and grimness, it connects the dots between pleasure, pain and shame.
Tim Teeman, The Daily Beast: This vibrantly colorful and raw exploration of female identity, friendship, and isolation-performed by an excellent, almost all-female company-looks at the male-sourced damage done to young women, and the damage young women can do to each other in direct and indirect response. This is a very personal history of #MeToo. It isn't a smooth play, it is proudly scuffed at its edges. It feels workshop-py, rather than neat and sleek.
Sara Holdren, Vulture: It's one thing to be able to articulate your artistic goals and another to pretty much nail them. But that's what Peiffer, along with director Tyne Rafaeli, has done with Usual Girls, a visceral growing-up play that moves from rambunctious to somber without apologizing for either extreme, its nuttiness or its anger.
Frank Scheck, The Hollywood Reporter: The ensemble cast, many of whom are dealing with the difficult assignment of playing their characters at different ages, handle the challenging material with admirable skill. And while Tyne Rafaeli's staging isn't always as subtle as it could be, the director makes the play's themes come through loud and clear. Usual Girls is certainly not a comfortable evening in the theater, but it's never less than thought-provoking.
Elysa Gardner, New York Stage Review: Peiffer and director Tyne Rafaeli also show sophistication and boldness in acknowledging other factors that can encourage women against their own self-interest and each other's. The driving pace and lean muscularity Rafaeli establishes is enhanced by blasting popular songs from recent years and decades between scenes, including tunes that promote faux male sensitivity-part of the subject of a fevered, very funny monologue a woke Kyeoung hurls out at one point-and stereotypically girlish, potentially destructive decadence. Jennifer Lim, elegant and poignant as a woman revealed to be Kyeoung at a later date, addresses the power of other media, from Disney movies on, in prodding women to equate sexual desire with subjugation.
Raven Snook, TimeOut: Director Tyne Rafaeli elicits raw performances from her fearless, mostly female cast; she has been developing the piece with Peiffer for several years, and she frequently injects a horror-movie vibe, giving you a visceral sense of Kyeoung's perpetual unease. Although it includes many darkly humorous moments, especially early on as the girls get jiggy with stuffed animals, Usual Girls is a primal scream of a play that wants to make you squirm, and it succeeds. If it seems messy, painful and upsetting, well, that's how it can feel to be a woman.
Related Articles