Review Roundup: What Did The Critics Think of The Public's FIRE IN DREAMLAND?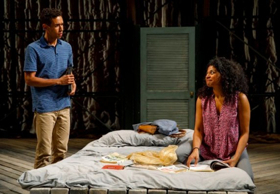 The Public is currently tackling the dynamic and poignantly funny new play Fire in Dreamland. The show opened yesterday, July 16, at the Anspacher Theater.
The complete cast of Fire in Dreamland features Kyle Beltran (Lance), Enver Gjokaj (Jaap Hooft), and Rebecca Naomi Jones (Kate).
Rinne Groff returns to The Public with Fire in Dreamland directed by Marissa Wolf, Associate Artistic Director and New Works Director at Kansas City Repertory. In the aftermath of Superstorm Sandy, a disillusioned do-gooder named Kate, meets Jaap, a charismatic European making a film about the 1911 fire that burned Coney Island's Dreamland amusement park to ashes. Desperate for something to live for, Kate buys a ticket on the thrill ride of Jaap's passion. The only trick is to keep the roller coaster from running off the rails before it destroys them all. Breaking the boundaries of time and narrative, Fire in Dreamland is a vibrant new play that explores the astonishing things we create in the face of devastation. The work was originally commissioned by The Public Theater and Berkeley Repertory Theatre.
FIRE IN DREAMLAND features scenic and costume design by Susan Hilferty, lighting design by Amith Chandrashaker, and original music and sound design by Brendan Aanes.
Let's see what the critics are saying...
---
Alexis Soloski, The New York Times: Ms. Jones is an actress of luminous intensity. She isn't ideally cast as a bureaucrat - petty or otherwise - but she's still a treat to watch, even when (or especially when?) she has to shimmy into full Mermaid Parade regalia. Mr. Gjokaj, a familiar presence from TV ("Agent Carter,""Dollhouse"), wears his masculinity lightly, which mitigates some of Jaap's awfulness. His boyish enthusiasm makes you wonder if Jaap is just another victim of his own flimflam. (But you can also wonder: So what?) To say more about Mr. Beltran's Lance risks spoilers. But the character is nevertheless underwritten, which Mr. Beltran's twitchy sympathy nicely disguises. Ms. Wolf directs him and the others with obvious compassion, though more hard-nosed clarity might help.
The play takes a more compelling turn just at the end, exploring what we do after a calamity and how we might, with care and pain, rebuild our boardwalks and our hearts. That's a recovery project I'd like to see.
Helen Shaw, Time Out: Jones is a superstar, but her light is dimmed by her character's function: playing straight woman first to Jaap and then to Lance (Kyle Beltran), a film student amusingly uncomfortable with everything. Director Marissa Wolf does strong work, and Groff's script includes a number of elegant touches, like time hops and flashbacks that are cued by a man (Beltran again) with a film clapperboard. Clack! Kate thinks of her dying father. Clack! We're back in her tiny apartment, where Jaap has just used her credit card. The play's weakness comes from its lack of a serious central conflict. We wait for Kate to notice that Jaap is a bad boyfriend or at least that his movie hasn't got a story; we wait for her to make up her mind in an atmosphere weirdly devoid of consequences. While she is torn between her social work and making art, the play itself grows halfhearted whenever it veers towards civic advocacy. Its main tragic moments, told in monologue, concern animals that have been dead for more than a hundred years. For a drama that's about focusing on reality and present suffering, there's more sentimental smoke than emotional fire.
Tim Teeman, The Daily Beast: The play breathes easiest in its witty and sometimes silly moments of linguistic misunderstanding between the three characters (my favorite was a lightning exchange of "Jaap" and "yep"), and in its visually arresting symbolic immersions in those raging flames and wild animals in peril during the 1911 fire. In a stunning dress, Kate becomes a participant in the present-day Mermaid Parade, and a showgirl from many years back.
Quite what that night of flames and terrible animal suffering can teach the squabbling and challenging characters of Fire in Dreamland remains a little opaque. Maybe all of them are captive, under threat, and needing some kind of escape or release. Whatever, we certainly hear Kate roar.
Sara Holdren, Vulture: Still, Fire in Dreamland is an emotionally generous play that's refreshing in its deep belief in the power of one of the oldest and purest forms of theater. Susan Hilferty's set, which fills the Anspacher with a minimal playing space of boardwalk-like wood and construction scaffolding, is simple enough, though I can imagine future productions of Groff's play in which the stage is even emptier, even more of a canvas for the imagination. Think, Groff and her characters are telling us, when we talk of horses-or lions, or mermaids-that you see them. We can, and we do.
Robert Hofler, The Wrap: Kate's fantasy life, unfortunately, is a lot less absorbing than the occasional glimpses Groff gives us of Jaap's real self. "Fire in Dreamland" is told from Kate's viewpoint, which, despite Jones' best efforts to keep the character bubbly and upbeat despite a few crying jags, is that of a deluded run-of-the-mill optimist with whimsy spread on top with a shovel. Jaap isn't as crazy as the title character in David Cale's "Harry Clarke," but his life story is worthy of a play. Kate, at best, is one scene in Jaap's multi-act drama.
Elisabeth Vincentelli, The Village Voice: In Fire in Dreamland, two people are obsessed but the conjunction of history and art only changes one: Kate. And yet, she never quite acquires a fully rounded personality, instead remaining a sketch of a character in search of purpose - or, in dramaturgical terms, motivation. As for that potentially intriguing Sandy connection, it is so underwritten as to feel arbitrary. For a story about the extremes of being consumed, in every sense of the word, Fire in Dreamland is oddly lukewarm.
Photo Credit: Joan Marcus