Review Roundup: What Did Critics Think of IF PRETTY HURTS...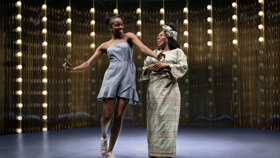 Playwrights Horizons is currently staging Tori Sampson's If Pretty Hurts Ugly Must Be a Muhfucka. The production features direction by Leah C. Gardiner and choreography by Raja Feather Kelly with a cast that includes Rotimi Agbabiaka, Maechi Aharanwa, Jason Bowen, Antoinette Crowe-Legacy, Ian Duff, Nike Uche Kadri, Mirirai Sithole, Carla R. Stewart, and Phumzile Sitole.
In the village of Affreakah-Amirrorkah, no one questions that Akim is the one true, perfect beauty - not even her jealous classmates. But they'll be damned before they let her be the leading lady in this story. A decidedly contemporary riff on a West African fable, Tori Sampson's explosive epic is brimming with live music and dance, as these frenemies jockey for their rank in a culture built on ideals forever out of reach.
Let's find out what the critics had to say...
---
Jesse Green, The New York Times: One of the pleasures of "If Pretty Hurts" is that it exists largely outside the white gaze. As part of the recent flowering on New York stages of plays that blur the boundaries of Africa and America - by authors including Jocelyn Bioh, Ngozi Anyanwu, Danai Gurira and Mfoniso Udofia - it honors its characters and its audience enough to assume the value of black lives that are only distantly mediated by Eurocentric expectations.
Sara Holdren, Vulture: She's interested in the psychological violence and internalized misogyny of a value system, presided over by men, which prizes and rewards beauty - always narrowly defined but unquestionably recognized - and encourages comparison and competition, especially among young women, and most especially among young women of color. It could all make for a great, and very scary, play. If Pretty Hurts isn't quite that play, though it feels like an energetic sketch in that direction.
Robert Hofler, The Wrap: The most fascinating aspect of "Muhf-a" is how Sampson misleads us into thinking the play is about one character, the pretty one, when it's really about one of the other young women. That singular pleasure, however, can't be savored until the evening is almost over. Until then, you have to deal with confusing plot twists that turn Akim's father (Jason Bowen) into the villain because he overprotects his daughter so she won't end up with guys like Kasim.
David Finkle, New York Stage Review: Bringing If Pretty Hurts Ugly Must Be a Muhfucka to its vibrant life is proficiently handled by director Leah C. Gardiner. She sees that all the actors maximize the possibilities in a story playwright Sampson cleverly tells by placing it in Affreakah-Amirrorikah, a land, not unlike America, where racism can, in the worst circumstances, turn in on itself.
Helen Shaw, TimeOut: Sampson's script plays like it's sledding on a steep hill: You can feel the speed, the writer's whizzing wit, the swift adjustments in tone and direction. The mixture of folklore-speak and hilarious up-to-the-minute banter is intoxicating, but it's also a clever comic strategy to smuggle the girls' pain past our watchful minds. Akim cries out, "God of earth, god of wind, god of fire, god of the Obamas! Please take my beauty away from me!" and our laughter means that her suffering catches us a beat later, by surprise.
Photo Credit: Joan Marcus
Related Articles