Click Here for More Articles on NETWORK
Review Roundup: What Did Critics Think Of Bryan Cranston In NETWORK On Broadway?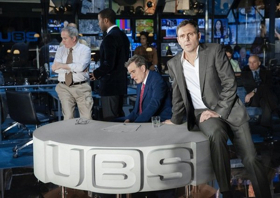 The National Theatre production of Network, produced by David Binder, the National Theatre, Patrick Myles, David Luff, Ros Povey and Lee Menzies, opens tonight, December 6 at Broadway's Belasco Theatre.
The production stars Bryan Cranston (All The Way, "Breaking Bad"), Tony Goldwyn ("Scandal," Promises, Promises) and Tatiana Maslany ("Orphan Black," Mary Page Marlowe).
NETWORK is directed by Tony and Olivier Award winner Ivo van Hove (A View From the Bridge, The Damned), adapted by Tony and Olivier Award winner Lee Hall (Billy Elliot) and based on the Academy Award-winning film by Paddy Chayefsky. Network is presented in association with Dean Stolber.
Let's see what the critics had to say!
---
Ben Brantley, New York Times: For your sins, Bryan Cranston is all but flaying the skin off his body, night after night at the Belasco Theater. It is a demanding undertaking, both painful and rigorously skilled. And if you're a glutton for great, high-risk acting, you owe Mr. Cranston the courtesy - and yourself the thrill - of watching his self-immolation in "Network," which opened on Thursday.
Michael Dale, BroadwayWorld: The brilliance of placing a stage adaptation of Chayefsky's story of television news as editorialized entertainment with content controlled by funding corporations is that what was taken as satire over forty years ago can be seen as social commentary in 2018. The outrageous plot twists dramatized by the '76 characters are now resembling contemporary reality... not to mention reality programming. Though the production is a transfer from London's National Theatre, the reaction from Saturday night's audience indicates that this one might prove an especially potent call to action among American audiences during Broadway's evolution into more and more political and social issues oriented theatre that has stirred up recent seasons.
David Rooney, Hollywood Reporter: Anyone familiar with the movie will be prepared for the bleak malevolence of the ending. But van Hove and Hall save their most significant addition for last, replacing Chayefsky's omniscient narrator with a coda in which an out-of-body Howard warns of "the destructive power of absolute beliefs." Given the adaptation's shift to make Howard its monumental center, plus the fact that Cranston blows everyone else off the stage, it's fitting that he has the final word.
Robert Hofler, The Wrap: Say what you want about the power of live performance, audiences will inevitably gravitate to the big jumbotron image over the real and tiny thing every time. Van Hove's direction, Jan Versweyveld's lighting and sets, and Tal Yarden's videos not only acknowledge that audience preference, they turn it into an addiction and make it central to what this "Network" is all about.
Greg Evans, Deadline: The adaptation by Lee Hall (Billy Elliot) sticks close to Chayefsky's original script, with mixed results. References to, say, The Mary Tyler Moore Show once gave Network a startling contemporaneity, but now seem a tad camp. And hearing, with fresh ears, that melodramatic monologue that won Beatrice Straight an Oscar does little but suggest just how good Straight was. That's no slight against Alyssa Bresnahan, who plays the role on stage, but lightning can't strike twice.
Marilyn Stasio, Variety: Bryan Cranston, who could do no wrong as Walter White in "Breaking Bad" (and a Tony winner for "All the Way"), burrows deep under the skin of Howard Beale here: the furrowed brow, the anxious angularity, the searching eyes all indicate a person in extremis. But it's the voice that really makes us feel - and fear - for Beale. Beneath the mellifluous tones of Cranston's professional "newsman" delivery we can hear the agitated rasp and incipient howl of a person who's cracking up.
Christopher Kelly, NJ.com: Yet even if this "Network" doesn't entirely hang together, it's still a fabulous piece of entertainment, directed and performed with verve and showmanship. Just about every directorial choice here - the clocks that count down to Beale's news broadcasts; the applause signs demanding the audience's interaction; a final scene magic trick straight out of "Harry Potter and the Cursed Child" - manages to be audacious without feeling show-offy. If you're going to transfer a movie to the stage, this is exactly how to do it, by respecting both forms and then taking a sledgehammer to them. Let the pieces land thrillingly where they may.
Terry Teachout, Wall Street Journal: In the case of "Network," Lee Hall's stage version of the 1976 Paddy Chayefsky-Sidney Lumet film about a network anchorman (played in the film by Peter Finch and onstage by Bryan Cranston) who cracks up midway through the evening news and starts telling the truth, the frosting has been whipped up by Ivo van Hove, Europe's most pretentious stage director. Working in close collaboration with Jan Versweyveld, the scenic and lighting designer, and Tal Yarden, the video designer, Mr. Van Hove has given us a TV-screens-and-Plexiglas production that looks thoroughly postmodern. The catch is that Mr. Hall's script, set in 1975, is a faithful adaptation of Chayefsky's screenplay, a once-prescient satire of the dumbed-down future of broadcast news. All of Chayefsky's predictions having long since come to pass, "Network" is thus a musty period piece: The bomb has already gone off.
David Cote, Theatre News Online: For those who have never seen an Ivo van Hove production, the coups de théâtres will be very coup-y: the masterful choreography of bodies and cameras, the densely layered music and sound (by Eric Sleichim), scenes shot live right outside the theater, the use of video for clever misdirection of the eye - particularly in a bloody climax near the end. If you've been following the director's output for years, however, all these signature gestures will be less revelatory. But let's face it, audiences are not coming for European mise-en-scène. They want to see the Breaking Bad dude go crazy, live, in person. Fame, anger, outrage - that's what makes ratings, and ratings are power. At least, that's what our president thinks.
Adam Feldman, TimeOut NY: With its continual sensory overload and its darkly vague intimations about populism and corporate power, this Network certainly looks cool. But it's beyond cool: It's icy. We seem intended to nod our heads and think about how prescient it all was-the mob appeal of anger, a mention of Saudi Arabia-but then to think no more. Network isn't galvanizing, it's numbing: emptily flashy in its condemnation of empty flash, inhuman in its wan defense of humanity. It has a superb TV star and a killer catch phrase, but behind the sound and fury is only a shadow of significance.
Matt Windman, amNY: In 2018, "Network" - which can now be viewed on Broadway in a freewheeling, fast and furious, absolutely mesmerizing stage adaptation starring Bryan Cranston as Beale - feels all too familiar for comfort, having presaged the commoditization and corporate takeover of the news, mistrust and misuse of the media, televangelism, going viral, reality TV and exploitation of the general public's frustration with the state of the world.
David Finkle, NY Stage Review: Despite having a brazen on-stage intercourse-to-climax interlude, Goldwyn and, especially, Maslany fail to suggest obligatory sexual chemistry. Bresnahan certainly milks her wronged-wife moment for all it's worth. Among the other scenery chewing personae, restrained Nick Wyman, in two sequences as pragmatic exec Arthur Jensen, looks good. Also, reliable actors like Frank Wood and Henry Stram can't be blamed for excesses, as they're hardly more than supernumeraries.
Melissa Rose Bernardo, NY Stage Review: A little more than halfway through Network-Lee Hall's theatrical adaptation of the deliciously cynical (and eerily prescient) Paddy Chayefsky-scripted 1976 film-Tony winner Bryan Cranston (All the Way), as disgraced news anchor-turned-primetime prophet Howard Beale, is ready to deliver the character's iconic mad-as-hell speech. Before he even says a word, we see how broken down Beale is. Cameras zoom in on his furrowed brow, on his lips as he starts to speak but chokes on his own words, on his weary eyes welling with tears. The pain is written all over his face, and projected onto a 12- by 20-foot screen for the entire Belasco Theatre audience to see. That's when director Ivo van Hove's multimedia-saturated concept clicks: Naturally you'd put cameras all over a production of Network. So we can see every inch of his anguished face, magnificent and magnified, as he repeats the words "I'm mad as hell and I'm not going to take it anymore."
Roma Torre, NY1: And that's even with Van Hove's directorial flourishes. Set in a TV studio under a countdown clock, cameras follow every movement projecting scenes on a big screen. Audience members are seated stage left at tables eating and drinking, and at one point they get to watch Goldwyn and Maslany in a hot and heavy sex scene. Just before that, the two lovers are seen walking along 44th Street. It's a novel idea but it makes little sense to see present day cars and pedestrians in a story that's set in 1975.
Mark Shenton, The Stage: The absolute genius of Ivo van Hove's production is to give this a churning, gripping immediacy, as TV cameras swoop over the action and relay images to a giant screen centre stage and on smaller screens throughout the auditorium. And it is propelled by a searing, shatteringly committed performance from Bryan Cranston, for which he won him an Olivier and Critics' Circle Award in London, bringing the intense, intimate detail of his TV work on Breaking Bad to fill a much bigger canvas.
Chris Jones, Chicago Tribune: For those of us of a certain age, to watch director Ivo van Hove's production - the storytelling takes place in part on a slew of screens throughout the theater - is to mutter to ourselves about how on earth wily old Paddy C (he died in 1981) knew so well what was coming. Everything the movie predicted, like, happened. And that's why it no longer plays as a satire of greedy executives and facile fools but as a gut-wrenching morality play about how capitalists - and their sad-eyed human tools - destroyed most of the real news. And they did so mostly by tapping into a single human constant - anger at the unchangeable unfairness of the world. Beale, Alex Jones, Sean Hannity. Only the names change. Not the feelings tapped.
Chris Nashawaty, Entertainment Weekly: Whenever Cranston isn't on stage, the show tends to feel a bit didactic. And some of van Hove's flashy, fourth-wall-breaking technical daredevilry feels distracting and oddly pointless. For example, before the show even starts, the actors can be seen stretching and preparing on the darkened stage as French disco music plays. Why? And for some reason there's a smattering of café tables on the side of the stage, where a handful of deep-pocketed theatergoers can fork over between $299 and $399 for the privilege of eating during the show. Again, other than to make some extra dough at the gate, why? Still, despite all the clever-boy trickery and meta window dressing, at least there's the show itself, which remains as arsenic-potent as the day it was written. After all, we all seem to be "mad as hell" in 2018.
Sara Holdren, Vulture: Cranston's disintegration is a hell of a thing to watch, especially in the excruciating moments of silence before Beale launches into his first famous tirade. With a camera up in his face and that face looming, distorted with pain, up on the set's back wall, Cranston stumbles and sways, squinting through tears and groping to pull the scattering fragments of his brain back together. In the awful stillness, as his mouth gaped wordlessly and his brow folded up like a crumpled napkin, I realized I'm looking forward to his Lear. (I also had to remind myself to look at the actor instead of the cinematic image - the latter can easily steal all the focus in van Hove's work, while the former, especially in the case of a dynamo like Cranston, is infinitely more powerful.)
Joe Dziemianowicz, NY Post: It's a shame. "Network" starts with a bang, as Cranston delivers one of Howard's unhinged live broadcasts, with everyone hustling around him like a single, one-celled organism. But when the focus veers from Howard to corporate doublespeak and a cliched melodrama - at least as it's played here - about an extramarital affair, it's time to switch channels.
Max McGuinness, Financial Times: But the real story here is the overwhelming sense of spectacle crafted by van Hove and Cranston's barnstorming performance. Reality may have outstripped Lumet and Chayefsky's most pessimistic prophecies. But this Network is still a compulsively watchable freak show.
Related Articles