Review Roundup: THE PROM National Tour Returns to the Stage
The national tour of The Prom will be making stops in Orlando, Hershey, Washington DC and more.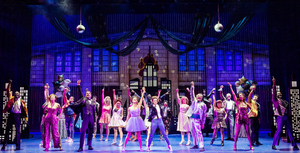 The National Tour of the 2019 Drama Desk Award winner for Outstanding Musical The Prom began performances on November 2 at Playhouse Square in Cleveland.
The tour stars Kaden Kearney (they/them) as "Emma, High School Student, Banned from The Prom," Kalyn West as "Alyssa Greene, Head of Student Council with a Secret," Courtney Balan as "Tony Award Winner Dee Dee Allen," Patrick Wetzel as "Drama Desk Award Winner Barry Glickman," Emily Borromeo as "Angie Dickinson, Broadway Chorine," Bud Weber as "Trent Oliver, Esteemed Julliard Graduate/Cater Waiter," Sinclair Mitchell as "Mr. Hawkins, High School Principal," Ashanti J'Aria as "Mrs. Greene, President of the PTA" and Shavey Brown as "Sheldon Saperstein, Broadway's Press Agent with a Plan."
Rounding out the ensemble are Jordan Alexander, Gabrielle Beckford, Ashley Bruce, Olivia Rose Cece, Maurice Dawkins, Jordan De Leon, Shawn Alynda Fisher, James Caleb Grice, Megan Grosso, Chloe Rae Kehm, Braden Allen King, Brandon J. Large, Christopher McCrewell, Adriana Negron, Lexie Plath, Brittany Nicole Williams, Thad Turner Wilson and Josh Zacher.
See what the critics are saying...
---
Playhouse Square - Cleveland, OH
Roy Berko, BroadwayWorld: The Prom is an old-fashioned musical which tells a contemporary tale with a moral. The touring company gives a fresh, dynamic, fun and tune-filled performance that delighted the audience and got a well-deserved standing ovation. Applause, Applause!
Howard Gollop, The Chronicle: No, this is not earthshaking new ground, even for Indiana. But that's not the goal here: It's entertainment and escapism. It's a reminder of how Americans learn to get along rather than polarize themselves, where even a Broadway diva learns the finer pleasures of dinner at an Indiana Applebee's - or as she puts it, "Apples and Bees."
Kerry Clawson, Akron Beacon Journal: "The Prom" has its share of heartbreaking moments. But ultimately, the ecstatic opening-night crowd in the packed Connor Palace gave this musical and its unbridled joy a standing ovation. The show's most beautiful, love-is-love-affirmative lyric, sung by Emma for all LGBTQ kids in "Unruly Heart," is "And nobody out there ever gets to define the life I'm meant to lead with this unruly heart of mine."
Mark Meszoros, The News-Herald: If you haven't watched the aforementoned Ryan Murphy-directed movie, you may simply want to stay home and stream that. Most of what works on stage also works on screen. That said, even with a few blemishes in this production, "The Prom" feels really at home on the stage. Its jokes about the theater feel most at home in one, and its ending, however predictable, feels even more heartwarming when you experience it with a bunch of other folks.
Dr. Phillips Center - Orlando, FL
Aaron Wallace - BroadwayWorld: Visiting this story in its original stage form will be refreshing for those who know only the Netflix version. It's as if someone grabbed a theatrical scouring pad and scrubbed away all the glitzy, feel-good "Glee"-dom that made Murphy's take feel slightly sugar-rushed. On stage, The Prom is refreshingly edgier, campier, and just a smidge more foul-mouthed than in the movie, albeit still unrealistic and all too tidy in the end.
Quinn Roseboom - Attractions Magazine: While there's no doubt that theater is generally an accepting place, often associated with the LGBT+ community, it's unfortunately still a bit rare to see our stories played out there. It's really refreshing and beautiful when we get to see them come to life on stage, especially with LGBT+ actors in some of the main roles, like they are in this specific touring cast of "The Prom." Audiences of all types will appreciate the show's comedy, but those who are familiar with theater culture and many Broadway shows will be able to catch a lot of references.
Jeremiah Good - Laughing Place: This is the musical that everyone should see to understand the real world we live in! From its nonstop humor, at times mixed with tears, amazing music, and some of the most talented cast I've seen on or off Broadway this show has definitely taken over as one of my favorite shows. When I started hearing the story based around a teenage lesbian in the Midwest and her prom, I had reservations. Growing up in California in a liberal household, I felt like this story had been told a few times, but never like this.
Kennedy Center - Washington, DC
Ken Kemp, BroadwayWorld: The Prom, playing at the Kennedy Center's Eisenhower Theater through January 16th, is a delightful surprise. It's an old school, classic Broadway Musical that tackles a very contemporary subject: namely, how to deal with being a gay high school student in a small Midwestern town. Smart, funny, fast-paced and poignant, it's apparent five minutes into the show why The Prom won the 2019 Drama Desk Award for Outstanding Musical.
Hippodrome Theatre - Baltimore, MD
Jack L. B. Gohn, BroadwayWorld: The Prom plunks a nicely-assorted crew of these strange beings down in fictional small-town of Edgewater, Indiana (probably adjacent on some imaginary map to Bye Bye Birdie's Sweet Apple, Ohio), full of community spirit, hormonal teenagers, and ripe for refashioning by outsiders. The thespian crew are refugees from a disastrous Broadway musical (about Eleanor Roosevelt, no less!) closed after one performance on the basis of scathing reviews. They include Dee Dee (Courtney Balan), a belting diva to whom everyone else is the universe is little more than a prop, Barry (Patrick Wetzel), an over-the-hill matinee idol, Trent (Bud Weber), who went to Juilliard and seems to have ended his intellectual development there, and Angie (Emily Borromeo) who spent 20 years in the chorus of Chicago and quit because she never was promoted to the role of Roxie Hart. They all need a quick transfusion of good rep based on some kind of selfless act, and they seize upon the plight of Emma (Kaden Kearney), a young lesbian banned from her high school prom as the sort of thing they can quickly and effortlessly solve to the accompaniment of great and needed PR.
Fox Theatre - St. Louis, MO
Calvin Wilson, The St. Louis Post-Dispatch: And that's a stunning achievement, considering that most of the songs, while serviceable enough, aren't particularly memorable. Notable exceptions are "Zazz," "The Lady's Improving" and "Love Thy Neighbor," which all happen to be in the second act. But the cast is spot-on across the board, particularly Kearney in a performance that bodes well for their career.
Mark Bretz, LaDue News: Delayed three days because of cases of COVID-19 among the cast, the touring production of "The Prom" arrived at The Fabulous Fox with all of its heart, humor and vibrancy intact to delight its opening-night audience. "The Prom" has plenty of entertaining music and lively show numbers, but it's the laugh-out-loud comedy that makes it work so well.
Straz Center - Tampa, FL
Drew Eberhard, BroadwayWorld: From top to bottom this cast is stunning from the first note, first dance step to the final bow. The Choreography is so top-notch and synchronized you can't help moving in your seat and wanting to dance right along with them. The cast works it out and leaves everything on the stage from the very first number "Changing Lives." Boasting a young and extremely talented ensemble there was not a weak link in the entire company. The precision is unmatched here and you never want the dancing to end.
Proctor's Theatre - Schenectady, NY
Paul Lamar, The Daily Gazette: Were I to be reincarnated, I'd like to sing and dance in an ensemble as accomplished as this one. "Love Thy Neighbor," led by the wondrous Weber, is biblical deconstruction at its joyous best. (I couldn't help thinking of Stubby Kaye in "Sit Down, You're Rockin' the Boat.") "You Happened," featuring Grosso and West and the ensemble, is touching and teenaged. (I couldn't help thinking of "Dance at the Gym," from "West Side Story.")
Jeffrey Borak, The Berkshire Eagle: On the whole, this national touring company rises to "The Prom's" occasions, especially its big ensemble dance numbers - "Tonight Belongs to You;" "Love Thy Neighbor;" the finale, "It's Time to Dance;" and "Unruly Heart," featuring Emma and her peers. Director Casey Nicholaw's dazzling choreography explodes across the Proctors stage with liberating theatrical style and infectious energy.
J. Peter Bergman, The Edge: This is a very special show. It starts as a simple, selfish quest for four maladjusted adults and becomes a different sort of quest as Emma (Kaden Kearney), the semi-isolated lesbian, begins to dominate the story, as she should. Her girlfriend, Alyssa (Kalyn West), and her mother (Ashanti J'Aria) give the story several kicks, some painful, as teen angst battles with maternal denial. All of these serious story points serve to highlight the humorous delineations in the show's well-crafted book by Bob Martin of "The Drowsy Chaperone" fame and Chad Beguelin. Somehow, in just over two hours, everything is resolved and everyone enjoys an outcome that satisfies.
PPAC - Providence, RI
John McDaid, BroadwayWorld: Powered by a delightfully wry, self-aware book by Bob Martin and Chad Beguelin, the score, with music by Matthew Sklar and lyrics by Beguelin, perfectly complements the tone, with a tasty mix of self-referential Broadway "showtunes" and touching character songs. Fair warning: there are a handful of earworms that will likely send you looking for the cast album.
Frank O'Donnell, WUN: It's extremely witty (when you can hear the lines). And there are some terrific songs, especially in the second act. Borromeo is superb in "Zazz," where she's giving Emma lessons on strutting her stuff. Weber is outstanding in my favorite song, "Love They Neighbor," where he's appealing to the kids of the town not to cherry-pick Biblical rules. And Kearney brings down the house with her performance of "Unruly Heart."
Overture Center - Madison, WI
Scott Rawson, BroadwayWorld: The show does a great job of showing the struggles of LGTB youth across the country. (spoiler alert: This issue is NOT contained to Indiana) It takes the real issue of intolerance and fear and wraps it up nicely, which is of course it's job.
Gwendolyn Rice, Isthmus: It's not genius, but it is a delightful good time. With a book by Bob Martin (The Drowsy Chaperone) and Chad Beguelin (Aladdin, The Wedding Singer), and music by Matthew Sklar (Elf The Musical), The Prom is filled with all the high school angst of TV's Dawson's Creek, the incredible singing and high energy dance numbers of Glee, the heart of Fun Home, and the unlikely message that teenagers and adults can work together to do the right thing.
Orpheum Theatre - Minneapolis, MN
Jared Fessler, BroadwayWorld: The Prom is such a fun show and I feel that it is the story that we need today. I would've loved to have had this story back in my younger years. I feel this story will reach out and touch anyone especially members of the LGBTQ+ community. I would highly recommend seeing it while it is in Minneapolis.
Cadillac Palace Theatre - Chicago, IL
Chris Jones, Chicago Tribune: It's not a musical for the ages. Although set in Indiana, the locale is just generic flyover country in the show's storytelling, and the characters make enough sudden transformations that the 180-degree changes of heart become part of the comedy. That said, the characters of Barry and Dee Dee (Balan) are deliciously drawn, the score ("Dance With You," "You Happened" "It's Time to Dance") is peppy as befits the theme, and there are very some funny, loving takedowns of Broadway culture, critics, publicists and all the self-adoring mishegoss. It's already looking a bit like 2018: no references here to gender fluidity or the fracturing of the American left, and the picture of the Indiana high schoolers is very pre-pandemic, even by the standards of a struggling small town.
Stephen Best, Times Square Chronicles: The remaining cast all come into play once this over-the-top quartet arrive in Indiana. Sweet Alyssa Green (Kalyn West) is the over-achieving head of the Student Council as well as, GASP! the closeted secret girlfriend of Emma. Her mother, a villainous Marjorie Taylor Greene type, your basic manipulative, bigoted and homophobic monster of a mother and human, also happens to be the President of the PTA, played with moustache twirling vigor by Ashanti J'Aria. Shavey Brown is the flamboyant and flappable Sheldon Saperstein, the Broadway Press Agent and lastly Sinclair Mitchel as Mr. Hawkins, the noble High School Principal and potential paramour for Balan's Dee Dee. Their date at "Apples and Bees" make that Applebee's, will charm all.
Rachel Weinberg, BroadwayWorld: Thus, THE PROM simultaneously satirizes the trappings of celebrity and the theater life, while also delivering an earnest message of acceptance and an attack on homophobia. Delightfully, THE PROM mostly succeeds in intertwining these two distinct narratives and tones. Dee Dee, Barry, Trent, and Angie all have outsized, delectable musical numbers that exude pizzazz. Meanwhile, Emma and her girlfriend Alyssa Greene have sweet, straightforward songs. It's a smart way to set up the contrast, even if it means that Emma and Alyssa-while lovely characters-are somewhat underdeveloped.
Hanover Theatre for the Performing Arts - Worcester, MA
Kevin T. Baldwin, Telegram: Kearney and West harmonize beautifully together. Their intimate interactions on stage as this tormented couple, whose love and relationship is denied, suppressed and ostracized by the more unenlightened residents of Edgewater, prove equally harmonious and easily makes us root for them.
The 5th Avenue Theatre - Seattle, WA
Jay Irwin, BroadwayWorld: Luckily the writing from Martin, Beguelin and Sklar are fabulous. I had the Act One closer, "Tonight Belongs to Us" running through my head all the way home. And when combined with the fantastic staging and killer choreography from Casey Nicholaw the show is a winner. I was lucky enough to catch this one on Broadway at its final preview and have loved it ever since.
Gemma Alexander, The Seattle Times: "The Prom" has a lot of plot tucked around its nearly 20 musical numbers, and it could easily fall apart amid its tonal shifts. But perfect casting and tight performances hold it together - every song was beautifully sung, every dance was energizing. With no weak link among the performers, my teen even ended up curious about the backstory of ensemble characters.
Golden Gate Theatre - San Francisco, CA
Linda Hodges, BroadwayWorld: Yes, there's some preaching going on, but the bigger picture is self-acceptance, connection and for the Broadway stars, the realization that using people is really bad form. It will take Sinclair Mitchell's character, principal Mr. Hawkins, to show Dee Dee that being a good person is more important than being a star. In the end, dreams come true and I'm here to tell you that the audience felt great after going to The Prom.
Lily Janiak, Datebook: In American culture, we don't have many rituals that tell us that we matter, that we're worthy, that we deserve to be loved and to be a part of our communities, especially after youth's rites of passage. In this show, there's something about being asked to prom that trumps all the Tony and Drama Desk awards Dee Dee and Barry lug around, lest a moment might call for their display. It's not just a cheesy life lesson. It's an invitation for us all to find ways, overt and subtle, at any stage of life, to ask each other to prom.
To read more reviews, click
here
!