Click Here for More Articles on MOULIN ROUGE THE MUSICAL
Review Roundup: MOULIN ROUGE Opens On Broadway - See What The Critics Think!
The stage adaptation of Baz Luhrmann's hit film opens tonight at Broadway's Hirschfeld Theatre!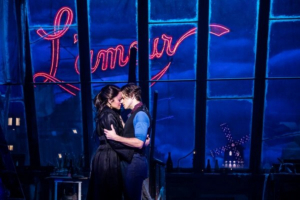 Moulin Rouge! The Musical opens tonight, July 25 at the Al Hirschfeld Theatre (302 W 45th St.).
Directed by Alex Timbers (Tony Award®-nominated for Bloody Bloody Andrew Jackson and Peter and the Starcatcher) Moulin Rouge! The Musical has a book by John Logan (Tony Award® for Red), choreography by Sonya Tayeh (Lucille Lortel Award and Obie Award for Kung Fu, and Emmy winner), and music supervision, orchestrations and arrangements by Justin Levine (Bloody Bloody Andrew Jackson).
Moulin Rouge! The Musical is based on the 20th Century Fox Motion Picture by Baz Luhrmann.
Let's see what the critics are saying!
Ben Brantley, The New York Times: In "Moulin Rouge," life is beautiful, in a way reality never is. All is permitted, and forgiven, in the name of love. Bohemian poverty is exquisitely picturesque. Stardom is around the corner for the gifted and hungry. And even songs you thought you never wanted to hear again pulse with irresistible new sex appeal. What this emporium of impure temptations is really selling is pure escapism. You may not believe in it all by the next morning. But I swear you'll feel nothing like regret.
Michael Dale, BroadwayWorld: Of course, inserting the pop hits into the period Parisian setting is the whole point of the venture, and Moulin Rouge! is certain to do very well at the box office without pleasing this reviewer's desire for an integrated score that would help the excellent company of actors achieve more fully-realized performances. There are certainly worse ways to spend and evening than with a musical so visually gorgeous and vibrantly performed.
Sarah Holdren, Vulture: For all its splashy, glittery, high-kicking, butt-cheek-baring, sword-swallowing maximalism, Moulin Rouge! is something more unsettling than not good. It's not even very interesting. There's a shapelessness about it, a weird enervation underneath the flash and bang. It's directed by Alex Timbers, but it feels like it was assembled by committee, even by algorithm. The show veers broadly away from its beloved-by-millennials-everywhere source material, which in itself is no crime. But the path its creators have taken is one long trip through the Kingdom of Pandering, with multiple pit stops in the Meadows of Cutesiness and the Forest of Flat Characters. Everywhere it should be filthy, it's scrubbed aggressively clean, yet somehow it's still a hot mess.
Adam Feldman, Time Out New York: Red alert! Red alert! If you're the kind of person who frets that jukebox musicals are taking over Broadway, prepare to tilt at the windmill that is the gorgeous, gaudy, spectacularly overstuffed Moulin Rouge! The Musical. Directed with opulent showmanship by Alex Timbers, this adaptation of Baz Luhrmann's 2001 movie may be costume jewelry, but its shine is dazzling.
Peter Marks, Washington Post: The antic unconventionality of director Baz Luhrmann's 2001 pop phenomenon "Moulin Rouge!" has been transformed into an eye-and-ear-pleasing - and altogether conventional - Broadway musical. With a glorious set by Derek McLane, more than 70 pop songs, and dynamic lead performances from Karen Olivo and Aaron Tveit, the show is engineered for an evening of easily digested diversions.
Marilyn Stasio, Variety: If they didn't do "Lady Marmalade," I was going to storm the stage. Happily, director Alex Timbers and writer John Logan were savvy enough to open their Broadway adaptation of "Moulin Rouge!" with that crowd-pleasing tune, written by Kenny Noland and Robert Crewe and immortalized by the great Patti LaBelle. But does that mean this stunning live version blots out all fond memories of Baz Luhrmann's 2001 movie starring Nicole Kidman and Ewan McGregor? No way.
Matt Windman, amNY: Despite an ornate and environmental visual design depicting a turn-of-the-century Parisian nightclub, first-rate leading actors (including Tony winner Karen Olivo, Aaron Tveit and Danny Burstein) and an updated/upgraded jukebox of hit singles to play around with, "Moulin Rouge!" is not unlike earlier botched, inherently problematic attempts at bringing visually distinct movie musicals to the stage. Think "The Wizard of Oz" and "Singin' in the Rain."
David Rooney, The Hollywood Reporter: The show is A LOT, in every sense, both intoxicating and exhausting in its unrelenting visual and sonic assault. But it virtually defies you not to be entertained.
Greg Evans, Deadline: The something-for-everyone approach has its advantages - not least a steady stream of applause and recognition chuckles that make Moulin Rouge! feel like one of the liveliest shows on Broadway. With box office soaring), this reportedly $28 million enterprise will swat away any stray critical brickbats like so many gnats. But I don't think I'll be the only one leaning more toward grimace than grin.
Roma Torre, NY1: With tongue in cheek and heart in hand, not to mention assorted other body parts splitting, contorting and can-canning up a storm, "Moulin Rouge" is a jukebox musical on steroids. And thanks to a very savvy adaptation from book writer John Logan and director Alex Timbers, it's paced for maximum pleasure. Still erotically antic with near non-stop dancing courtesy Sonya Tayeh's exhilarating choreography, it's also emotionally engaging, which says quite a lot for a show that doesn't seem to take itself all that seriously.
Johnny Oleksinski, The New York Post: Director Alex Timbers' smartest move is not trying to replicate Luhrmann's quick-cut sense of humor, which would crash and burn onstage. Instead, he focuses on grandiose emotions, sensuality and the storybook sensation of first love, for which Tveit's puppy-dog innocence is ideal.
Robert Hofler, TheWrap: Under the direction of Alex Timbers, a veteran of movie-to-stage musicals like "Rocky" and "Beetlejuice," "Moulin Rouge!" re-creates that pre-show pandemonium only twice during the show itself and once again at the curtain call. Too often the stage musical gets bogged down in John Logan's uninspired book, which poorly mimics Baz Luhrmann's 2001 film about the consumptive cabaret courtesan Satine (Karen Olivo), who makes the mistake of falling in love with a novice composer named Christian (Aaron Tveit) when she's supposed to be bedding the wealthy Duke of Monroth (Tam Mutu).
Patrick Ryan, USA Today: Imagine Lady Gaga's "Bad Romance," but as a steamy Spanish tango. Now imagine that's been mashed up with Britney Spears' "Toxic" and The White Stripes' "Seven Nation Army," and vigorously performed by a group of hot-blooded bohemians in early 1900s Paris. It's an absurd combination that by no means should work, but winds up being the undeniable highlight of Broadway's new "Moulin Rouge! The Musical," a wildly entertaining adaptation of Baz Luhrmann's 2001 movie that opened Thursday at New York's Al Hirschfeld Theatre.
Leah Greenblatt, Entertainment Weekly: The spectacular spectacular, the ring-ding razzle dazzle, the gitchie gitchie ya-ya da-da: It's all in Moulin Rouge!, a Broadway musical so stuffed with songs and sequins and sheer outrageous excess that it's hard to catch a breath for most of its two-hour-and-45-minute runtime (at least not without inhaling an errant feather or a spangled scrap of confetti).
Brittany Spanos, Rolling Stone: Entering the red light-coated Al Hirschfeld Theatre, with the stage flanked on either side with a giant red windmill and a large elephant's head, you're immediately asked to immerse yourself in the dreamlike, fantastical world of Baz Luhrmann's 2001 romantic tragedy Moulin Rouge! As its musical adaptation blazes forth with a whiplash-inducing 70 songs, flashy can-can dancers and bohemian ideals, the fantasy is forced to be grounded in reality and loses some of the film's spectacular spectacular-ness in the process.
Chris Jones, The New York Daily News: These days, most Broadway theatergoers don't so much want to see a show as take a warm bath inside of one. We crave relief from our growing terror of physical intimacy and our technology-fueled loneliness. What used to pass as immersive theatrical entertainment is, as we end this panicked second decade of the 21st century, no longer immersive enough. The bar has risen. Ergo, "Moulin Rouge! The Musical." Yes, baby, you're a firework.
Tim Teeman, The Daily Beast: Not that the thumping, pumping Moulin Rouge allows you to dwell on its misogyny. This is musical as spectacle, so if you don't exactly feel the peril and passion of Christian and Satine's doomed romance, then no matter, because another visual bonbon will be thrown at you soon enough.
Alexis Soloski, The Guardian: You could be forgiven for thinking that this tale has reached its sell-by date. But Moulin Rouge is one of those shows that is not only critic-proof, but maybe also story-proof. In Alex Timbers's production, with a book by John Logan, the characters are so thinly drawn that they disappear behind their corsetry and the love triangle so lopsided that it defies most laws of geometry. Any subtext has been shoved into a push-up bra and short shorts. It doesn't matter.
Erin Strecker, Mashable: This is the best of what a jukebox musical can be: a thrilling burst of color and chorus and nostalgia and bold reimagining. There are a whopping 70 songs you know and love in the show - some full numbers, some just snippets. Happily, the songs have been updated to include the present, which means modern hits such as "Shut Up and Dance" sit nicely along classics like Elton John's "Your Song." The tunes feel like they're coming a mile a minute, but rather causing confusion, at the performance I attended, there were gasps of recognition and excited applause breaks of delight as all the various medleys and mashups unfolded.
Diane Snyder, The Telegraph: A $28 million musical championing bohemian artists? Sounds perfectly logical when that show is the stage adaptation of Baz Luhrmann's blockbuster Moulin Rouge! The audacious director has never been afraid of stylish excess, as his vibrant, often dizzying 2001 film demonstrated. And although it isn't a seamless Broadway transfer, this lavish, rollicking production, from director Alex Timbers and book writer John Logan, serves up some suitably visual and aural splendours.
Christopher Kelly, NJ.com: If you ever wondered what might happen if a karaoke machine exploded into a million bejeweled and bedazzled pieces, "Moulin Rouge!" is your answer. For the most part, it's also a smashing entertainment - exuberantly performed, briskly paced, and sumptuously designed in more shades of red than you previously knew existed on the color spectrum.
Jeremy Gerard, Theater News Online: After close to three hours I stumbled out of that fanciful world feeling somewhat pummeled by the heightened visual and aural, not to mention emotional, assault. Yet I woke up the next morning in love with the show. There's genius in that, I think.
Mark Shenton, New York Theatre Guide: In a crowded Broadway market place, Moulin Rouge has a show that has it all: it's not just 70 songs that are rolled into one show, but also a canvas of spectacle and emotion that isn't just a floorshow but left me floored with its sublime artistry.
Jesse Oxfeld, New York Stage Review: That's not to diminish any other parts of the staging or performance. Timbers, always an endlessly visually inventive director, has always had material that lived up to his specialties. (Rocky comes to mind.) But Luhrmann's fantasia gives Timbers license to do his best work-while creating something that is a definitively theatrical experience, not just a pale imitation of the film.
Melissa Rose Bernardo, New York Stage Review: No disrespect to headliners Karen Olivo (a Tony winner as Anita in 2009's West Side Story), who plays the tuberculosis-plagued performer/courtesan Satine, and Aaron Tveit (Catch Me If You Can, Next to Normal), as the lovestruck aspiring composer Christian but the real stars of this Moulin Rouge! are the artists who don't appear onstage. Lighting designer Justin Townsend can evoke anything from a pulse-pounding nightclub to the shadowy alleys of Argentina to a hallucinogenic electric-green drunken dream. Six-time Tony winner Catherine Zuber, fresh off the elegantly appointed My Fair Lady, has crafted a stunning array of costumes: cascading cancan underskirts; bondage-style corsets; crushed-velvet tailcoats; and, for Olivo's Satine, glittering bustiers, satiny robes, and body-hugging gowns. And set designer Derek McLane has turned the inside of the Hirschfeld Theatre into a crystal-studded, heart-shaped, hopelessly romantic fantasyland.
David Cote, Observer: Eighteen years later, with the property retooled, remixed and relocated to Broadway, how culturally relevant is Moulin Rouge! The Musical? Neither rollicking prophet nor ham-fisted artifact, Luhrmann's splashy zeitflop is exactly where Broadway lives, for better or worse. The adaptation, with a tidy, problem-solving book by John Logan, female-and-trans-empowering choreography by Sonya Tayeh, and farce-with-a-heart maximalist staging by Alex Timbers, Moulin Rouge! sparkles like a million falling sequins, tickles like a chorus girls' feathers, and burns like a shot of absinthe engulfing your brain.
Related Articles