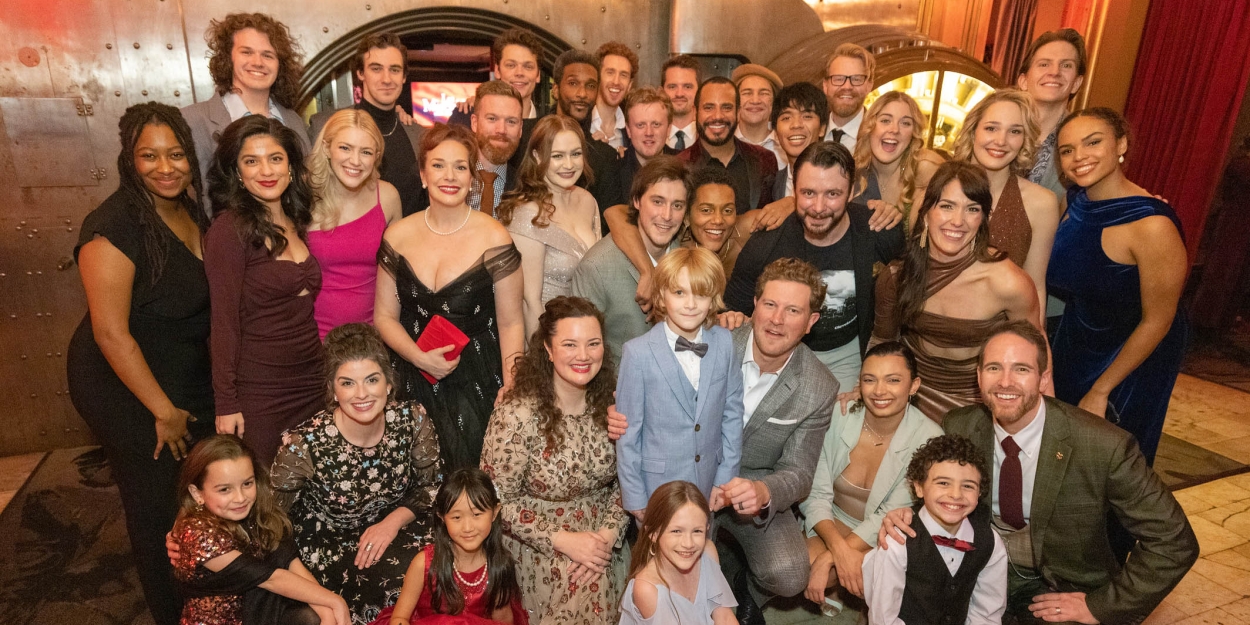 Review Roundup: LES MISERABLES Launches New National Tour
Read the reviews for Les Miserables here!
The new National Tour of Les Miserables launched earlier this month in Cleveland.
The engagement plays through October 30 before embarking on a multi-city North American Tour.
Celebrated tour alums Nick Cartell and Preston Truman Boyd return to the barricades to portray the fugitive 'Jean Valjean' and 'Inspector Javert,' respectively. They are joined by Matt Crowle as 'Thénardier,' Christina Rose Hall as 'Madame Thénardier,' Haley Dortch as 'Fantine,' Devin Archer as 'Enjolras,' Christine Heesun Hwang as 'Éponine,' Gregory Lee Rodriguez as 'Marius' and Addie Morales as 'Cosette.' Cora Jane Messer and Hazel Vogel alternate in the role of 'Little Cosette/Young Éponine.' Harrison Fox and Gabriel Lafazan alternate in the role of 'Gavroche.'
Read the reviews so far below!
---
Playhouse Square- KeyBank State Theatre - Cleveland, Oh
Joey Morona, Cleveland.com: "Les Misérables" has always been an intimidating story to immerse yourself in, whether it's the novel or the musical. It's a lot of plot that if your attention is diverted for even a moment, it's easy to get lost. Readers of the book can just turn back a few pages. That's not an option when watching a musical, particularly one where every word is sung. That learning curve is made that much steeper when it's difficult at times to make out every word they're singing, whether it be an issue with the sound mix, the acoustics of the venue or the fact that multiple cast members are often singing, sometimes different lyrics, at the same time.
Roy Berko, BroadwayWorld: Both the solos and choral work is outstanding. Thankfully the cast interpreted the meaning of the lyrics rather than just singing words. This was obvious, for example, in "One Day More," the sure-thing show stopper, which was mesmerizing.
Sheri Gross, Jewish News: This particular production, with its articulate cast, its beautiful visuals (albeit a little dimly lit), and the near perfect sound balance makes for a show that is much easier to understand. And without the pressure of trying to hear a show, understand a show, and read about a show at the same time, suddenly audience members have the freedom to really digest and appreciate the timelessness and importance of the show's many themes.
Christine Howey, Scene: That's part of the magic of this show. The memories stay with you, along with the full complement of goose bumps. In this production, Preston Truman Boyd almost stops the show as Javert when he nails "Stars," especially when he shifts into a different gear in the last line, "This I swear by the stars." Although not imposing physically, Boyd creates a suitable villain all the way through his climactic plunge.
Providence Performing Arts Center - Providence, RI
Barb Burke, BroadwayWorld: Nick Cartell's Jean Valjean is phenomenal. He brings great range to Valjean, both theatrically and musically, showing us the many facets of the hero from his early rage and savagery to his selfless dedication to Cosette. Cartell's return to his pre-pandemic role is reason enough to see the show.
Ken Abrams, What's Up Newp: Needless to say, the music is timeless, a level or two above typical Broadway fare. The leads were robust, with Nick Cartell's Valjean and Hayden Tee's Javert standing out. The full ensemble pieces "Do You Hear the People Sing" and "At the End of the Day" were especially memorable.
Benedum Center for the Performing Arts - Pittsburgh, PA
Jordana Rosenfeld, Pittsburgh City Paper: Among the performers, who are all skilled and well-cast, Christine Heesun Hwang stands out as Éponine, one of the play's most tragic characters, in part because her more contemporary vocal style cuts through the sometimes monotonous, florid vibrato of many soloists. Hwang and Dortch deliver masterful and moving renditions of two of musical theater's most dramatic and ambitious ballads "On My Own," and "I Dreamed a Dream," respectively, that are at once lovely and wrenching.
Laura, Pgh Lesbian: Although the musical has as one of its major themes unrequited love, I think one of the main themes is how authoritarian regimes punish their citizen for minor offenses (19 years for stealing a slice of bread!) and keep their citizens in poverty and misery. The musical certainly shows various wealthy characters throughout who abuse and disregard "the lesser citizens." Les Miserables expounds upon how those in poverty feel about their treatment and place in society which invariably leads to a revolution.
Uihlein Hall at Marcus Center For The Performing Arts - Milwaukee, WI
Kelsey Lawler, BroadwayWorld: But avid Les Mis fans stomach the heartache of the story for the beauty of music and text by Boublil & Schönberg. Fans can rest assured that this touring production, like the one before it, fully delivers. How could it not? It's the same stirring songs, the same heart-rending tragedy, the same characters theatergoers have loved and loved to hate for over 35 years and counting. We go to Les Mis to be transported, to marvel at singers and staging, and to have a good cry (just me?).
Aly Prouty, Spectrum News 1: I do not have enough good things to say about this musical. It's perfectly cast, stunningly set, beautifully sung, provides the perfect combination of emotions and left me wanting to watch it again and again. Yes, even after three hours.
Orpheum Theatre - Minneapolis, MN
Jared Fessler, BroadwayWorld: It was wonderful to see this global phenomen production again. The whole set, production, and costumes, were magnificent. You felt like you were in 1900th century France. The set transitions and the lighting affects were effective in feeling like you were in the battle, on the ship, the scene with Javier was powerful as he is falling into the water.
Fox Theatre - St. Louis, MO
Rob Levy, BroadwayWorld: Leading the show is Nick Cartell as the angst-ridden Jean Valjean. Electrifying on stage, he gives the troubled protagonist a formidable pathos that underscores the tumult of 19th-century France. As a singer his voice is in top form, especially on At the End of the Day and for his solos on Who Am I? and Bring Him Home. Equally powerful is Preston Truman Boyd as Javert. Capturing the inspector's unyielding determination in a mesmeric performance, his dastardly, relentless, and cunning turn make Javert's unsavory and frightening foe.
Mark Bretz, LaDue News: "Les Miserables" is an epic musical based on an epic novel. Yet, at its core, it remains a defining tale of love rising above injustice, handsomely acted, beautifully sung and hauntingly etched in the hearts of its ever-growing legion of fans.
Blumenthal Performing Arts Center - Charlotte, NC
Amanda Harry, Livin' Charlotte: It was action-packed. The story takes place against the backdrop of 19th-century France as a rebellion builds. It follows a decades-long rivalry between the protagonist and antagonist, so there's a great deal of action throughout the play. The onstage battles are tense, well-choreographed, and even brutal at some points.
Hippodrome Theatre - Baltimore, MD
Sue Tilberry, MD Theatre Guide: The vocals are extraordinary. The solos by Valjean (Nick Cartell); Javert (Preston Truman Boyd); Cosette's mother, Fantine (Haley Dortch); the Thénardiers' daughter, Eponine (Christine Heesun Hwang); and the young student, Marius (Gregory Lee Rodriguez), with whom Cosette falls in love, are spine tingling and nearly perfect. The entire cast is equally talented in the ensemble numbers.
Orpheum Theater - Omaha, NE
Courtney Brummer-Clark, Omaha World-Herald: In the touring company production now at the Orpheum, actor Nick Cartell has this monumental task, and to say that he is successful at it is a vast understatement. From his first song in the "Prologue" to his final notes in the "Finale," Cartell has total ownership of who Valjean is supposed to be - a hero who never considers himself a hero. He is merely a man doing what he believes he is supposed to, even when it isn't easy to do so.
Clowes Hall - Indianapolis, IN
The Marriage Matinee, BroadwayWorld: Let's be honest. LES MISÉRABLES as a production will not succeed without a superb Jean Valjean. Everything hinges on him, and the wrong casting will set everything akimbo. So I was a little disheartened to hear we'd have an understudy. But I need to learn my lesson: understudies can bring it, and that was exactly the case with Randy Jeter. You could tell he brought a hunger to this role that gave it an extra boost of vitality and passion. He found a wonderful foil in his counterpart, Javert, played by Preston Truman Boyd. Boyd also brought hunger but reined in and compressed so it was cold and hard, just like his character.
To read more reviews, click
here
!