Review Roundup: Did London Critics Have A Sweet Time At WAITRESS?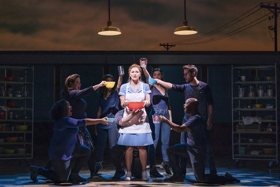 Sara Bareilles' home-baked Broadway smash Waitress opened up on London's West End this week at the Adelphi Theatre.
See what the critics had to say about the show's London transfer!
Waitress stars Katharine McPhee (Smash) as Jenna, Emmy-nominee Jack McBrayer (30 Rock) as Ogie, Marisha Wallace as Becky, Laura Baldwin as Dawn, Peter Hannah as Earl, David Hunter as Dr. Pomatter and Shaun Prendergast as Old Joe.
Meet Jenna, a Waitress and expert pie-maker who dreams of a way out of her small town and rocky marriage. Pouring her heart into her pies, she crafts desserts that mirror her topsy-turvy life such as "?The Key (Lime) to Happiness Pie" and "Betrayed By My Eggs Pie." When a baking contest in a nearby county - and a satisfying run-in with someone new - show Jenna a chance at a fresh start, she must find the courage to seize it. Change is on the menu, as long as Jenna can write her own perfectly personal recipe for happiness.
---
Marianka Swain, BroadwayWorld: Diane Paulus (part of an all-female lead creative team) helms a vivid and charming production, with witty, inventive movement from Lorin Lattaro making clever use of an ensemble mirroring the protagonist's feelings and of the retro diner set, with its wheeled trolleys stacked with baked goods, and mischievously misappropriated cooking utensils.
Paul Taylor, Independent: There are moments of discomfort but it says a lot for the fast sass and wonderful take-it-or-leave it silliness and the occasional sugar-free sequences in Jessie Nelson's deft book that the spot-on cast in Diane Paulus's production mostly manage to give these elisions an elating good humour and humanity.
Sarah Crompton, WhatsOnStage: Waitress is an odd concoction - just like one of the pies its heroine bakes, to sum up the contradictions of her life. Sweet and sour (blueberry and bacon), sentimental and funny (whipped cream and chilli), ethically dubious yet somehow life-affirming (Mermaid Marshmallow pie, with whipped cream and coconut), it takes its wild ingredients and mixes them together to make a strangely satisfying and charming show.
Michael Billington, The Guardian: Initially, the show struck me as raucous and improbable. Bareilles' lyrics often get lost under an over-loud onstage band and I couldn't wholly believe in the plight of the pregnant protagonist, Jenna, a Waitress and classy pie cook in a typical American diner. Why, I wondered, did she put up with a violently abusive husband who appropriated all her tips? But I found myself warming to Jessie Nelson's book and to the vigour of the songs.
Chris Omaweng, London Theatre 1: My arteries may have been slightly hardened as a result of this indulgence, but this is more than outweighed by my heart being considerably warmed by a musical that spins a sincere yarn. The musical numbers, taken as a whole, are varied - the one that seems compulsory in musical theatre concerts, 'She Used To Be Mine', received sustained applause, quite justifiably: it was good to hear it in context. They are, more often than not, tunes that belong in a studio performance space rather than a large proscenium arch theatre.
Dominic Cavendish, The Telegraph: After two hours of more-ish, tuneful entertainment (snappy folky-rocky-poppy music and lyrics from Sara Bareilles, book by Jessie Nelson) my carapace - crust, if you will - of scepticism had been breached, leaving warm appreciation oozing out. And if you're averse to tongue-in-cheek, culinary-related metaphors, then do stand warned - from the opening, lullaby-like line "Sugar, butter, flour", this is a show that takes joyous relish in whisking together the staple references of its workplace milieu with all the confused emotions that attend its principals' appetite for love and companionship.
Mark Shenton, London Theatre: Under the guiding eyes of director Diane Paulus and choreographer Lorin Latarro, this story about a woman's life, told entirely from her point of view, is beautifully championed - and gets a sterling boost from American import Katharine McPhee, reprising the role of Jenna that she has also performed on Broadway, who has an effortlessly natural acting style and an alternately soaring and throbbing singing voice, not least in the show's Act Two power ballad "She Used to Be Mine".
John Nathan, Metro News: Yet McPhee's southern belle - which she played in New York after Jessie Mueller - is often a glassy, remote presence. For charisma the show relies entirely on the supporting cast.Marisha Wallace and Laura Baldwin are Becky and lovelorn Dawn, Jenna's fellow waitresses. Also excellent is David Hunter as the town's married, flirty gynaecologist - a whole bowl of wrong if you dwell too long on it.
Ann Treneman, The Times: This musical took me by surprise: I expected something much less touching, gritty and moving. It has heart (not to mention pastry) to spare and McPhee's voice has the lilt and lift that takes you away from yourself.
Henry Hitchings, Evening Standard: Diane Paulus's production is fluent without being unpalatably slick - there's a discreet onstage band and artfully restrained choreography from Lorin Latarro. The show has cartoonish elements, but mostly subverts its moments of sentimentality and silliness, and there's a whole lot of humour baked into it.
Andrzej Lukowski, Time Out: It's still a classy show, though. McPhee gives a beautifully weary performance, setting the tone for a mostly British cast that treats the serious bits seriously and goes balls-to-the-wall on the daft stuff. Sara Bareilles's country-rock-ish songs are funny, literate and enjoyable, with one stone-cold banger in 'She Used to be Mine'. And Paulus really shows us why they pay her the big bucks: she keeps everything moving with a slick dynamism that frequently belies the changes in set, scene and tone. There's really a lot to like; I just struggled to like all of it all at once.
Matt Wolf, The Arts Desk: McPhee, in fact, cuts a pleasingly wistful presence throughout. If she wears her heart less evidently on her sleeve than did the show's Tony-nominated original lead, Jessie Mueller, the onetime American Idol finalist communicates the price to her own soul that been paid by enduring marriage to the loutish Earl (Peter Hannah). And once emboldened, Jenna rousingly suggests that there's no turning back, abetted by this point by her burgeoning relationship with a married gynaecologist, Dr Pomatter (David Hunter), that might itself raise eyebrows were it dispatched with less charm.
Tim Bano, The Stage: Leading the cast, and reprising the role after playing it on Broadway, is Katharine McPhee, known to American audiences for her break on American Idol and subsequently successful singing career. McPhee has a rich voice with impressive articulation between each note, to the point that she almost sounds autotuned. But there's a sense that, when she sings, all her energy is being diverted into concentrating on singing and so the acting suffers.
Connor Campbell, The Upcoming: Waitress isn't all smiles. The characters' lives are messy and complicated, Jenna's past and present history of abuse palpable. It's the salt in the recipe that makes the eventual result even more appetising. The show's crust might be a bit wonky, it's filling a tad too sweet, but boy is it an irresistible slice of musical theatre.
To read more reviews, click
here
!