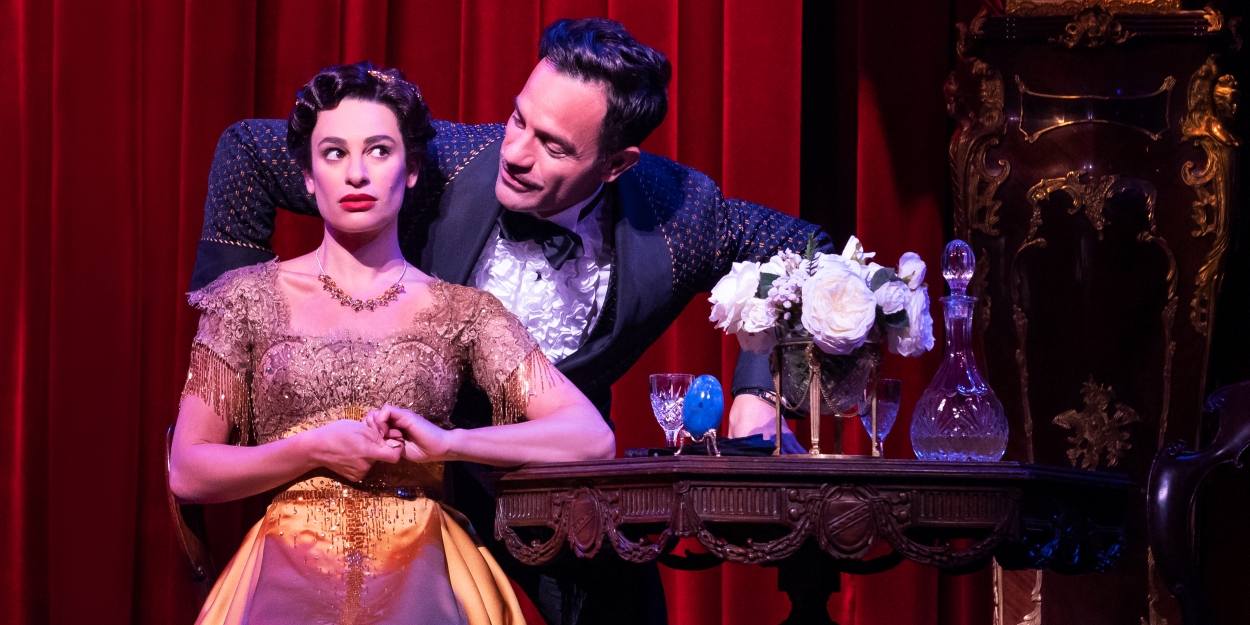 Review Roundup: Critics Return to FUNNY GIRL, Starring Lea Michele- Updating Live!
Funny Girl is playing on Broadway at the August Wilson Theatre.
New York theatre critics got their first taste of Funny Girl when it opened on Broadway this past spring, starring Beanie Feldstein. Now the show has a new Fanny Brice in Lea Michele and a new Mrs. Brice in Tovah Feldshuh, and the critics are weighing in once more.
This bittersweet comedy is the story of the indomitable Fanny Brice, a girl from the Lower East Side who dreamed of a life on the stage. Everyone told her she'd never be a star, but then something funny happened-she became one of the most beloved performers in history, shining brighter than the brightest lights of Broadway. Featuring some of the most iconic songs in theatre history including "Don't Rain On My Parade," "I'm the Greatest Star," and "People," Michael Mayer's bold new production marks the first time Funny Girl has returned to Broadway since its debut 58 years ago.
Check back as we continue to update the list!
---
Jesse Green, The New York Times: Lea Michele, who took over the role on Sept. 6, turns out to be that stupendous Fanny. Yes, she even lights up like a light. Both vulnerable and invulnerable, kooky and ardent, she makes the show worth watching again. She can't make it good, though. Michael Mayer's production is still garish and pushy, pandering for audience overreaction. A confetti cannon tries to put an exclamation point on a dud dance. Many of the minor players overplay. The lighting by Kevin Adams would make a rat clap, and the unusually ugly set by David Zinn seems weaponized against intimacy. It looks like a missile silo. But at least "Funny Girl" now has a missile: a performer who from her first words ("Hello, Gorgeous") shoots straight to her target and hits it.
Peter Marks, Washington Post: When Lea Michele launches missile-like into "Don't Rain on My Parade," she doesn't just bring down the house. She brings down the whole darn block.... Face it, though: This is the Lea Michele Show, and her presence has the effect of setting the playhouse in order. "I'm the Greatest Star," with its pulse-quickening affirmation of a young woman of enormous appetites and gifts, is delivered now with the full-throated confidence that leads easily to the conclusion that, yup, this is a star. Equally potent are Fanny's torchy "The Music That Makes Me Dance," and a finale in which Fanny pulls herself out of an emotional cellar, proof of the preternatural resilience that defines a mortal who thrives in the limelight.
Johnny Oleksinski, NY Post: Michele brings real singing power to the table as Fanny - the role made famous by Barbra Streisand - which was sorely lacking in the revival and is beyond vital... Michele's best number, though, is "The Music That Makes Me Dance" - a reflective tune sung after her home life has crumbled as her fame has skyrocketed. Michele hasn't been on Broadway since she left "Spring Awakening" in 2009, and her self-reflection and vulnerability from the intervening years is obvious. As Wendla in "Awakening," she was an inexperienced kid - onstage and off. Her Fanny, on the other hand, is hardened, hurt and defensive from the get-go. She's not always lovable, but it's the right take for this actress.
Elysa Gardner, New York Sun: As anyone who listened with honest ears to her renditions of "Don't Rain On My Parade" and "People" on "Glee" could attest, Ms. Michele is not the vocal superpower Ms. Streisand was in her prime; very few non-classical singers have possessed that mix of bel canto clarity, dazzling polish, and sheer might. What Ms. Michele does have, aside from lovely tone and an impressive belt, is a natural singer's instinctive musicality. In Ms. Feldstein's resourceful, endearing performance, you could sense the sweat that went into each note and phrase; that effort was, perhaps ironically, part of what made her Fanny convincing - and made the audience's support palpable and contagious.
Jackson McHenry, Vulture: When Feldstein opened the show, she could not handle the songs, and as Helen Shaw pointed out, the "songs are the whole caboodle." In Michele's case, this works to her advantage. The way that the show's written, Fanny's voice is the metonym for her stardom, so as long as you really believe she's got the magic, you don't necessarily need to buy her comedic skills, or really any other aspect of her character. It's like in Shakespeare, where the weather clears up when the right king is on the throne. Michele is not a natural comedian, but she finds a way to be charming with Fanny's jokes, which are as broad as the East River, just by trying so very hard to sell every one. It's like she's hoping her Sketch Comedy 101 teacher will give her a gold star.
Greg Evans, Deadline: From the moment she begins to sing the opening number "Who Are You Now?," audiences relax in the assurance that this musical, for whatever its other merits - or lack thereof, and there is plenty of lack thereof - will be sung by a voice that can do it justice. No, more than justice, because Michele is so good in the role of Fanny that she lifts the entire mixed-bag production if not up to her level then pretty darn close. She makes performers who were fine the first time around - Ramin Karimloo as Nick Arnstein, Peter Francis James as Florenz Ziegfeld - seem all that much better, and raises the general level of performance to such a degree that the terrific Jared Grimes, as dance teacher Eddie, now no longer seems adrift during his spectacular tap dance routines: He seems a part of the show, rather apart from the show.
Charles Isherwood, Wall Street Journal: Funny Girl will always remain an imperfect musical, with its sketched-in supporting characters (Tovah Feldshuh, now in the role of Fanny's mother, makes the most of her part) and flagging second act, but with the arrival of Ms. Michele at center stage, those imperfections register only faintly. A production that sparked a virtual rainstorm of bad publicity has, improbably, turned into a parade that has audiences cheering almost from the overture to the curtain call.
Robert Hofler, The Wrap: Michele's version of Fanny Brice instead recalls "Funny Lady." And anyone who knows the career of La Streisand knows that to bring up the 1975 big-screen sequel to the 1968 classic "Funny Girl" is not exactly a compliment. Even Kevin Kline's Babs-loving character in "In & Out" had to admit the 1975 movie musical in which the star reprised her Oscar-winning role as an older Fanny Brice is dreadful. "She was under contract!" he apologizes to the bride he has just jilted at the altar when he belatedly comes out of the closet on their wedding day.
David Rooney, Hollywood Reporter: Humility is not a requirement when playing the lead in Funny Girl, but to this critic, there seems a quiet undertone of contrition in Michele's riveting performance - of sincere gratitude to be back on Broadway for the first time in 14 years, and in her dream role no less. This part is not just the fulfillment of a longtime desire, it's also a career rehabilitation project. Though if the ecstatic squeals of fans that greet every big brassy belt and key change in her songs are any indication, those rumors of bad behavior have been forgiven and forgotten.
Jessica Derschowitz, EW: Those who come to the August Wilson expecting Michele to blow the roof off the place won't be disappointed. The surrounding buildings on 52nd Street should brace for impact, too. Michele uses her voice like a stealth missile, belting easily through marquee songs like "People" and "Don't Rain on My Parade" and earning all the enthusiastic applause she gets for them. She also has an easy chemistry with Ramin Karimloo's Nick Arnstein, the charming gambler Fanny falls for as she rises from young ambitions to prime placement in Ziegfeld's Follies. (Her rapport also sparkles with fellow show newcomer Tovah Feldshuh, who plays a deliciously spiky and deadpan Mrs. Brice.)
Chris Jones, Daily News: what will impress the audience the most will be Michele's acting chops. She's very touching as her Fanny gets trapped in the net with that same handsome loser and you get the sense, as a young star who has been through the wringers of Twitter and its snap-judgement squeeze, that Michele now knows full well how fame and fortune ain't ever all fun, not least because men usually can't easily handle successful women.
Jacqueline Cutler, NJ.com: Now, the role is Michele's. Being ineligible for an award doesn't lessen a moment of her sublime performance. She moves well and is entirely believable, including crying real tears on stage (all too often actors sob dry-eyed and there is a difference). Naturally, all of this matters, but what matters most is this star-making vehicle for an actress who can belt.
Charles McNulty, The Los Angeles Times: With its laughter shot through with loneliness, "Funny Girl" seems less a vehicle for a star on the rise (or a diva in need of rescue) than a well-wrought musical comedy with a dramatic through line that's unusually psychologically acute. Streisand showed us this already, but Michele clarifies that it's the show that provides the material. Proving herself a trouper, she makes Michael Mayer's production seem less frivolous than when it first opened. I wasn't particularly excited by the prospect of sitting through this revival again. But I left understanding why tickets are going for a king's ransom. Lea Michele is delivering a tour de force for the ages.
Adrian Horton, The Guardian: Singing aside - and, as Fanny successfully makes her case for fame in a song called I'm The Greatest Star, singing is most of the point - Michele also handily carried the show's vaudevillian humor and Fanny's transformation from chorus line wannabe to young bride to seasoned star with a combustible marriage. Whereas Feldstein played Fannie as more precocious and naive, even after her marriage to gambler Nicky Arnstein (Ramin Karimloo), Michele's Fanny is more scrappy and sensual; she's a much more convincing partner, emotionally and physically, to Karimloo's suave, older Nicky. Michele's Fanny brims with determination and potent self-delusion - the kind one needs to become a star, the kind that propelled both her character on Glee (who went on to star in a fictional revival of Funny Girl) and Michele's own fraught celebrity. It is, in other words, a very good fit of actor and character, and the type of meta pop culture moment that delivers the thrill of feeling fated.
Matt Windman, AMNY: On the other hand, Michele's performances of "I'm the Greatest Star" and "Don't Rain On My Parade" are absolutely exhilarating, prompting frenzied excitement and mid-show standing ovations. Michele also throws herself into her character's comedy bits, even though her efforts are more hard-working than inspired or genuinely funny.
Constance Grady, Vox: Michele proved she had the vocal chops to pull off a convincing Streisand dupe way back in her Glee days, where she covered a series of Funny Girl songs in performances that tended to ape Streisand's distinctive phrasing and pronunciations. ("The sun's a ball of buttah," anyone?) Now, at 36, she still has the pure, supple tone that made her a TV star, but she's acquired the gravitas and confidence it takes to move past mimicry. She can interpret stone-cold classics like "People" and "I'm the Greatest Star" with a technique that nods to Streisand without copying her beat for beat, and her belt on "Don't Rain on My Parade" fills the theater.
Photo Credit: Matthew Murphy
To read more reviews, click
here
!

Related Stories
Buy at the Theatre Shop
T-Shirts, Mugs, Phone Cases & More