Review Roundup: Aaron Tveit-Led COMPANY at Barrington Stage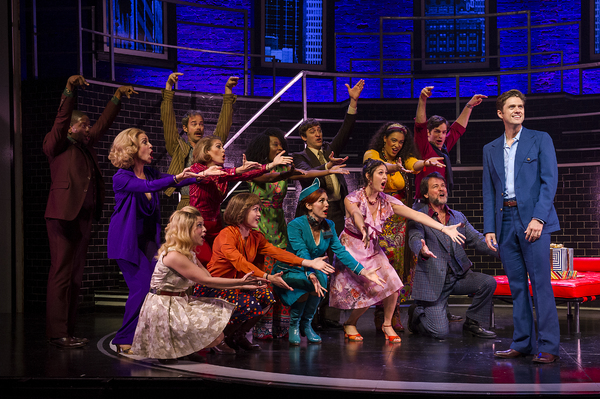 Aaron Tveit (Broadway's Catch Me If You Can, Next to Normal), who returns to Barrington Stage Company after previously playing "Matt" in the 2007 production of Calvin Berger, stars as "Bobby" in Company at BSC.
Also featured are Ellen Harvey (Broadway's Present Laughter) as "Joanne,"Lawrence Street (Broadway's Urinetown) as "Harry," Jeanette Bayardelle (Broadway's The Color Purple) as "Sarah," Kate Loprest (Broadway's First Date) as "Susan," Paul A. Schaefer (Broadway's The Phantom of the Opera) as "Peter," Jane Pfitsch (Broadway's Cabaret) as "Jenny," James Ludwig (Broadway's Spamalot) as "David," Lauren Marcus (Little Shop of Horrors, Sharon Playhouse) as "Amy," Joseph Spieldenner (Broadway's Les Misérables) as "Paul," Peter Reardon (BSC's All My Sons) as "Larry," Nora Schell (Spamilton, Triad Theater) as "Marta," and Rebecca Kuznick (BSC's Fiddler on the Roof) as "Kathy."
Let's see what the critics had to say!
Jesse Green, New York Times: I mean that despite a skilled New York cast led by the glossy Aaron Tveit, Barrington's "Company," directed by Julianne Boyd, is neither a Broadway tryout nor an attempt to reinvent the wheel. From the '70s satire inherent in its pungent costumes to the gorgeous singing of the entire cast, it has evidently been packaged as pure entertainment. How well that approach represents the ambivalence at the show's core is another matter. Bobby (Mr. Tveit) is a 35-year-old singleton at the height of the sexual revolution; he insists he is enjoying his freedom but his "good and crazy" friends - five married couples - think he is just afraid of commitment. The action consists mostly of Bobby's watching those couples bicker, and drawing what conclusions he can from the way they make up.
Steve Barnes, Times Union: By the end, there's only one thing left to do, and that's Bobby singing "Being Alive." It's a song, Sondheim has said, that moves from complaint to prayer. Being married means "Someone to hold you too close/Someone to hurt you too deep/Someone to sit in your chair/And ruin your sleep." But there's more, Bobby recognizes: "Someone to crowd you with love/Someone to force you to care/Someone to make you come through/Who'll always be there, as frightened as you/Of being alive." As sung by Tveit, it's neither cynical nor sappy. It's bitter and angry, plaintive and hopeful, pleading and optimistic. It's being alive.
Paul Lamar, Daily Gazette: The cast romps through the Act II opener, "Side by Side by Side," in a superb treatment by Page and Boyd, celebrating Bobby's third-wheel status in each couple even as he begins to have doubts about this arrangement. Indeed, the entire production (backed by Dan Pardo's super pit orchestra) works splendidly in the nooks and crannies of Sondheim's musical and literary imagination. If Bobby is going to fall on his figurative sword, you'd better believe it will be double-edged.
Charles Giuliano, Bershire Fine Arts: The costumes were fun with Bobby in sleek, bachelor chic. The outfit of a stewardess (that's what they were called back then) was particularly nifty. Where did they find those green boots that perfectly matched April's outfit topped with a period, designer cap? She was delicious to look at if a bit ditzy and dumb. The bedroom farce with April (Mara Davi) was hilarious and fun. In the morning she has to fly off to "Barcelona."
Mark G. Auerbach, The Westfield News: Aaron Tveit is a superb Robert, a difficult character to portray, since he's primarily an observer with little outward emotion, until he breaks his barriers with the emotional Sondheim song "Being Alive", which is the heart and soul of Company. Tveit is a fine singer, dancer, and actor, and he makes Robert an appealing leading man. Ellen Harvey as the acerbic Joanne, the role created by Elaine Stritch, turns "The Ladies Who Lunch" into one of those high-octane showstoppers we don't get to see much in musicals anymore. I loved Lauren Marcus' portrayal of the frenzied bride-to-be Amy and her rendition of "Getting Married Today" and Mara Davi's portrayal of the ditzy flight attendant April is a delight.
Terry Teachout, Wall Street Journal: In a way, though, what's most surprising about Barrington Stage's production is that Mr. Tveit doesn't stand out nearly as much as you'd expect given the remarkable quality of his performance. Role for role, this is the best-sung "Company" I've ever heard-not just in regional theater, but anywhere. Dan Pardo, the music director, doubtless deserves a big slice of credit for the quality of both the singing and the playing of the nine-piece orchestra. As for Ms. Boyd and Jeffrey Page, the choreographer, they've staged Mr. Sondheim's songs and George Furth's book scenes so pointedly and intelligently that the fine acting of the cast becomes all the more expressive as a result.
| | | |
| --- | --- | --- |
| | Donations | Arts Orgs |
Related Articles