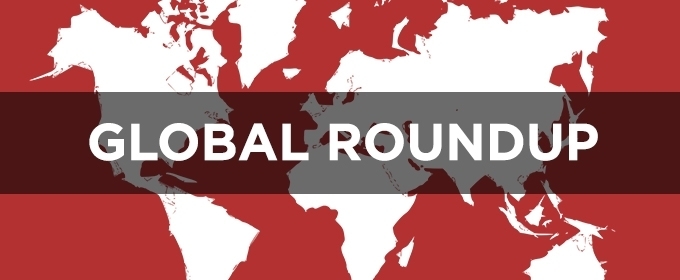 Regional Roundup: Top New Features This Week Around Our BroadwayWorld 9/21 - GYPSY, HUNCHBACK, FUN HOME, and More!
BroadwayWorld presents a comprehensive weekly roundup of regional stories around our Broadway World, which include videos, editor spotlights, regional reviews and more. This week, we feature GYPSY, HUNCHBACK, FUN HOME, and More!
Check out our top features from around the BroadwayWorld below! Want more great global content? Check out our "Around The World" section!
---
Kansas City: Contributor Alan Portner reviews LAST DAYS OF SUMMER at Kansas City Repertory Theatre, writing "It is hard to fault a show that is so heartfelt, well-acted, and delightfully scored. Corey Cott, Chris Dwan, Robbie Berson, and Jim Kaplan are all excellent. Jim Kaplan and Robbie Berson are sensitive beyond their years. I could not help flashing on Dwan as Charley the dance instructor from "Funny Girl." Corey Cott is the classic leading man especially perhaps as Joe Hardy in "Damn Yankees." If there ever was a Broadway Baby, she is certainly Emily Padgett. Emily's voice is crystal-clear and powerful with the ability to squeeze the most from every note."
---
Los Angeles: Contributor Shari Barrett reviews A NIGHT WITH Janis Joplin writing "
Kudos must be given to the entire creative team, each adding to the overall 60s rock show magnificence of the production, Review: A NIGHT WITH Janis Joplin Celebrates the Queen of Rock and Roll's Glory Days and Early Blues Influencesespecially lighting designer Ryan O'Gara whose colorful combinations and attention-grabbing spotlight enhancements of each singer during solos highlighted the artistic brilliance of each one, Darrel Maloney's projections designs mimicking the psychedelic light shows so popular at concerts at the time, costume designer Amy Clark for her historical accurate hippie and early female entertainers semi-formal performance apparel, Leah Loukas for assisting in authenticity with her hair/wig/and makeup design, Brian Prather's multi-level scenic design on which Davie's roared up or down the curved staircase to reach the spotlight center stage on both levels, Josh Bessom for his sound design which filled every inch of the theater with the type of music we will never forget."
---
Orlando: Contributor Aaron Wallace reviews GYPSY at Garden Theatre, writing "To that end, Mama Rose would be perturbed if I didn't acknowledge her daughters. They deserve it too. Louise is just as dynamic a character as her mom, and Andrea Stack (who some will recognize from Walt Disney World's FINDING NEMO: THE MUSICAL and HOOP-DEE-DOO MUSICAL REVUE) shows tremendous range both in her vocals and in her understanding of this shy young girl who somehow became the world's highest-paid ecdysiast. Meanwhile, Grace Flaherty (another NEMO notable) shines through June, such that it's obvious she has much more to offer than the character's cutesy affect allows."
---
Connecticut: Contributor Joseph Harrison reviews MAKE BELIEVE at Hartford Stage, writing "All the actors in MAKE BELIEVE deliver strong performances, but it is the four children who truly make it shine. Roman Malenda's Chris is tough on the outside, but with real peeks into a vulnerable and scared young man. Sloane Wolfe's Kate is direct and studious, Alexa Skye Swinton's Addie is a free-flowing ball of energy, and RJ Vercellone, as Carl, is hilarious as he bounds all over the stage doomed to play the family dog for all time. The adult actors (Megan Byrne, Chris Ghaffari, Brad Heberlee, Molly Ward) build on these characters further, demonstrating the impact of time on each. The siblings are convincing as adults who have grown out of their childhood ways and grown apart. Most importantly, as an audience member, you grow fond of these people, and care about them in a deep and personal way beginning with their childhood antics, and ending with their emotional and somber reunion."
---
Central New York: Contributor Natasha Ashley reviews NOISES OFF at Syracuse Stage, writing "I applaud Director Hupp with his choice to open the 46th season at Syracuse Stage with Noises Off. His goal is "to open a season with a production that has high theatrical appeal." He believes that the time is "especially appropriate for farce" and I couldn't agree more. September is the start of a new school year, new routines, and often new jobs. Some may experience a letdown that the summer season is basically over. Theater is the perfect escape from life and troubles or stresses that often plague people day to date. This perfectly on point farce that helps you leave your troubles behind. Do not miss this perfectly lighthearted and hysterical theatrical escape."
---
Sweden: Contributor Isa Ponturo reviews BRIDGES OF MADISON COUNTY at Maximteatern, writing "Viktoria Tocca plays Francesca, an Italian-American farm wife who embarks on an affair with Robert, a National Geographic photographer played by Chad Daniel Sjöberg. Sjöberg provides good, solid support in the sense that he doesn't overact, oversing and allows Tocca and Francesca to become the heart of the show. The musical version of Francesca is no longer defined primarily by her attraction of this unusual stranger who literally wanders into her life on the way to take pictures of local bridges. The audience gets little vignettes in lyrics about her previous life in Italy. We also hear about her "slutty" sister and another man she loved in her youth, and most importantly about her own artistic interests."
---
Dayton: Contributor Jenni Cypher reviews Dare 2 Defy's THE HUNCHBACK OF NOTRE DAME, writing "T.C. Schreier's portrayal of Quasimodo is sublime. Physically, he manages to make his own towering frame look small in comparison to the others on stage. He manages to hit every emotion: love, fear, shame, anger, hatred, wonder, desire and everything in between. His best number is "Made of Stone", the poignant outpouring of all of the emotions that have been bottled up inside Quasimodo for so long. It is the best work that I have seen from Schreier. More tears were shed.."
---
Delaware: Contributor Rosanne DellAversano reviews FUN HOME at Wilmington Drama League, writing "
Stage Director, Chris Turner, has assembled a capable cast, including Ruthie Chandler and Nicholas D'Argenio as Alison's parents, Helen and Bruce. Ms. Chandler's portrayal of the abiding yet soul tortured wife is insightful and keen. Mr. D'Argenio brings uniformed levels of warmth and scoundrel to Bruce, a closeted gay English teacher. Kristen Tosh-Morelli as Adult Alison nicely weaves the story via a well-devised character. But, as the saying goes, don't ever work with animals and children. This is oh so very true with FUN HOME, because it is the young artists stealing the show. While not on stage for an extended period of time, Ben Nourie (Christian) and Zoey Strasser (John) as Alison's brothers are simply adorable. Marion Jackson (Middle Alison) and Addie Nourie (Young Alison) are captivating with on point acting skills and crisp, vibrant vocals."
---
Regional Editor Spotlight:
Jenni Cypher
Dayton Contributing Editor
Jenni Cypher has been involved in the Dayton theatre community since 1994, when she costumed her first show, 42nd Street, at Dayton Playhouse. Prior to that, she studied Theatre Arts/Acting at St. Edward's University in Austin, Texas. Jenni is also a proud wife and mother to two teenage daughters. Now, she can combine her lifelong love of theatre with her love for her community of Dayton to share with the readers of Broadway World.
---
Join Team BroadwayWorld! Interested in joining our team, but not exactly sure what we do? All of your questions are answered, along with every open position from guest and student bloggers, Regional Editors, and more! Find out where we have open positions available here!