UPDATE: ROCKTOPIA Responds to AEA on Arrangement for Choir's Wages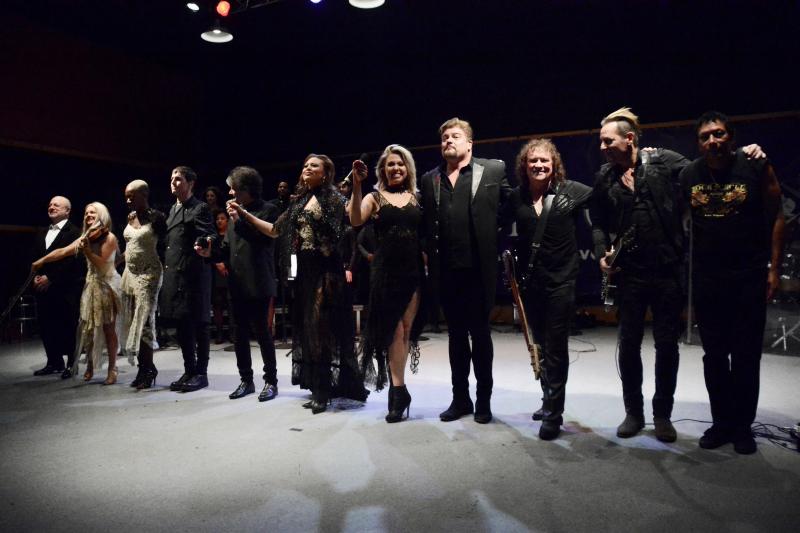 While Rocktopia gets ready to take its first official Broadway bow, its producers are under fire for offering its chorus members low wages. An official statement from the Actors' Equity Association reads:
"Rocktopia" is a live performance that combines rock songs and classical music, and it's starting previews on Broadway in two weeks. Producers are advertising this as a Broadway show and charging Broadway ticket prices - but their Broadway Chorus isn't being offered an Equity contract. In fact, we've heard from members who have reported being offered as low as $215 for a week of Chorus work.
You know that Chorus members are no less talented than any other performer on Broadway, but the Rocktopia producers are refusing to put their Chorus on an Equity contract. Will you help us tell Rocktopia's producers that their Chorus deserves the protection of Equity workplace rules and reasonable wages?
Rocktopia's Facebook page accepts reviews that are visible to the public, and we want you to tell everyone that producers who charge Broadway ticket prices while paying their Chorus rock-bottom wages are only worth one star (the lowest rating). Below is some sample language, but feel free to write your own message to Rocktopia's producers and their Facebook audience. With your help, we can make sure people know that Rocktopia isn't paying a livable wage, and how that will impact the Chorus's ability to create a good experience for the audience, night after night.
Our negotiating team is ready to find a solution that works for Rocktopia's producers that protects their Chorus members with an Equity contract. We'll be sure to keep you up to date as this campaign progresses!
UPDATE: A Rocktopia representative told BroadwayWorld: "The Producers of the multi-year touring concert, Rocktopia, have been in discussion for the past several months with Actors' Equity Association (AEA), despite AEA having no jurisdiction over a musical concert, one with no actors appearing on stage. With that in mind, and in respect of AEA's long history of negotiation with "non-legitimate" attractions for specific terms when appearing on Broadway, the Producers suggested a fair and reasonable and financially viable arrangement, given the nature of the show and its limited run, which AEA rejected. The Producers have great respect for Equity and are still hoping to come to a fair and equitable agreement upon hearing further from the union."
---
This spring, the international music sensation Rocktopia will rock Broadway for six epic weeks, March 20 - April 29, 2018 at The Broadway Theatre (1681 Broadway). Set to open on March 27, 2018, Rocktopia is an explosive musical event that fuses the most iconic 20th-Century rock with world-renowned classical compositions. Five world-class vocalists-backed by a full symphony orchestra, an electrifying rock band and a choir-take music itself to electrifying new heights.
The anthems of Queen and Journey meet the odes of Beethoven. The power of Zeppelin merges with the poetry of Puccini. The greatness of The Who blends with the grandeur of Strauss. This is the one-of-a-kind sound of Rocktopia.
Created through the unique vision of vocalist and recording artist Rob Evanand Maestro Randall Craig Fleischer, a pioneer in the fusion of symphonic rock and world music, Rocktopia delivers completely original, spine-tingling musical arrangements with insanely talented lead vocalists, a 5-piece rock band, a choir of 40, and an orchestra of 20. With extensive knowledge of both genres, Evan and Fleisher looked for common themes, potency, and emotional resonance in the songs before fusing them together to create explosive and moving new musical arrangements.
The groundbreaking live concert will be performed by a celebrated, diverse array of rock, Broadway, and opera vocalists: Rob Evan (Broadway: Les Miserables, Jekyll & Hyde and more, multi-platinum recording artist); Chloe Lowery (Trans-Siberian Orchestra, Yanni's Voices); Tony Vincent (Broadway: American Idiot, RENT, NBC's "The Voice"); Kimberly Nichole (NBC's "The Voice," performs with Janelle Monae, Slash, Joe Walsh, The Heavy); and featuring Alyson Cambridge (The Merry Widow at The Met, Madame Butterfly, La Boheme, Show Boat).
Photo Credit: Genevieve Rafter-Keddy