New Bob Marley Musical GET UP, STAND UP is Headed to the West End in 2021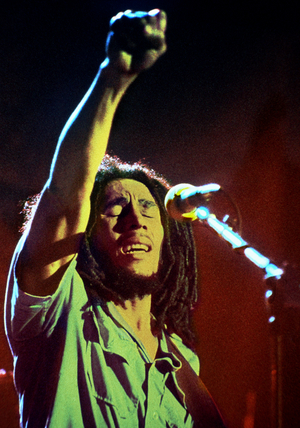 Following a hugely successful workshop in 2019, producers Playful Productions, Stage Play and Trim the Wind have announced that Get Up, Stand Up! The Bob Marley Story, the definitive new musical featuring Bob Marley's iconic hits played live on stage, will begin previews in London at the newly refurbished Lyric Theatre on Saturday 6th February 2021.
Brought to the stage by a multi award-winning team, Lee Hall's (Billy Elliot The Musical, Network) book takes direct inspiration from Marley's visionary lyrics to tell his extraordinary personal story as an artist, the production will be directed by Dominic Cooke (Follies, Clybourne Park) and star Arinzé Kene (Misty, Girl from the North Country).
Tickets will go on sale on 21 April 2020 and there is a website (GetUpStandUpTheMusical.com) where people can sign up for priority booking.
Cedella Marley (Bob Marley's daughter) said: "Our father's music means so much to so many people around the world, we're beyond thrilled to be able to bring it to both fans and new audiences alike in a new way led by the stellar team of Lee Hall and Dominic Cooke, and starring the fantastic Arinzé. As a family we feel that our father would be proud to know that his legacy is a source of creative inspiration and continues to bring people together."
Arinzé Kene said: "I feel absolutely honoured to be able to take on this role. It is not only an honour to be able to spread Bob Marley's message further, but to get to be him for a little while is a lifelong dream come true. I grew up on his music and his mantra and he has been one of my role models since I was a child. I feel as if he's in my DNA. He's the man, I love him."
Bob Marley, a Rock and Roll Hall of Fame inductee, is notable not only as the man who put reggae on the global map, but, as a statesman in his native Jamaica, he famously brought together the country's warring factions. Today, Bob Marley remains one of the 20th century's most important and influential entertainment icons. Marley's lifestyle and music continue to inspire new generations as his legacy lives on through his music. In the digital era, he has the second-highest social media following of any posthumous celebrity, with the official Bob Marley Facebook page drawing more than 71 million fans, ranking it among the Top 20 of all Facebook pages and Top 10 among celebrity pages.
Marley's music catalogue has sold millions of albums worldwide. His iconic collection Legend holds the distinction of being the longest-charting album in the history of Billboard magazine's Catalogue Albums chart and remains the world's best-selling reggae album. Marley's accolades include inductions into the Rock and Roll Hall of Fame (1994) and ASCAP Songwriters Hall of Fame (2010), a GRAMMY® Lifetime Achievement Award (2001), multiple entries in the GRAMMY® Hall Of Fame, and a star on the Hollywood Walk of Fame (2001). For more information visit: bobmarley.com and facebook.com/bobmarley.