John Glover, Neil LaBute Festival, Adam Rapp's THE EDGE OF OUR BODIES and More Set for 59E59 Theaters This Winter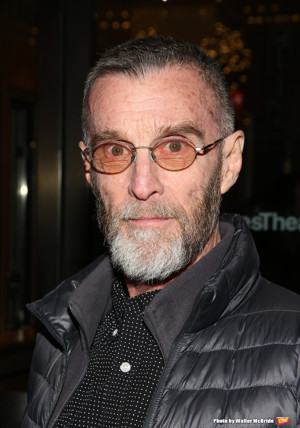 59E59 Theaters has announced the line-up of shows for the 2018 Winter Season. All performances take place at 59E59 Theaters (59 East 59th Street, between Park and Madison Avenues).
Ticket prices and performance schedules vary. For tickets, call Ticket Central at 212-279-4200 or online at www.59e59.org.
Tickets for the Winter 2018 season go on sale to 59E59 Members on Tuesday, November 28 at Noon and to the general public on Tuesday, December 5 at Noon.
---
THE WINTER 2018 LINE UP:
January 11 - February 4
THE UNDERTAKING written and directed by Steve Cosson
With Dan Domingues and Aysan Celik
Produced by The Civilians
Tickets: $25 - $35 ($24.50 for 59E59 Members)
Following their sold-out run at the 2016 BAM Next Wave Festival, THE UNDERTAKING returns to NYC. Written and directed by Steve Cosson, and created in collaboration with visual artist Jessica Mitrani, THE UNDERTAKING is a playful and idiosyncratic take on the classical trip to the land of the dead. Drawing on The Civilians' multi-year exploration into questions of mortality, the play takes the idea of the recorded interview and pushes it into surprising (and personal) new places.
January 11 - February 4
LaBUTE NEW THEATER FESTIVAL featuring new one-act plays by Neil LaBute, James Haigney, and Carter W. Lewis
With Autumn Dornfeld, Kelly Schaschl, Spencer Sickmann, and Chauncy Thomas
Produced by St. Louis Actors' Studio
Tickets: $25 - $35 ($24.50 for 59E59 Members)
St. Louis's acclaimed LaBUTE NEW THEATER FESTIVAL returns to New York with a stellar lineup of one-act plays, including the NY premieres of Hate Crime from Tony-nominated playwright and screenwriter Neil LaBute, Winter Break by James Haigney, and Percentage America by Carter W. Lewis.
January 16 - February 25 (Part of 59E59's Subscription Series)
BALLS written by Kevin Armento and Bryony Lavery, directed by Ianthe Demos and Nick Flint, movement director Natalie Lomonte
With Danny Bernardy, Donald Corren, Alex J. Gould, Danté Jeanfelix, Zakiya Iman Markland, Olivia McGiff, Elisha Mudly, Cristina Pitter, Richard Saudek, and Ellen Tamaki
Produced by One Year Lease Theater Company and Stages Repertory Theatre
Tickets: $25 - $70 ($49 for 59E59 Members)
It's 1973, and Houston's Astrodome is playing host to one of the biggest cultural events of all time as Billie Jean King and Bobby Riggs face-off in The Battle of the Sexes tennis match. BALLS is a high-intensity theatrical re-telling of this unforgettable match and the cultural debates it ignited around sexism, women-in-sport, and equality. One Year Lease's signature high-energy physical style embraces the carnival atmosphere of the original event, and features a shot-by-shot imagining of the entire match.
February 8 - March 4
SOME OLD BLACK MAN written by James Anthony Tyler, directed Joe Cacaci
With Wendell Pierce and Roger Robinson
Produced by Berkshire Playwrights Lab
Tickets: $25 - $40 ($24.50 for 59E59 Members)
When College Professor Calvin Jones moves his 82-year-old doggedly independent, blue collar, ailing, Southern father, Donald, from Greenwald, Mississippi into his Harlem penthouse, an argument over what to eat for breakfast turns into a generational clash over race, opportunity, and a decision that Calvin made years ago. Wendell Pierce ("Treme," "The Wire") and Roger Robinson (Tony Award-winner for Joe Turner's Come and Gone) star.
February 8 - March 3
PETE REX written by Alexander V. Thompson, directed by Brad Raimondo
With Greg Carere, Rosie Sowa, and Simon Winheld
Produced by The Dreamscape Theatre
Tickets: $25 ($20 for 59E59 Members)
PETE REX is part comedy, part absurdism, part horror, and -- despite the unnatural presence of a vicious, yet oddly smooth-talking Tyrannosaur named Nero - a wholly human story about depression and the choices a young man makes in a fruitless attempt to remain insulated from the fragility of life - and how those very choices have lead him directly into the jaws of mortal danger for himself, for his loved ones, and for the world around him.
March 8 - April 22 (Part of 59E59's Subscription Series)
OLD STOCK: A REFUGEE LOVE STORY created by Hannah Moscovitch, Ben Caplan, and
Christian Barry; written by Hannah Moscovitch; directed by Christian Barry
With Ben Caplan, Chris Weatherstone, Mary Fay Coady, Graham Scott, and
Jamie Kronick
Tickets: $25 - $70 ($49 for 59E59 Members)
A dark folktale woven together with a high-energy concert, this genre-bending music-theatre hybrid starring Klezmer-folk sensation Ben Caplan is inspired by the true stories of two Jewish Romanian refugees who arrived in Canada in 1908. Called "irresistible" by The Scotsman, it's about how to love after being broken by the horrors of war. It's about refugees who get out before it's too late, and those who get out after it's too late. And it's about looking into the eyes of God.
March 8 - April 7
EDUCATION written by Brian Dykstra, directed by Margarett Perry
With Matthew Boston, Bruce Faulk, Jane West, and two additional actors to be announced
Produced by The Drilling Company, Fresh Ice Productions, and White Plains Performing Arts Center
Tickets: $25 - $35 ($24.50 for 59E59 Members)
A high school senior attempts to burn an American flag for a school art fair project, setting off a free-speech firestorm in a small Ohio town. EDUCATION is a thought-provoking new play about two young people who fight for their right to express themselves in a society hostile to and fearful of change.
March 10 - March 31
HAL & BEE written by Max Baker, directed by Sarah Norris
With John Glover, Lisa Jill Anderson, Ian Poake and one more actor to be announced
Produced by Stable Cable Lab Co. and New Light Theater Project
Tickets: $25 ($20 for 59E59 Members)
HAL & BEE is a dark comedy about an aging hippie couple trying to hold on to their bohemian roots while dealing with the impending sale of their Upper West Side apartment building and the deadly familiarity of their own relationship. A play about love, addiction, and growing old. Tony Award-winner John Glover (pictured above) stars.
April 4 - April 22
THE EDGE OF OUR BODIES written by Adam Rapp, directed by Jacqueline Stone
With Carolyn Molloy and one more actor to be announced
Produced by TUTA Theatre
Tickets: $25 ($20 for 59E59 Members)
This "vibrant, funny, and a little dangerous" (Chicago Tribune) theatrical event follows 16-year-old Bernadette, an aspiring young short story writer as she journeys through New York City and teeters on the verge of adulthood. A unique coming of age story, this play by acclaimed American writer and Pulitzer Prize-finalist Adam Rapp examines our teenage years, at times uncertain, always full of yearning, and empowered by devastating events.
Photo Credit: Walter McBride / WM Photos