Nai-Ni Chen Dance Company Presents THE BRIDGE, November 23- 24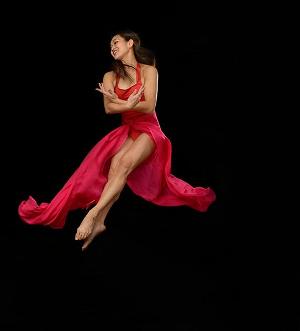 NAI-NI CHEN DANCE COMPANY Announces The Bridge Virtual Dance Institute of boundary breaking dance experiences free one-hour company class on Zoom open to all dancers at an Intermediate to Advanced Level. Interested dancers can join the class by registering on Nai-Ni Chen Dance Company's website: https://www.nainichen.org/thebridge.
In the midst of the COVID-19 crisis, the Nai-Ni Chen Dance Company has established a new dance institute through Zoom, The Bridge. The Institute's aim is to bring together dancers, choreographers and directors around the world to experience the master teachers of color whose practices are embedded in the community and are focused on advancing the art of dance that transform the personal, environmental and metaphysical spaces.
As a virtual dance institute, The Bridge will invite world renowned as well as up and coming dancers and choreographer to come to guest teach the class. Advanced/Intermediate level professional or pre-professional dancers who are looking to explore beyond their own boundaries and looking for new dance experiences are encouraged to participate. The core program is based on Nai-Ni Chen's Kinetic Spiral, which is a cross-cultural dance vocabulary that integrates the Chinese martial arts philosophy in TaiChi with contemporary dance practices she studied in America. Guest artists will cover a wide range of folk and classical dance styles.
Greta Campo is the Associate Artistic Director of the Nai-Ni Chen Dance Company, She began her dance training in her native Milan at the Carcano Theater, where she was first introduced to Martha Graham's work. She performed with the Martha Graham Dance Company in their 2012 New York Season and later on their international tour. Greta is a recipient of the 2016 Rising Star Award from the Fini Dance Festival.
Yuka Notsuka was born in Fukuoka, Japan, is a member of the Nai-Ni Chen Dance Company. She began her Ballet training in her hometown at age four. Later she broadened her training to include Jazz and Tap. Later Yuka moved to New York City to further pursue her career as a dancer. In 2015 she entered the Ailey School as a scholarship student. She performed in Ailey Spirit Gala Concert at Lincoln Center choreographed by Tracy Inman (Co-Director, The Ailey School) and Robert Battle (Artistic director of Alvin Ailey American Dance Theater). Yuka joined the Nai-Ni Chen Dance Company in 2017. She also has been in training and served as Teaching Assistant at the Luigi Jazz Dance Center under Francis J. Roach.
Related Articles
More Hot Stories For You
VIDEO: James Corden, Patti LuPone, and More Celebrate 'One Day More' of the Trump Era with a LES MISERABLES Parody
James Corden is celebrating the imminent departure of the Trump administration with a Les Miserables parody! ...

VIDEO: Watch 30 Broadway Stars Make Music with Muppets!
Since Jim Henson first burst onto the scene over six decades ago, Muppets have taken center stage in pop culture, appearing on film, television, and b...

10 BRIDGERTON The Musical TikToks That We're Obsessed With
This idea started by songwriter Abigail Barlow who asked the question, 'Okay, but what if Bridgerton was a musical?'...

VIDEO: HAMILTON Cast Members Reunite For the SAG Nominating Committee
Original cast members from Hamilton reunited on Zoom for a Screen Actors Guild Q&A this weekend. The Zoom call featured Lin-Manuel Miranda, Daveed Dig...

VIDEO: On This Day, January 18- RAGTIME Opens on Broadway!
Today we celebrate Ragtime the Musical, which opened on Broadway on this day in 1998. ...

Throwback Video: Lin-Manuel Miranda Gathers Old Classmates For Performance of Martin Luther King Song
Hamilton is celebrating Dr. Martin Luther King Jr. with a throwback video!...