Click Here for More Articles on GROUNDHOG DAY
Music Theatre International Acquires Licensing Rights to GROUNDHOG DAY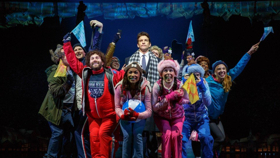 Theatrical licensor Music Theatre International (MTI) has acquired worldwide licensing rights to the award-winning musical comedy Groundhog Day.
The musical was nominated for seven Tony Awards, including Best Musical, Best Book of a Musical and Best Score and won the Olivier Award for Best New Musical. Music and lyrics are by the composer and lyricist of the smash hit Matilda: The Musical is Australian Tim Minchin, who is also an internationally successful comedian, actor and musician, with the book by Danny Rubin who co-wrote film with Harold Ramis. As the Chicago Tribune wrote: "Minchin is about the wittiest lyricist on any rialto down under or up above, and his songs in this show are a series of deliciously funny, quirky and waggish little ditties that make you laugh out loud, even as they add more absurdist depth to Rubin's book."
Groundhog Day is of course based on the 1993 hit film of the same name. It is often included in lists of the best comedy films and is on the United States National Film Registry as being deemed "culturally, historically, or aesthetically significant."
The musical had its world premiere at The Old Vic in London in the summer of 2016 and opened at the August Wilson Theatre on Broadway on April 17, 2017. Phil Connors-a disgruntled big-city weatherman who, during an assignment covering the annual Groundhog Day festivities in Punxsutawney, Pennsylvania, finds himself in a time loop reliving the same day over and over and over again-with no consequences, no regrets, and no tomorrows. But once he starts getting to know associate TV producer Rita Hanson, he discovers it is a day of second, third and fourth chances.
"Groundhog Day is now woven into the fabric of our culture and it has endured as an ever-current film. It succeeds as a musical because of its magical blend of humor and warmth," said Drew Cohen, President and CEO of MTI. "Tim and Danny have built on the classic story to create a stage work perfectly suited for productions at all levels, complete with a variety of quality lead roles and a wonderfully utilized ensemble. Unlike Phil Connors, we look forward to Groundhog Day year round."
Both the London and Broadway productions were received positively, opening to a string of five-star reviews:
The show is currently available for licensing in North America, with some international restrictions. For more information about MTI and licensing, please call (212) 541-4684 or email
licensing@mtishows.com
Music Theatre International (MTI) is one of the world's leading theatrical licensing agencies, granting schools as well as amateur and professional theatres from around the world the rights to perform the largest selection of great musicals from Broadway and beyond. MTI works directly with the composers, lyricists and book writers of these shows to provide official scripts, musical materials and dynamic theatrical resources to over 70,000 theatrical organizations in the US and in over 60 countries worldwide.
MTI maintains its global headquarters in New York City (mtishows.com), with additional offices in London (MTI Europe: mtishows.co.uk, mtishows.eu), and Melbourne (MTI Australasia: mtishows.com.au).