Matthew Broderick Returns to the Stage in Irish Rep's THE SEAFARER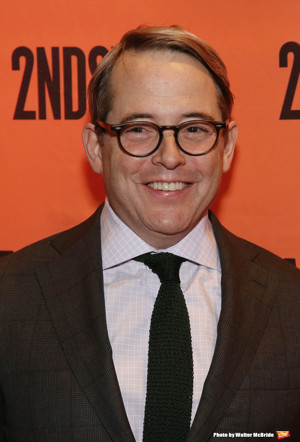 Irish Repertory Theatre (Charlotte Moore, Artistic Director and Ciarán O'Reilly, Producing Director) will present THE SEAFARER, starring two-time Tony Award winner Matthew Broderick (Shining City) this spring. THE SEAFARER, written by Conor McPherson (Shining City) and directed by Ciarán O'Reilly (The Emperor Jones), begins performances on March 30, 2018at Irish Rep Theatre (132 West 22nd Street) on the Francis J. Greenburger Mainstage, with an opening night set for April 18, for a run through May 13, 2018.
After losing yet another job, Sharky has returned home to Dublin to build a new, sober existence with his cantankerous elder brother, Richard, recently blinded in a drunken accident. But it's Christmas Eve, and the drinks are flowing as old friends convene for an annual game of poker. This year, an immortal stranger from Sharky's past arrives, raising the stakes to eternal consequence.
Written by Irish Playwright Conor McPherson (The Weir, Shining City), THE SEAFARER premiered at London's Royal National Theatre in 2006 and was nominated for an Olivier Award for Best Play. It premiered on Broadway in December of 2007, where it was nominated for four 2008 Tony Awards, including Best Play. This will be Matthew Broderick's second production with Irish Repertory Theatre; he first appeared in McPherson's Shining City in 2016.
Joining Matthew Broderick as "Lockhart" will be Colin McPhillamy (Shakespeare in Love) as "Richard," Michael Mellamphy (Guy Walks into a Bar) as "Ivan," Andy Murray (The Emperor Jones) as "Sharky," and Tim Ruddy (The Weir) as "Nicky."
The production will feature set design by Charlie Corcoran (The Emperor Jones), lighting design by Brian Nason (The Emperor Jones), costume design by Martha Halley (The Book of Will), sound design by Ryan Rumery (Admissions) & M. Florian Staab (The Dead, 1904), and original music by Ryan Rumery.
The performance schedule for THESEAFARER is as follows: Wednesdays at 3pm and 8pm; Thursdays at 7pm; Fridays at 8pm; Saturdays at 3pm and 8pm; and Sundays at 3pm. Exceptions: there will be no performance on Wednesday, April 18 at 3pm. There will be an additional performance on Tuesday, April 17 at 7pm.
Tickets to THE SEAFARER range from $50-$70 and are available now for Irish Rep members only. Tickets will go on sale to the general public tomorrow, Friday, February 2, at 12pm and will be available through Irish Rep's box office at 212-727-2737 or online at www.irishrep.org.
For more information about Irish Repertory Theatre visit www.irishrep.org.
Photo Credit: Walter McBride / WM Photos