Madonna Talks Andrew Lloyd Webber and EVITA - 'I'm Not Sure he Even Wanted Me in the Movie'
A spokesperson for Webber said, 'Andrew and Madonna had a very smooth and productive working relationship on the 'Evita' film.'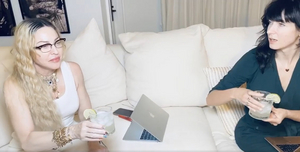 The New York Post has reported that Madonna recently took to Instagram live with Diablo Cody, who Madonna is working with on her biopic, discussing making the Evita film and her thoughts about Andrew Lloyd Webber.
Check out the full story HERE.
Madonna shared:
"I was totally and utterly intimidated by Andrew Lloyd Webber and Tim Rice and the story of Eva Perón, the real historical story, and living up to all the great singers and actresses who had played her before me...I think I had a few nervous breakdowns worrying that I was going to be fired every day, basically."
She continued to say,
"He was not nice to me...I'm not sure he even wanted me in the movie. Thank God, Alan Parker did."
A spokesperson for Lloyd Webber wrote in a statement: "She must have Andrew confused with somebody else. Andrew and Madonna had a very smooth and productive working relationship on the 'Evita' film."
Check out the full story HERE.
Related Articles
More Hot Stories For You
VIDEO: James Corden, Patti LuPone, and More Celebrate 'One Day More' of the Trump Era with a LES MISERABLES Parody
James Corden is celebrating the imminent departure of the Trump administration with a Les Miserables parody! ...

VIDEO: Watch 30 Broadway Stars Make Music with Muppets!
Since Jim Henson first burst onto the scene over six decades ago, Muppets have taken center stage in pop culture, appearing on film, television, and b...

VIDEO: Broadway Celebrates Biden with A Moving Mashup of RENT and HAIR!
Tonight, many of Broadway's brightest stars united to celebrate the inauguration of President Joe Biden and Vice President Kamala Harris with a medley...

Javier Munoz, Leslie Uggams and More Stars Set to Perform 'Seasons of Love' as Part of Tonight's Inauguration Festivities
Javier Munoz and Leslie Uggams have shared via social media that they will be joining a group of Broadway talent to perform 'Seasons of Love' as part ...

VIDEO: Amanda Gorman References HAMILTON in Inaugural Poem 'The Hill We Climb'
Today at President Joe Biden's inauguration, 22 year old Amanda Gorman took to the stage to deliver the inaugural poem, entitled 'The Hill We Climb'. ...

Social Roundup: Theatre Fans Turn Bernie Sanders' Inauguration Look Into Hilarious Memes
Theater fans have turned Senator Bernie Sanders' appearance at President Joe Biden's inauguration into a meme today, juxtaposing him into iconic pictu...