Lisa Lampanelli's STUFFED to Close Early Off-Broadway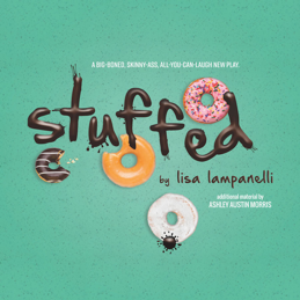 Playwright and comedian Lisa Lampanelli and producer Rachel Karpf announced today that STUFFED will play its final performance Off-Broadway on Sunday, November 19th at The Westside Theatre (Downstairs, 407 West 43rd Street).
Lampanelli, who wrote the play to shine an intimate light on the universal problem of body image and weight struggles, remarked that she is filled with nothing but love for the cast, the crew, the theatre community, and the audience members who helped make her experience a unique and fulfilling one.
"The issue of weight and body image is one that nearly everyone I talk to struggles with every single day," Lampanelli said. "It is an issue that is often surrounded by shame. By telling real stories of real people, Stuffed attempted to take some of the shame and secrecy out of these issues. If telling the truth through the play helped even one person, I am over the moon about it. That is the exact reason I wrote the show in the first place."
STUFFED had an initial run at the WP Theater, formerly known as Women's Project Theater (Lisa McNulty, Producing Artistic Director, Maureen Moynihan, Managing Director) in the fall of 2016.
Despite positive press and Lampanelli's passion for the project, Stuffed struggled to find its audience. However, the comedian says that she has accomplished all her goals in creating it.
"Every night onstage when I looked into the eyes of the radiant Marsha Stephanie Blake in an emotional moment, or laughed along with the hysterical and multidimensional Eden Malyn, I felt a little taste of what it is like to be a real actor. And the fact that I could give our former understudy Lauren Ann Brickman her first starring Off-Broadway role made me feel like a proud mom. Our director Jackson Gay helped me bring the story to life onstage in ways I never could have imagined. Plus, every story of weight and body-image struggle I heard from audience members touched me so, so much! I wanted to move the needle a little closer to self-acceptance and away from self-hate, and if I did that, it made every single minute I worked on the show worth it."
Lampanelli was also touched by the reaction of the theatre community to her. As a stand-up comedian for 27 years, Lampanelli worried that she might be looked at as an interloper or outsider, but the complete opposite occurred.
"Until you've had the opportunity to be embraced by the New York City theatre community, you have no idea what a feeling of inclusion really is," Lampanelli said. "Ever since I started writing this play seven years ago, people in the Broadway, Off-Broadway, and non-profit realms have expressed nothing but support and enthusiasm. Everyone from Lisa McNulty to Terry Byrne to DRA to Baseline Theatrical to Matt Ross PR opened their arms with advice and loaned me their expertise. Not to mention the priceless guidance I received from Daryl Roth, Jimmy Nederlander Jr., John Rando, Sandy Jacobs, Alan Zweibel, Amy Jacobs, and even the legend himself, Steven Schwartz. Every time one of these people met with me or gave me notes on the play, which I gladly lapped up, I felt like pinching myself to see if I was in a dream.
"My hope is that the people who saw Stuffed have a little more compassion and understanding for those going through difficult times around food, weight, and their bodies. I know that after writing the play, I definitely do."
At the time of closing, Stuffed will have played 31 previews and 23 regular performances. Ticket buyers for performances after November 19th should contact their point-of-purchase for a refund. Tickets purchased from Telecharge (online or by phone) or with a credit card at the box office will be refunded automatically.
STUFFED began previews on October 5, 2017 and opened on October 31, 2017 at The Westside Theatre (Downstairs, 407 West 43rd Street).
STUFFED currently stars Lampanelli, Marsha Stephanie Blake (NYTW's Othello, "Orange is the New Black"), Lauren Ann Brickman (Upright Citizens Brigade, Story Pirates) and Eden Malyn ("House of Lies," "Orange is the New Black"), with understudies Dionne Audain (Top Ten) and Angela Janas (Hamlet, Rosencrantz and Guildenstern Are Dead). Jackson Gay (These Paper Bullets!) directs.
The creative team for Stuffed includes set design by Antje Ellermann (Dear Elizabeth), costume design by Jessica Ford (These Paper Bullets!), lighting design by Amith Chandrashaker (FADE, [PORTO]), sound design by Elisheba Ittoop (Duat), and casting by Stewart/Whitley. Additional material was contributed to the play by Ashley Austin Morris.
The four characters in Stuffed are a lifelong dieter, a bulimic, a confident overweight gal, and a permanent size-zero. The play features Lampanelli's famously irreverent voice, signature wit, and an extra-large scoop of razor-sharp insight into the crazy-making world of our relationships with food. With Lisa onstage, alongside a talented cast, Stuffed doesn't shy away from tough questions like: Is eating an ice cream sandwich in the shower as emotionally fulfilling as it sounds? When it comes to jeans, what's better -- muffin top or camel toe? And, if Oprah, the most powerful person in the world, can't conquer her food issues, what can the rest of us do but laugh as we try?
Related Articles
More Hot Stories For You
VIDEO: On This Day, January 16 - Happy Birthday, Lin-Manuel Miranda!
On this day we're celebrating the birthday of the great Lin-Manuel Miranda! ...

VIDEO: HAMILTON Cast Members Reunite For the SAG Nominating Committee
Original cast members from Hamilton reunited on Zoom for a Screen Actors Guild Q&A this weekend. The Zoom call featured Lin-Manuel Miranda, Daveed Dig...

10 BRIDGERTON The Musical TikToks That We're Obsessed With
This idea started by songwriter Abigail Barlow who asked the question, 'Okay, but what if Bridgerton was a musical?'...

IATSE Calls For Turning Live Performance Venues into Vaccination Sites
IATSE, the union that represents the workers behind-the-scenes at live performance venues, tweeted earlier this week in support of turning venues into...

Virtual Theatre This Weekend: January 16-17- with Kelli O'Hara, Adam Pascal, and More!
Broadway might be dark, but that doesn't mean that theatre isn't happening everywhere! Below, check out where you can get your daily fix of Broadway t...

VIDEO: On This Day, January 18- RAGTIME Opens on Broadway!
Today we celebrate Ragtime the Musical, which opened on Broadway on this day in 1998. ...