Click Here for More Articles on LIN-MANUEL MIRANDA
Lin-Manuel Miranda and John Leguizamo to Co-Host VIVA BROADWAY in Times Square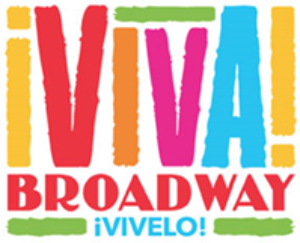 The Broadway League will kick off Hispanic Heritage Month with a special VIVA BROADWAY free outdoor celebration.
For the fourth consecutive year, The Broadway League is working in partnership with AARP to champion VIVA BROADWAY.
This year's event, which is sponsored by Spectrum, with support provided by the Times Square Alliance, will take place in Duffy Square (W 46th St. & Broadway) on Friday, September 15, 2017 from 6:30-7:30 PM (weather permitting). Lin-Manuel Miranda and John Leguizamo (Latin History for Morons) will co-host the festivities.
The program will include special guest appearances and performances from current and past Broadway stars including Ana Villafañe and cast members from On Your Feet! The Story of Emilio & Gloria Estefan, as the show launches its national tour. Performers will also include Rodney Ingram (The Phantom of the Opera), and Emma Pfaeffle (Charlie and the Chocolate Factory). In addition, Mandy Gonzalez (Hamilton) will debut her upcoming single, "Fearless," written for her by Lin-Manuel Miranda. The event coincides with Broadway Week, the semi-annual promotion that offers two-for-one tickets to participating Broadway shows.
VIVA BROADWAY is an audience development partnership with the Hispanic community to help bridge the world of Broadway with Latino audiences around the country. The long-term initiative aims to increase awareness about Broadway while culturally enriching lives, bringing families together, and building new careers in the theatre.
For more about VIVA BROADWAY visit broadway.org/info/viva-broadway. Performers are subject to change. For Broadway information in NYC as well as for shows on tour across North America and internationally, visit Broadway.org.
THE BROADWAY LEAGUE (Charlotte St. Martin, President), founded in 1930, is the national trade association for the Broadway industry. The League's 700-plus members include theatre owners and operators, producers, presenters, and general managers who present in nearly 200 markets in North America. Each year, League members bring Broadway to nearly 30 million people in New York and on tour across the U.S. and Canada. The Broadway League has recently added a new category for International membership to collaborate with professionals from around the world who produce and present Broadway quality theatre. The Broadway League annually co-presents the Antoinette Perry "Tony" Awards, one of the most coveted awards in the entertainment industry.
Key League programs and resources include: Kids' Night on Broadway, The Jimmys, Stars in the Alley, Internet Broadway Database (ibdb.com), Broadway.org, SpotlightonBroadway.com, Commercial Theater Institute (with Theatre Development Fund), as well as numerous conferences and forums for our members. TheatreAccessNYC (co-produced with TDF) is the one-stop website of accessible Broadway performances for theatregoers with disabilities. Broadway.org is the League's official on-line headquarters for Broadway in NYC, on tour, and internationally.
Broadway theatres are filled with an exciting array of new and classic musicals and plays, providing the perfect experience for every audience. Great seats are available at every price point and are easy to buy online, by phone, or in person at theatre box offices. It's always the perfect time to see a show. Broadway performs every day of the week at multiple curtain times to accommodate every schedule.