Kathleen Chalfant Joins Lineup for Conversations Alongside THE SIEGE at NYU Skirball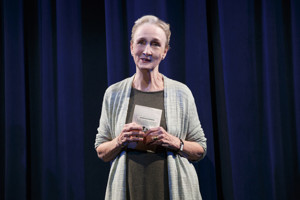 As previously announced, NYU Skirball will present a series of free events and post-show conversations with artists, writers, educators and Middle East experts, including the newly added Kathleen Chalfant, alongside Oskar Eustis, Tony Kushner, Jim Nicola and Alisa Solomon.
The events will be held in conjunction with the North American premiere of The Siege, produced by the Palestinian company The Freedom Theatre. The play runs October 12- 22 at NYU Skirball and will be performed in Arabic with English subtitles.
The Siege is based on the 2002 occupation of Bethlehem's Church of the Nativity, where more than 200 Palestinian fighters, civilians and Christian clergy sought sanctuary during an Israeli military action.
The Freedom Theatre, based in the West Bank refugee camp of Jenin, is dedicated to using culture and art as a catalyst for social change. Through workshops, classes and professional theater productions, The Freedom Theater helps Palestinian adults, youth and women develop tools to deal with the hardships of daily life under occupation.
---
SPECIAL EVENTS:
Thursday, October 5 at 5 pm
"Defying Time and Reality": A Conversation on Palestinian Art and Performance with Amir Nizar Zuabi and Nathalie Handal
A conversation with theater director and playwright Amir Nizar Zuabi (Remote Theater Project: Palestine) and poet and playwright Nathalie Handal (NYU Tisch), on what it means to be a Palestinian artist working globally, and questions of cultural translation and "cross-disciplinary and cross-border conversations."
RSVP: www.facebook.com/events/279928802497968
Location: NYU's Hagop Kevorkian Center for Near Eastern Studies, 255 Sullivan St. Washington Sq. South
Sunday, October 15 at 3 pm
Art And/As Resistance: A Symposium in Conjunction with The Siege
These roundtable discussions take the Freedom Theatre's steadfast advocacy of Palestinian art and culture as a starting point to consider the work of cultural resistance in local and global contexts - particularly alongside contemporary US art, politics and activism. More speakers to be announced.
Roundtable 1: "Staging Resistance" 3:00-4:15 pm
Erin Mee, moderator (NYU), joined by Samer Al-Saber (Florida State University), Natalia Kaliada (Belarus Free Theatre), Jessica Litwak (HEAT Collective), and Ari Roth (Mosaic Theatre)
Roundtable 2: "Resistance Without Borders" 4:30-5:45 pm
Helga Tawil-Souri, moderator (NYU), joined by Rashid Khalidi (Columbia), Huwaida Arraf (International Solidarity Movement), Paula Chakravartty (NYU), Nyle Fort (Princeton), Rula Jebreal (journalist), Sarah Schulman (CUNY, College of Staten Island), and Robyn Spencer (CUNY, Lehman College)
RSVP and information: nyuskirball.org/beyond-the-stage/studies/siege/art-resistance
Location: NYU Tisch's Burrows Theatre: 721 Broadway, 1st Floor
Sunday, October 15 at 6 pm
The Other Side of the Siege
NYU's Taub Center for Israel Studies is hosting a showing of the Frontline documentary "The Siege of Bethlehem" followed by a discussion with Col. Lior Lotan, the former Israel Defense Forces chief hostage negotiator who was involved in the 2002 siege.
RSVP: rsvp.taub@nyu.edu
Location: 53 Washington Square South, Screening Room
Monday, October 16 at 6:30 pm
Skirball Talks with Tony Kushner and Oskar Eustis
Tony and Pulitzer Prize-winning playwright Tony Kushner (Angels in America) and Oskar Eustis (Artistic Director of The Public Theater, Arts Professor, NYU) join with Nabil Al-Raee, co-author and co-director of The Siege and former artistic director of the Freedom Theatre.
Location: NYU Skirball 566 LaGuardia Place at Washington Square South
RSVP: www.nyuskirball.org
---
POST-SHOW CONVERSATIONS:
Nabil Al-Raee, co-author and director of The Siege and former artistic director of The Freedom Theatre, and Zoe Lafferty, co-author and director of The Siege, will be joined by guest artists, writers and educators following each performance of The Siege.
Thursday, October 12
Political Theatre: From Antigone to Antigone to The Siege
Erin Mee (NYU), Marvin Carlson (CUNY) and Frank Hentschker (CUNY)
Friday, October 13
Culture As Resistance
Derek Goldman (Georgetown) and more guests to be announced
Saturday, October 14
"There is No Longer Such a Thing As One's Own People": From Empathy to Solidarity
Rebekah Maggor (Cornell), Samer Al-Saber (FSU), and Huwaida Arraf (International Solidarity Movement)
Sunday, October 15
Acting Out Alternatives
Tony Award-winning actress Kathleen Chalfant and the cast of The Siege
Tuesday, October 17
Play and Resilience
Selcuk Sirin (NYU), Michelle Fine (CUNY), and Nisha Sajnani (NYU)
Wednesday, October 18
Censorship and Freedom in Art and Academics
Alisa Solomon (Columbia), Carin Kuoni (New School), and Zachary Lockman (NYU)
Thursday, October 19
Staging Conflict, Making Peace
Cynthia Schneider (Georgetown) and Joanna Sherman (Bond St. Theatre)
Friday, October 20
Bearing Witness: Seeing/Hearing/Feeling Difference
Zohar Tirosh-Polk (playwright) and more guests to be announced
Saturday, October 21
Practice Resistance
Sarah Schulman (CUNY) and David Zellnik (Break the Wall)
Sunday, October 22
Amplifying Underrepresented Voices
Leila Buck (NYU), Linda Chapman (New York Theatre Workshop), Jim Nicola (New York Theatre Workshop) and Jacob Kader (writer/director/producer)
---
The Siege is drawn from the accounts of a group of men who, at the height of the second Intifada (Palestinian uprising), took refuge in Bethlehem's Church of the Nativity, one of the world's holiest sites. The production is built from interviews with these fighters and others who were trapped in the church as the Israeli army closed in with helicopters, tanks and snipers, and provides unique insights into the Palestinian armed resistance and struggle for equal rights.
The siege lasted for 39 days, trapping over 200 Palestinian militants and local civilians, priests and nuns inside the church, with extremely limited food, water and electricity. Outside the church Israeli snipers remained on alert, paralyzing the center of Bethlehem and keeping 70,000 people under strict curfew. Eight Palestinians were killed and 40 injured by Israeli snipers
After 39 days of complicated negotiations, a deal between the fighters and Israel was reached; the fighters would surrender and accept permanent exile.
Siege will play 10 performances, October 12 - 22 as follows: Tuesday - Saturdays at 7:30 pm; Sunday, October 15 at 7:30 pm; and Sunday, October 22 at 3 pm. Tickets start at $65 and may be purchased online at www.nyuskirball.org, by phone at 212.998.4941, or in person at the NYU Skirball Box Office: Tuesday-Saturday, 12:00-6:00 P.M. NYU Skirball is located at 566 LaGuardia Place at Washington Square, New York, New York 10012.
Based in the Jenin refugee camp in the West Bank, The Freedom Theatre rose out of the resistance to Israeli occupation, and has been an artistic hub of cultural resistance since its founding in 2006. Its productions often reflect, comment upon and challenge the realities of contemporary Palestinian society, while exploring various forms of artistic expressions. Past productions include adaptations of Animal Farm, Alice in Wonderland, Men in the Sun, Waiting for Godot and The Caretaker, as well as original plays. The company made its U.S. debut in 2013 with an adaptation of Athol Fugard's The Island. The theater has produced 24 original plays and adaptations, played to audiences of more than 100,000 children and adults, and toured 15 countries with plays, workshops and presentations.
The Freedom Theatre was founded by Juliano Mer-Khamis, an Israeli citizen who served as a paratrooper in the Israeli army. The son of an Israeli Jew and Arab Christian, Juliano considered himself 100% Palestinian and 100% Jewish. His mother was Arna Mer Khamis, a Jewish activist who devoted her life to campaigning for freedom and human rights. Arna's work is documented in the internationally awarded film Arna's Children. After his mother's death, Juliano continued her legacy, co-founding The Freedom Theatre in 2006. He was its General Director until 2011, when he was assassinated outside the theater, possibly by an Islamic extremist unhappy with the theater's progressive attitudes towards women and girls. At the time of his murder, he was mounting a production of Spring Awakening, the story of young people coming of age in a repressive society. Visit thefreedomtheatre.org for more information.
NYU Skirball, located in the heart of Greenwich Village, is one of New York City's major presenters of international work, and has been the premier venue for cultural and performing arts events in lower Manhattan since 2003. The 860-seat state-of-the art theater, led by Director Jay Wegman, provides a home for internationally renowned artists, innovators and thinkers. NYU Skirball hosts over 300 events annually, from re-inventions of the classics to cutting-edge premieres, in genres ranging from dance, theater and performance art to comedy, music and film.
NYU Skirball is named for Jack H. Skirball, a rabbi, philanthropist, pioneering film producer, and founder of the Jack H. Skirball Foundation, committed to the exchange of ideas from every viewpoint. Its unique place as a vibrant cultural center within New York University enables it to draw on the University's intellectual riches and resources to enhance its programming with dialogues, public forums and conversations with artists, philosophers, scientists, Nobel Laureates and journalists.