Jonny Labey and Zizi Strallen to Lead West End Production of STRICTLY BALLROOM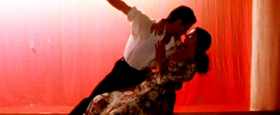 Initial casting has been announced for the upcoming West End production of Baz Luhrmann's Strictly Ballroom. Jonny Labey and Zizi Strallen will lead the cast of the stage adaptation, joined by Will Young who takes on the role of band leader.
The production is set to be directed by Drew McOnie and will play at the West End's Piccadilly Theater beginning March 16.
Following the success of its UK Premiere at the West Yorkshire Playhouse in 2016, the opulence and glamour of Baz Luhrmann's Strictly Ballroom The Musical will open in London on Wednesday 11th April.
Strictly Ballroom The Musical is the hilarious story that inspired the world to dance. Based on the multi award-winning movie, the first installment from Baz Luhrmann's acclaimed Red Curtain Trilogy, the musical production is a kaleidoscope of colour and fun. When maverick championship ballroom dancer Scott defies all the rules of competition to follow his heart, he teams up with left-footed partner Fran to win the National Championship his way.
Featuring the film's classic break-into-song numbers such as Love is in the Air, Perhaps Perhaps Perhaps and Time After Time, Strictly Ballroom The Musicalwill also include electrifying songs from a host of internationally acclaimed artists.
Drew McOnie (whose dazzling choreography for In The Heights earned him the 2016 Olivier Award) will direct and choreograph the production. Strictly Ballroom The Musical is based on the original Australian musical created by Baz Luhrmann and Catherine Martin, with a book by Baz Luhrmann and Craig Pearce.
Related Articles