JAGGED LITTLE PILL Will Stage a Developmental Lab This Winter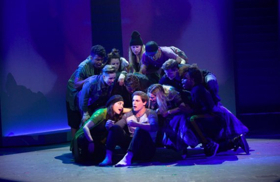 Jagged Little Pill will stage a developmental lab this winter, following its world premiere earlier this year at the American Repertory Theater.
According to a casting call notice, the lab will take place this December in New York.
There is no news of a Broadway transfer at this time, but the team is working to develop the show further.
The lab includes the same creative team as the show's world premiere run, including director Diane Paulus, choreographer Sidi Larbi Cherkaoui and music supervisor Tom Kitt.
The musical's producers are Vivek J. Tiwary, Arvind Ethan David and Eva Price.
Jagged Little Pill was inspired by Alanis Morissette's groundbreaking, Grammy Award-winning album and features a book by Diablo Cody; music by Morissette and Glen Ballard; lyrics by Morissette; and additional music by Michael Farrell and Guy Sigsworth.
Jagged Little Pill tells an original story about pain, healing, and empowerment. The Healys appear to be a picture-perfect suburban family-but looks can be deceiving. When the Healys' lives are disrupted by a series of disturbing events, they must choose between maintaining the status quo or facing harsh truths about themselves, their community, and the world around them. Including iconic songs "Ironic," "You Oughta Know," and "Hand In My Pocket," Jagged Little Pill incorporates selections from Morissette's catalogue and new material written for this world-premiere musical.
The cast of the world premiere production featured Elizabeth Stanley as Mary Jane; Sean Allan Krill as Steve; Celia Gooding as Frankie; Derek Klena as Nick; and Lauren Patten as Jo. Ensemble members included Jane Bruce, John Cardoza, Antonio Cipriano, Kathryn Gallagher, Laurel Harris, Logan Hart, Max Kumangai, Soph Menas, Sean Montgomery, Nora Schell, Whitney Sprayberry, Kei Tsuruharatani, and Ebony Williams. Yeman Josiah Brown and Kelsey Orem performed as swings.