Heather Headley's LIFE IS A STAGE Concert to Air on PBS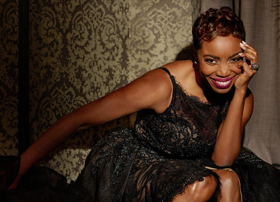 Tony & Grammy Award winner Heather Headley will star in "Heather Headley: Life is a Stage," a PBS concert special for New York area stations Thirteen, WLIW and NJTV this September. THE HALF HOUR special debuts this Sunday, September 2 at 10:00 PM ET on WLIW and Saturday, September 8 at 2:30pm on Thirteen. Check local listings for airings throughout the month.
As previously announced, Heather Headley is set to headline concerts this fall in Philadelphia, New York & Boston. She brings "Broadway My Way" to Philadelphia's Kimmel Center, joined by the famed Philly Pops Big Band and Orchestra, on Friday, October 12th. She then returns to the New York City area to play Brooklyn's Kings Theatre on Thursday, November 1st and plays Boston's Emerson Colonial Theatre on Saturday, November 3rd.
Heather Headley made her Broadway debut as "Nala" in the original Broadway cast of The Lion King and went on to win Tony and Drama Desk Awards for her critically-acclaimed portrayal of the title role in Aida. She earned an Olivier Award nomination for her West End stage debut inThe Bodyguard and returned to Broadway most recently in the Tony-winning revival of The Color Purple. In "Broadway My Way," Headley presents an evening of beloved Broadway songs, as well as several personal selections, arranged specifically for her unmatched vocal talents.
As one of the most recognizable and celebrated voices on Broadway, Ms. Headley is also a Grammy-winning recording artist for her R&B/Gospel record Audience of One. She is Andrea Bocelli's first choice as a featured guest artist on his North American tour dates, where fans are routinely brought to their feet in rousing ovations after her solo pieces. Heather will bring these experiences, styles and influences into the arrangements for "Broadway My Way," making for a truly uplifting evening.
PBS CONCERT SCHEDULED AIRINGS
Thirteen: September 8 at 2:30pm ET; September 9 at 3:30am ET & 3:30pm ET; September 12 at 5:30pm ET; September 20 at 10:30pm ET; September 29 at 1pm ET
WLIW: September 2 at 10pm ET; September 8 at 1pm ET; September 16 at 5am ET & 5:30pm ET; September 21 at 2:30am ET; September 23 at 7:30pm ET;September 28 at 4:30am ET
NJTV: September 22 at 4:30pm ET; September 23 at 1pm ET; September 23 at 6:30pm ET
TICKET INFORMATION FOR LIVE CONCERT DATES
PHILADELPHIA, PA | Kimmel Center | Friday, October 12
· Tickets now on sale at https://phillypops.org/heatherheadley
BROOKLYN, NY | Kings Theatre | Thursday, November 1
· Tickets now on sale at http://www.kingstheatre.com/calendar/heather-headley/.
BOSTON, MA | Emerson Colonial Theatre | Saturday, November 3
· Tickets now on sale at http://www.emersoncolonialtheatre.com/calendar/heather-headley/.
Photo Credit: Nathan Johnson