Harvey Weinstein Broadway Transfer of SINGIN' IN THE RAIN 'Will Not Happen'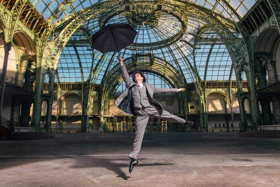 The Théâtre du Châtelet production of SINGIN' IN THE RAIN which has been optioned for Broadway by Harvey Weinstein is no longer in the works, the Châtelet has informed BroadwayWorld.
A spokesperson for the theatre told us "Mr. Weinstein, at some point, was interested in taking the show to Broadway, and signed an agreement of principle [...] It never happened and will not. He is not associated to it in any possible way. [We retain] full rights our production and never was Mr. Weinstein or anyone from his company involved in its creation, casting, rehearsal etc."
Weinstein had previously announced he would be bringing the production to Broadway starring Derek Hough. Hough had previously announced the project had been delayed due to a lack of available Broadway houses.
In 2016, Hough shared on Facebook that "This fall, I was planning on being immersed in rehearsals for Singin' in the Rain on Broadway, but due to successes of the shows currently running, that project has been delayed because there simply isn't a theatre available. Singin' in the Rain is still very much part of my future plans."
This new production of SINGIN' IN THE RAIN, at the Théâtre du Châtelet, based on the eponymous film in 1952, was given 15 sold out performances in March 2015, and then returned to the Châtelet for 50 performances, from November 27, 2015 to January 15, 2016 - and is currently being remounted in Paris once more. The show is directed by Robert Carsen - who had previously directed the Châtelet CANDIDE by Bernstein (2006) and MY FAIR LADY (2010 and 2013) - with choreography by Stephen Mear (MARY POPPINS) and costumes designed by Anthony Powell (SUNSET BOULEVARD), a Broadway legend.