GREAT COMET Creators Dave Malloy and Rachel Chavkin Honored with Smithsonian's 2017 Ingenuity Award Today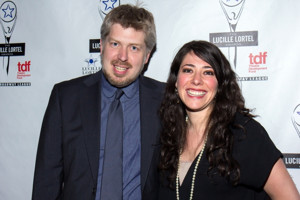 Smithsonian magazine previously announced the winners of the 2017 American Ingenuity Awards. Dave Malloy, creator, and Rachel Chavkin, director of the renowned Broadway musical Natasha, Pierre & The Great Comet of 1812, are being honored with the American Ingenuity Award in History. They will receive the award at an awards gala at the National Portrait Gallery today, November 29.
Starring multi-platinum recording artist Josh Groban in his Broadway debut, the musical is a fully immersive experience that rockets the entire audience back to Russia during the time of Czar Alexander I. The Imperial Theatre is transformed to look and feel like a 19th century nightclub in Moscow.
"Natasha, Pierre & The Great Comet of 1812 is an explosion of relentless creativity," said Michael Caruso, Editor in Chief of Smithsonian. "The show is time travel at its most enchanting. It is so convincing that audiences walk out blinking, astonished to find themselves back in the present."
The Great Comet opened on Broadway in November 2016 to critical and audience acclaim.
Introduced in 2012, the American Ingenuity Awards have been called "the Golden Globes of the Intellect" and "the Academy Awards of Innovation." The awards honor groundbreaking individuals and works across nine wide-ranging categories including technology, performing arts, visual arts, life and physical sciences, education, history, social progress and youth achievement.
Past winners and presenters have included Lin-Manuel Miranda, Elon Musk, Stephen Hawking, Jeff Bezos, David Byrne, Aziz Ansari, OK Go, St. Vincent, Fred Armisen, Bill Hader, Representative John Lewis, Senator Al Franken, Rosanne Cash and T. Bone Burnett.
The American Ingenuity Award itself was designed and made by Jeff Koons.
Additional American Ingenuity Award winners will be announced in weeks to come.
Related Articles
More Hot Stories For You