Click Here for More Articles on Be More Chill
Everything About Them Is (Not So) Terrible - Broadway Characters Who Could Use A Squip
The Squips are coming! The miniature miracle popularity supercomputers of the super new musical Be More Chill have recently taken up residence at Broadway's Lyceum Theatre!
With a miracle cure for awkwardness every bit as viral as this terrific new musical, Be More Chill's Squips have infected Broadway bringing with them a legion of fans and a cast of characters all seeking the secret to being more, well, chill.
But long before the freaks, geeks, and queen bees of Be More Chill set up shop in midtown, Broadway has played host to its own brand of misfits, outcasts, and recluses. As we celebrate the official opening of this new Broadway smash, check out our picks for Broadway characters most in need of their very own Squip!
---
Elphaba - Wicked
Despite her best efforts, poor Elphie just couldn't make it with the in-crowd at Shiz. Skin color aside, our green girl's rebellious streak got her in some sticky situations with the public near and far. From her classroom lion cub heist to her truly awkward (but endearing!) dancing to that little misunderstanding with the Wizard - and let's face it, all of Oz - Elphie just can't catch a break when it comes to her public persona. Though we'd never change her heroic impulses, perhaps a supercomputer with a mind of its own could have helped her navigate these situations a bit better.
---
Evan Hansen - Dear Evan Hansen
It's no secret that the unfortunate Mr. Hansen is a bit wound up when it comes to matters of human connection. A Squip would have come very much in handy when it came to that whole Connor debacle. While we would never undermine the benefits of regular therapy and the power of positive thinking, a little Japanese confidence booster could have saved everyone in Evan's world a whole lot of trouble.
---
Aladdin - Aladdin
If we were forced to go Genie or Squip, it's pretty obvious that Al's blue pal would take the crown. But had Aladdin pined for a princess in another universe, we think the Squip would have been the miracle cure Prince Ali needed to sweep Jasmine off her feet. Though we admit owning seventy-five golden camels never hurt anybody's chances.
---
Haled - The Band's Visit
The Alexandria Ceremonial Police Band's resident ladies man certainly knows his stuff when it comes to setting the mood, but his communication skills could use some serious work. Should a Squip step in, Haled's chances at finding love would improve considerably. From there, you just melt the ice, throw on some Chet Baker, and let Japan's technological popularity pill do the rest.
---
Elsa - Frozen
After her parents effectively punished her for her whole entire life for circumstances entirely beyond her control, Queen Elsa of Arendelle is somewhat lacking in terms of social development. Thank goodness she figured out love with thaw, because this poor girl was totally ill-equipped to contend with her emotional outbursts. But there would have been no need to escape to the mountains if a Squip was in play helping Elsa keep her cool. Not that the cold ever bothered her anyway.
---
Phantom - The Phantom of the Opera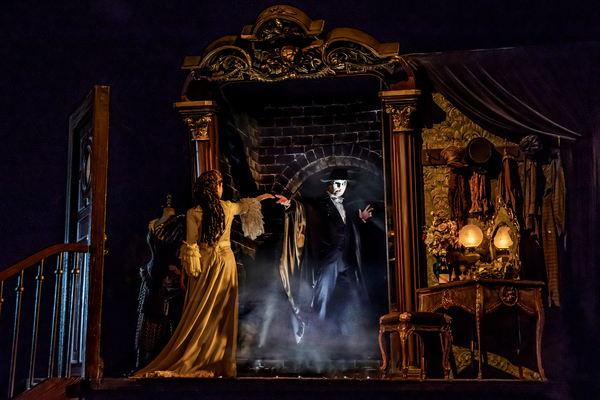 It's in the mail.