Daniel Robert Sullivan Releases New Book THERE'S NO SUBSTITUTE FOR EMPATHY
There's No Substitute for Empathy: A Liberal's Journey Through Conservative America is available on Amazon and local retailers.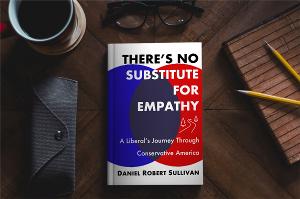 Actor Daniel Robert Sullivan (Dear Evan Hansen, Jersey Boys, Motown the Musical) has authored a new book, There's No Substitute for Empathy: A Liberal's Journey Through Conservative America. Inspired by Studs Terkel's work, this is a literary documentary years in the making. Beginning Inauguration Day 2017, Daniel crisscrosses thirty cities across America in a struggle to understand the motivations of devoted conservatives by capturing their words and stories. In 2020, he visits them again to learn what has changed.
A bank robber in Boston, a NASA engineer in Las Vegas, a Somali refugee in Minneapolis, a Chinese scientist in Philadelphia, a Salvadoran immigrant in Los Angeles, a spa owner in Beverly Hills, a Trump campaign exec in Indianapolis, a Mexican-born lawyer in Reno, a liberal-ish feminist in Tulsa, and Bill Clinton's former mistress in Little Rock. What can we learn from their stories?
Says Daniel, "As a country, our algorithms have split. Our curated newsfeeds reflect only half the landscape, and perhaps it's time for some of us to start listening more closely to the other side. Conservatives can use this book as confirmation: there are people from every type of background who feel Trump is the refreshment America needed. Liberals can use this book as a weapon: there are themes in these narratives that explain the enthusiasm for Trump, for his base isn't going away anytime soon. Joe Biden said it's time to lower the temperature and to listen to each other again. This is my small contribution to that goal."
Daniel Robert Sullivan's other written works include Places, Please! (Becoming A Jersey Boy), Prospect High: Brooklyn, and Lockdown: Await Further Instructions. He received a dual Master's Degree from the University of Missouri/Kansas City and three Bachelor's Degrees from the University of Rhode Island. Daniel is an actor, having appeared as Tommy DeVito in Jersey Boys for more than 1000 performances and in the national tour of Motown the Musical. Pre-pandemic, Daniel was performing with the national tour of Dear Evan Hansen and hopes to return.
The new book is available on Amazon and local retailers. For further information, visit DanielRobertSullivan.org.
Related Articles
More Hot Stories For You
VIDEO: James Corden, Patti LuPone, and More Celebrate 'One Day More' of the Trump Era with a LES MISERABLES Parody
James Corden is celebrating the imminent departure of the Trump administration with a Les Miserables parody! ...

VIDEO: Watch 30 Broadway Stars Make Music with Muppets!
Since Jim Henson first burst onto the scene over six decades ago, Muppets have taken center stage in pop culture, appearing on film, television, and b...

Javier Munoz, Leslie Uggams and More Stars Set to Perform 'Seasons of Love' as Part of Tonight's Inauguration Festivities
Javier Munoz and Leslie Uggams have shared via social media that they will be joining a group of Broadway talent to perform 'Seasons of Love' as part ...

VIDEO: Broadway Celebrates Biden with A Moving Mashup of RENT and HAIR!
Tonight, many of Broadway's brightest stars united to celebrate the inauguration of President Joe Biden and Vice President Kamala Harris with a medley...

VIDEO: Amanda Gorman References HAMILTON in Inaugural Poem 'The Hill We Climb'
Today at President Joe Biden's inauguration, 22 year old Amanda Gorman took to the stage to deliver the inaugural poem, entitled 'The Hill We Climb'. ...

Social Roundup: Theatre Fans Turn Bernie Sanders' Inauguration Look Into Hilarious Memes
Theater fans have turned Senator Bernie Sanders' appearance at President Joe Biden's inauguration into a meme today, juxtaposing him into iconic pictu...