Click Here for More Articles on MEAN GIRLS
Hot Shot: Check Out a First Look at 'The Plastics' from Broadway Bound MEAN GIRLS
Entertainment Weekly has shared a first look at "The Plastics" from the Broadway-bound production of Mean Girls. Check it out below! As BWW recently reported, the cast of the highly anticipated show will be led by Erika Henningsen as Cady Heron, Taylor Louderman as Regina George, Ashley Park as Gretchen Wieners, Kate Rockwell as Karen Smith, Barrett Wilbert Weed as Janis Sarkisian, Grey Henson as Damian Hubbard, Kerry Butler as Ms. Norbury, Kyle Selig as Aaron Samuels, Cheech Manohar as Kevin Gnapoor, Rick Younger as Mr. Duvall.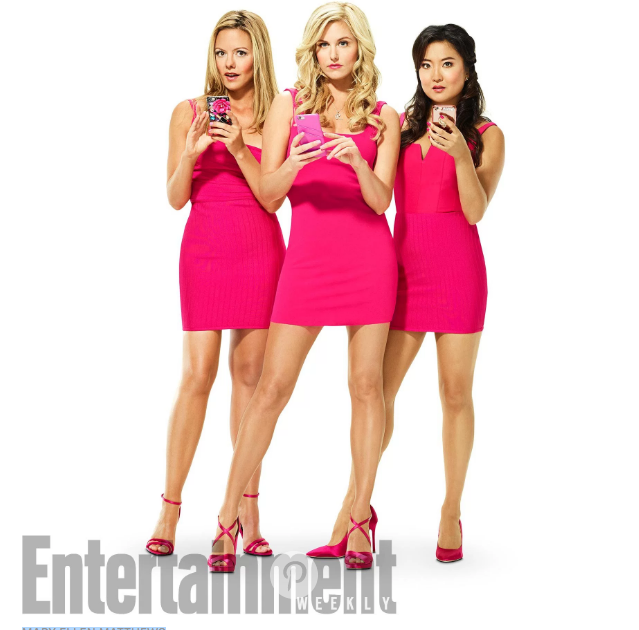 Fey tells EW, "Taylor Louderman not only has this giant voice and great comic timing, but she instinctively understood the idea of Regina George, that there's power in making people come to you. She knows exactly when to play things really small, and there's so much power in it, and I think she's at times so wonderfully scary but so funny. Kate Rockwell so quickly found the zone of the sweetness that's at the core of Karen. And Ashley has this incredible, beautiful voice, but also this nice timing and this fragility of Gretchen, because Gretchen's, like...just barely hanging on to her status and her sanity."
She continues, "When you have great actors, like we do now with these young women, they bring more to it than you even imagined. And sometimes with the writing process, too, before we even got to the actors, I would be with Jeff and Nell and we'd be breaking through the story and I'd be like, 'Yeah, guys, I'm sorry, we're hitting a part of the screenplay that's real flawed." She laughs: "'I apologize, it was my first screenplay.'"
Of the show's music, she explains, "I tried to remember to stay at the core humanity of it, which is the behavior that comes out of all of us sometimes out of jealousy or fear. The great thing about music is it lets you get in people's heads and inside their emotional lives in a way that you can do with a tight close-up in movies, but it's so much bigger and warmer [in a musical]. I think fans will hopefully find that this has the DNA of the movie and is true to the spirit of it, but is also opened up in a lot of ways."
Read the article in full here!
Featuring a book by nine-time Emmy Award winner Tina Fey, Mean Girls is based on Fey's screenplay for the Paramount Pictures film; with music by three-time Emmy Award winner Jeff Richmond; and lyrics by Tony Award nominee Nell Benjamin. Tony Award winner Casey Nicholaw directs and choreographs. The show will play a limited engagement at the National Theatre in Washington D.C. beginning Tuesday, October 31 through Sunday, December 3, 2017. It will then head to Broadway in 2018. No official dates have been announced.
Image courtesy of EW/MARY Ellen Matthews