Click Here for More Articles on Shutdown Streaming
Broadway For Biden Presents 'Lift Every Voice: A Virtual Anti-Racism Rally'
The event takes place on Sunday, September 20th at 2:00p.m. EST via the Broadway for Biden Facebook page.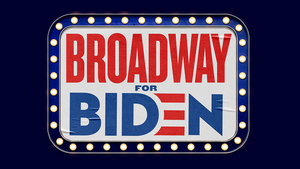 Broadway for Biden will present LIFT EVERY VOICE: A VIRTUAL ANTI-RACISM RALLY on Sunday, September 20th at 2:00p.m. EST via the Broadway for Biden Facebook page. This uplifting and educational pre-taped event will include interviews, filmed performances, and speeches-all in support of electing the Biden/Harris ticket and standing up for racial equity and justice, both on Broadway and across the nation.
The event is produced by Kimber Elayne Sprawl (Girl form the North Country) and features the talents of James Alonzo (choreographer), Mikayla Bartholomew (Bayano), Ato Blankson-Wood (Slave Play), Ellis Dawson (Aladdin), LaVon Fisher-Wilson (SuperYou), Blaine Alden Krauss (The Cher Show), Kenny Leon (director, American Son), Renni Magee (Love Life), Nicholas Palmquist (choreographer), Kamille Upshaw (Mean Girls) and Ryan Vasquez (Hamilton) along with Sprawl.
Broadway for Biden is an inclusive online community dedicated to bringing together professional theater makers, students, and Broadway fans around the country to raise awareness on key issues in the 2020 presidential election, increase voter turnout, and raise funds to elect Joe Biden and Kamala Harris to the White House this November. The grassroots volunteer organization has a quickly growing online presence and is activating the national theater community and the fans who love it by hosting events, disseminating key information, and amplifying the unique stories of individuals within the theater world's diverse population to build connections and humanize the issues at stake in this year's election.
Broadway for Biden's top priority is getting the Biden/Harris ticket elected this November, and in every action it takes to accomplish that goal, the organization takes inspiration from the campaign's motto: "Build back better." Since its first event held at the end of July, the organization has united more than 50 volunteers, made up of current and former Broadway performers, producers, writers, directors, choreographers, stage managers, and marketing specialists from within the Broadway community.
To learn more, get involved, or make a donation, visit www.BroadwayforBiden.com, and connect with us on Instagram, Facebook, Twitter, and TikTok: @broadway4biden.
Related Articles
More Hot Stories For You
VIDEO: MOULIN ROUGE! Drops Music Video for 'Come What May' with Aaron Tveit and Karen Olivo
Moulin Rouge! has released a music video, filmed live on stage, for Come What May from the Broadway production....

Eddie Perfect Releases BEETLEJUICE - THE DEMOS! THE DEMOS! THE DEMOS! for Halloween
Ghostlight Records has announced that the new album from Eddie Perfect, Beetlejuice – The Demos! The Demos! The Demos! will be available as a Hallowee...

Actors' Equity Releases Statement on Walt Disney World Layoffs
Actors' Equity Association has released a statement after signing a memorandum of understanding with Walt Disney World regarding layoffs of most of th...

VIDEO: THE TODAY SHOW Hosts Reveal Their 'Best of Broadway' 2020 Halloween Costumes
The Today Show hosts always put together a great Halloween costume theme and this year they're showing Broadway some love!...

VIDEO: David Hyde Pierce, Carolee Carmello, Liz Callaway, and Most Perform in BRING BACK BROADWAY: A VOTE BLUE VIDEO
The video stars Cameron Amandus, Bryan Batt , John Bolton, Liz Callaway, Carolee Carmello, Taylor Crousore, Jackie Hoffman, Chris Anthony Giles, Jason...

How Em Jaccs' RATATOUILLE Musical Became Theatre TikTok's Latest Trend
We got to chat with TikTok creator Em Jaccs, whose Ratatouille musical number has inspired an entire show that TikTok fans are demanding to bring to B...