Click Here for More Articles on Broadway by Design
Broadway By Design: David Korins & Paloma Young Bring BANDSTAND from Page to Stage
Who is Annie without her red dress? Or Eva with out her balcony? It is the charge of the Broadway designer to transport the audience into the world of a show, whether it be Great Depression-era New York City or outside of the Casa Rosada.
In Broadway by Design, BroadwayWorld is shining a spotlight on the stellar designs of this Broadway season, show by show. Today, we continue the series with David Korins, and Paloma Young, who acted as scenic and costume designers for Broadway's syncopated sensation, Bandstand.
---
Set in the smoke filled, swing fueled night clubs of 1945, Bandstand brings the against-all-odds story of singer/songwriter Donny Novitski and his band of mismatched fellow WWII veterans to the stage. When a national radio contest to find America's next big swing band offers a chance at instant fame and Hollywood fortune, Donny must whip his wise-cracking gang of jazzers (Bender, Carroll, Ellis, Hopkins, Packard) into fighting shape. Teaming up with the beautiful young war widow Julia (Osnes) as their singer, they struggle to confront the lingering effects and secrets of the battlefield that threaten to tear them apart.
Where did Korins' creative process begin? "Designing Bandstand was exciting because we got to create two entirely different spaces, Cleveland and New York City. I wanted Cleveland to feel personal and homey, and for it to conjure up childhood memories and small town feels."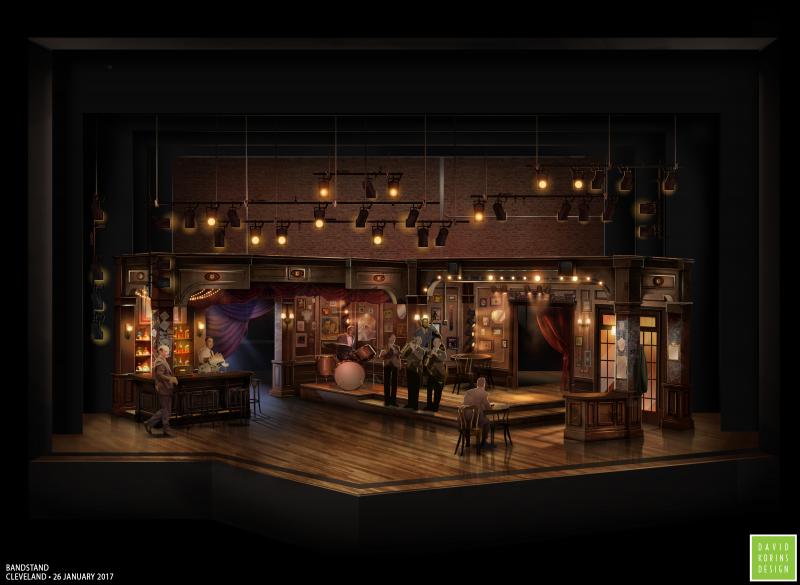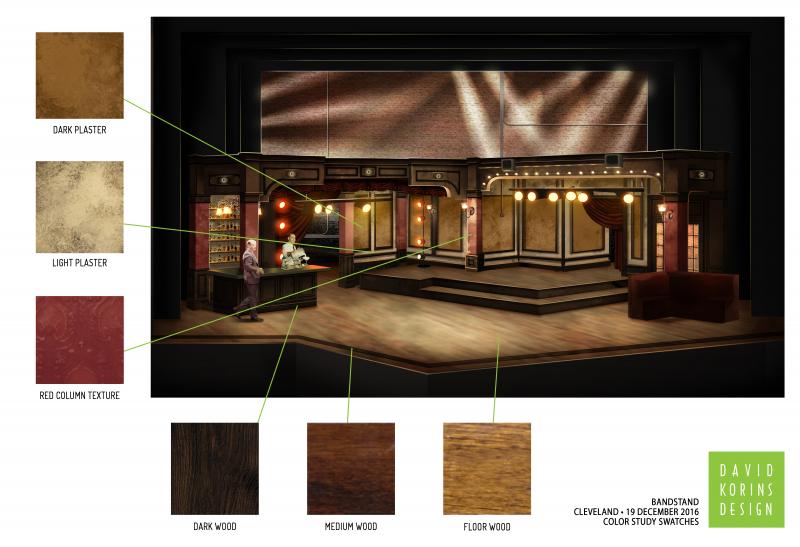 "New York, on the other hand, needed to be this exciting, abstracted, aspirational space," said Korins. "Inspired by Art Deco architecture, we wanted to capture the glitz, glam, power and pulse of New York that might be particularly alluring for people who have never left a small town before. For the Donny Nova Band and Julia Trojan, traveling to New York was a cathartic experience of breaking away."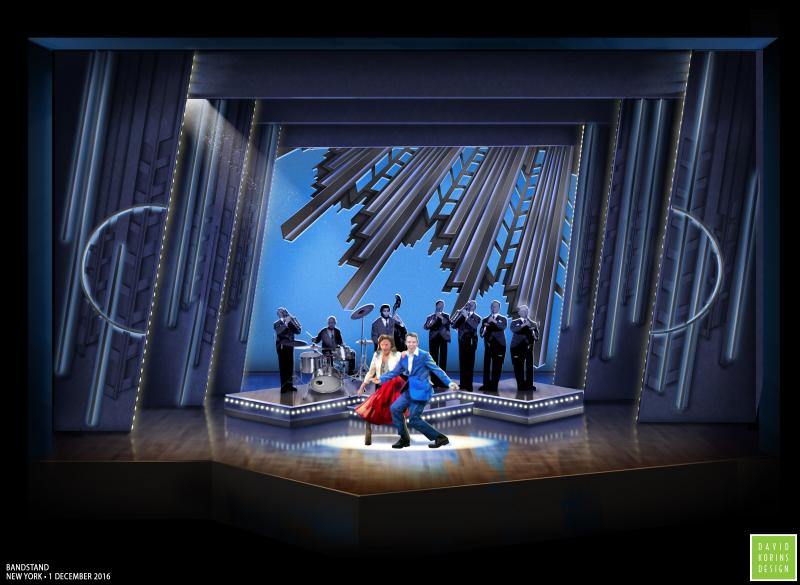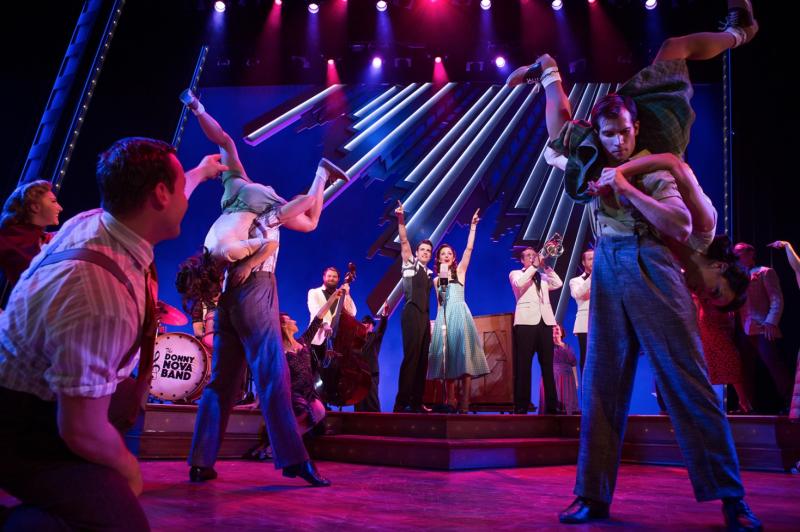 His biggest challenges? "Something that was challenging for this show was communicating the frustration and confusion that the soldiers felt when they returned to Cleveland after the war," explained the scenic designer. "Even though they were coming home, it was not the same as they remembered, nor were they. We tried to address the emotional struggles of the soldiers and how this impacts how they would interpret space by covering all of the walls with scrim, a translucent material. This allowed us to toggle back and forth between reality and a much more dream-like, abstract sense of space."
Paloma Young found her inspiration in relics of the past. "[It was] old scrapbook photographs of Americans/Vets from the 1940s. Real, imperfect humans. Colors and patterns were inspired by the physical and mental trauma of the American people post-war: nerve static and bruise colors on the ensemble frame our principal cast in fading greens, navies, and browns of the Army, Navy, and Marines."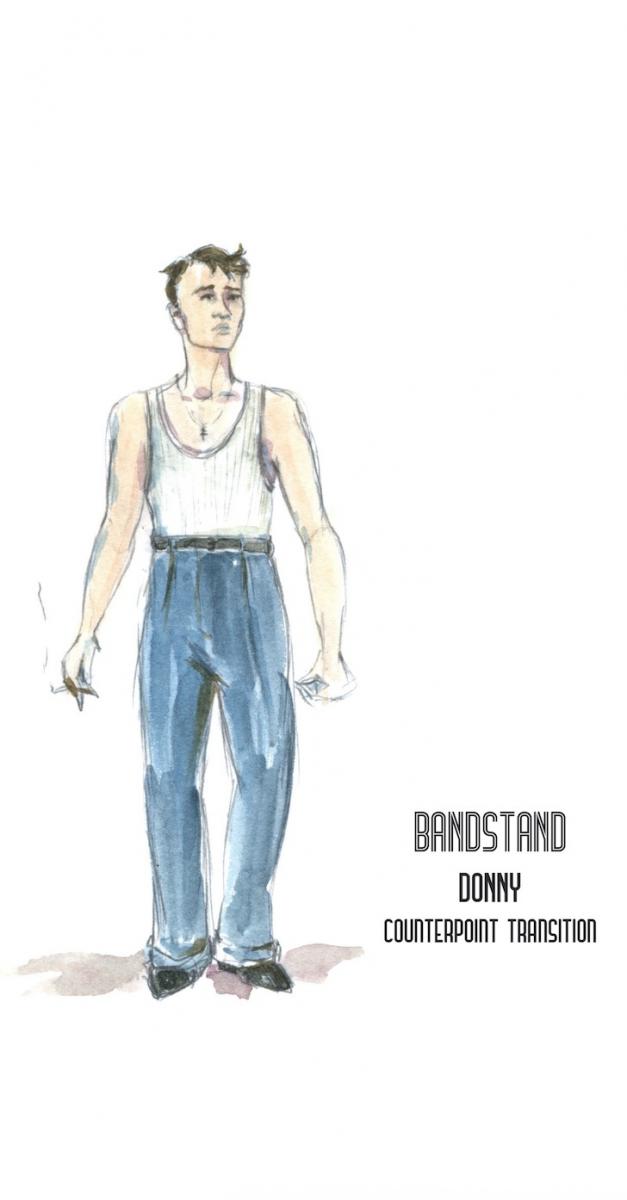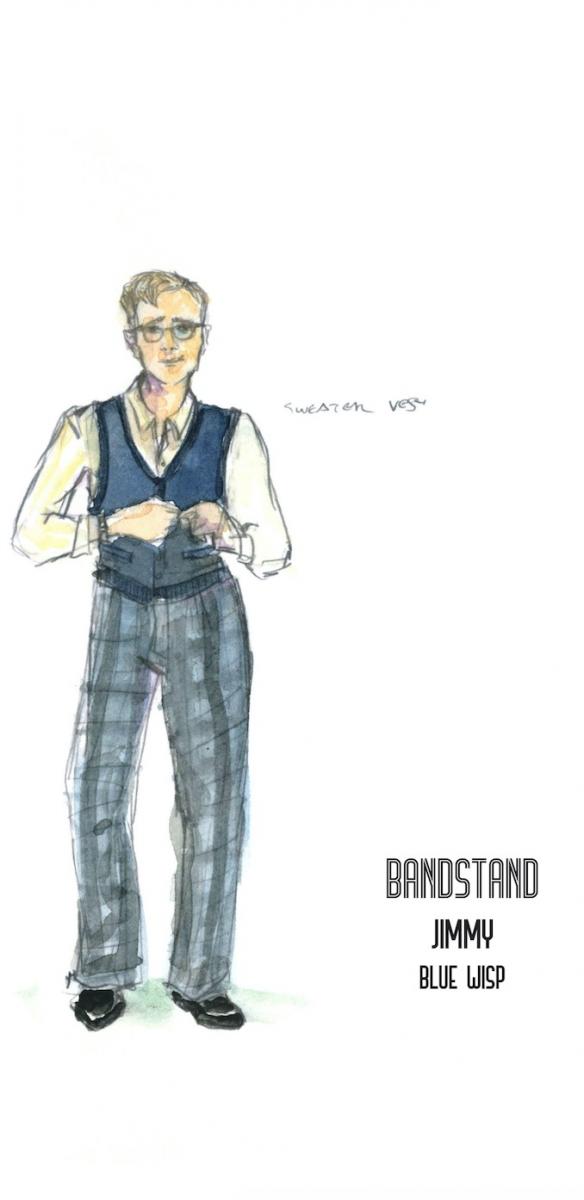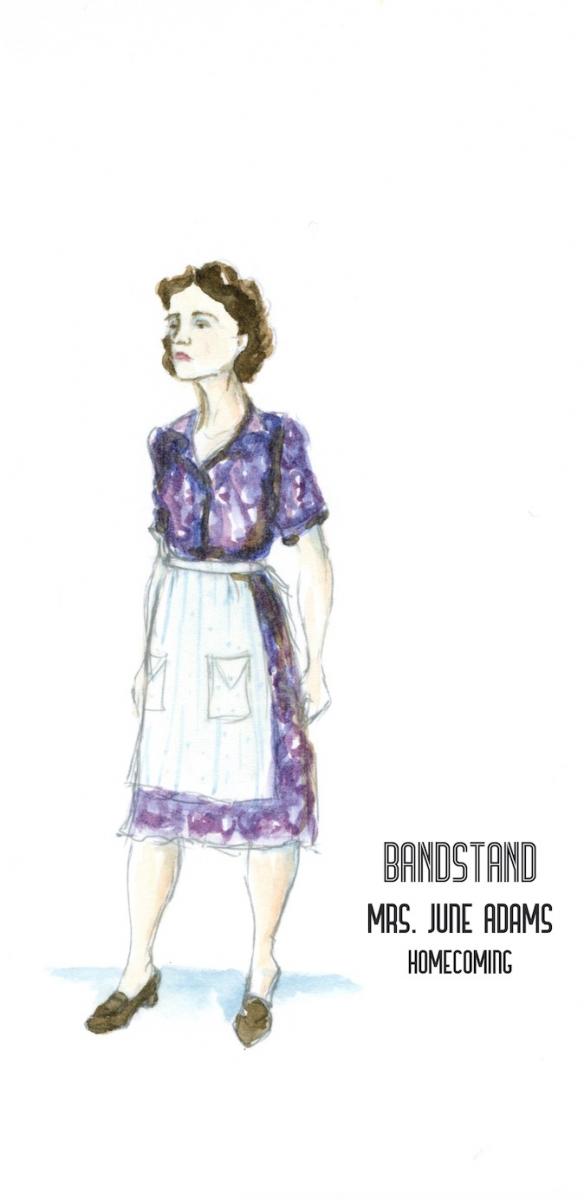 "[My biggest challenge was] creating a world of cinematic realism that functions with athletic/poetic movement, and changes at the crazy pace of a broadway backstage. There are over 93 unique vignettes within the show tracking that involve at least one person changing costume, and sometimes all 21 onstage cast!"
Want more Broadway By Design? CLICK HERE.
---
The brand new musical Bandstand, directed and choreographed by Tony Award winner Andy Blankenbuehler (Hamilton) with music by Richard Oberacker and a book and lyrics by Robert Taylor and Richard Oberacker, opened Thursday night, April 26, at The Bernard B. Jacobs Theatre (242 West 45 Street).
Bandstand stars Tony Award nominee Laura Osnes (Rodgers + Hammerstein's Cinderella) and Corey Cott (Gigi) featuring Tony Award winner Beth Leavel (The Drowsy Chaperone), Alex Bender (Broadway debut), Joe Carroll (Rodgers + Hammerstein's Cinderella), Brandon J. Ellis (Once), James Nathan Hopkins (What's It All About: Bacharach Reimagined), and Geoff Packard (Matilda).
Related Articles
Originally from Pittsburgh, Pennsylvania, Nicole began writing for BroadwayWorld in 2010. She currently resides in New York City, where she gets to enjoy far more (read more...)